(Click Here to Print)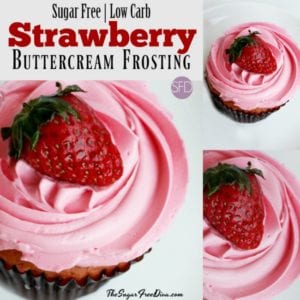 Sugar Free Strawberry Buttercream Frosting
Two great methods to make sugar free strawberry buttercream frosting.
Strawberries- about 1/2 cup whole. About 4-5 average sized strawberries.

Butter- 1 stick. Cut this into tablespoons and let it sit out for about 10 minutes before using.

Cream Cheese- 1 8 ounce package

Sugar Free Powdered Sugar- 3 1/2 cups. Make your own sugar free powdered sugar using this recipe or buy sugar free powdered sugar online.

Vanilla Extract- 1 teaspoon.

Pudding Option

no real strawberries-- INSTEAD OF THE ABOVE INGREDIENTS LISTED-- Sugar Free Instant Pudding- 1 box + Greek Yogurt- 1 cup (can sub in milk)+ Cream Cheese- 1 (8 ounce) package, can use lower fat varieties Optional- extract to complement flavor such as vanilla extract 1 tsp.
Skip this step if using the pudding option. Cut the tops off of the strawberries and place them in a food processor or blender to puree. Straining for seeds is optional.

Skip this step if using the pudding option. In a mixing bowl, cream together the butter, cream cheese and the powdered sugar. I use a paddle attachment set on medium.

Slow the mixer down to slow and add the remaining ingredients. Mix until you reach your desired consistency without over-mixing.

Using the pudding option- simply combine the ingredients in a mixer and mix on low.
Please see post for details and ingredient information