(Click Here to Print)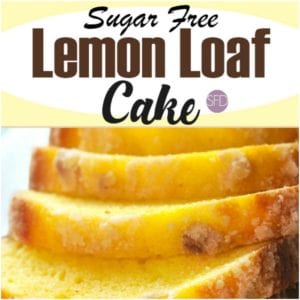 Sugar Free Lemon Loaf Cake
Make a lemon loaf cake that also sugar free. This cake can be made gluten free or low carb as well.
Total Time
1
hour
15
minutes
Flour- 1 1/2 cups. Make this recipe gluten free by using gluten free flour instead of regular flour. Or

you can make this recipe low carb by using low carb Carbalose flour.

Baking Powder- 1/4 teaspoon.

Baking Soda- 1/4 teaspoon.

Butter- 1 stick

1/2 cup softened to room temperature.

Sugar Alternative- 1 cup equivalent to sugar. Granular alternative is recommended for this recipe.

Lemon Zest- 2 tablespoons.

Lemon Juice- 1 1/2 tablespoons.

Buttermilk or sour cream -6 tablespoons.

Vanilla Extract- 1 teaspoon.

Eggs- 2.

Sugar free glaze- sugar free glaze which you can make using this recipe
Preheat your oven to 325. Prep your loaf pan for nonstick. I use parchment paper that is a bit big for the pan so that I can easily lift my cake out.

In a medium mixing bowl, whisk or sift together your flour, baking powder and baking soda. Set this bowl aside.

Now in a mixing bowl, creme together the sugar alternative and the butter. The result will not be as fluffy as if you are using regular sugar however, you should get a good result in about 3-4 minutes. Use a paddle attachment and set the mixer on a slow to medium speed for best results.

While you sugar alternative and butter are in the mixer, use a third mixing bowl to mix together the lemon juice, buttermilk (or alternative) and the vanilla extract. Set this aside for a moment.

Take the first bowl with the flour mixture in it and pour about half of it into the mixing bowl. Set the mixer on slow and mix for about 10 seconds. Then add one egg to the bowl and half of the contents from the third bowl (liquid ingredients). Mix for 10 seconds and then repeat the process until all of the ingredients have been mixed together in the mixing bowl.

Bake the loaf for 60-65 minutes or until a toothpick comes out clean. Allow to cool before drizzling the glaze over it and serving.
Please see recipe post for details on ingredients and instructions.