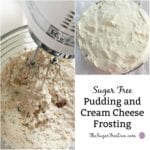 Print Recipe
Sugar Free Pudding and Cream Cheese Frosting
A super easy way to make a sugar free cream cheese frosting for your cake or cupcakes.
Sugar Free Instant Pudding- 1 box

see post for option ideas

Greek Yogurt- 1 cup

can sub in milk

Cream Cheese- 1

8 ounce package, can use lower fat varieties

Optional- extract to complement flavor such as vanilla extract 1 tsp.

Also Optional- Whipped Topping -1 tub

8 ounces
Simply combine ingredients in a mixer and mix on low.

However, if adding whipped topping, then allow the yogurt, cream cheese and pudding to mix for 10 seconds before adding it to the bowl.

Refrigerate if not using right away.
*As an Amazon Associate I earn from qualifying purchases. This means that the links on this website, and specifically on this post, that lead to other sites may be affiliate links.
Please note: Nutritional data has been calculated using a tool that comes with this recipe card and not by me. This means that Nutritional Information is only an estimate and can vary especially with ingredients that you use. The accuracy of this tool may differ from other tools as expected. Also note that there is no instructional value to the video that may be attached to this recipe. It is only there for visual pleasure. For more information about the images in this recipe, please refer the the recipe instructions. Thank you!
---
Follow Me