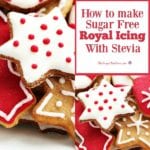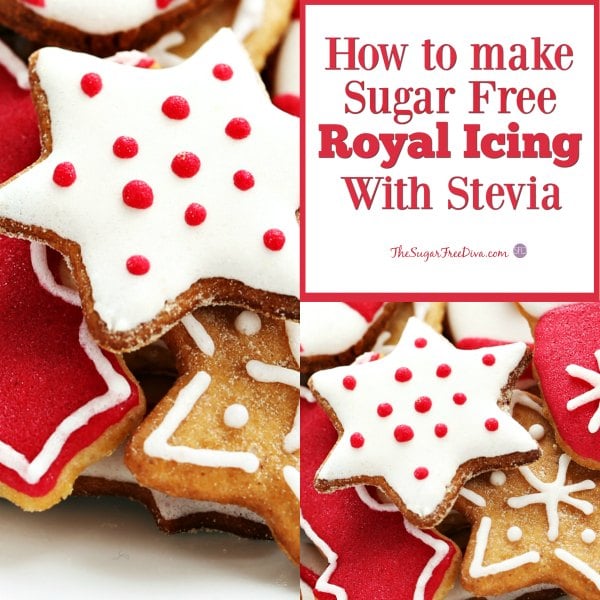 Print Recipe
How to Make Sugar Free Royal Icing with Stevia
We are using a Stevia baking blend since Stevia is so much sweeter than other sweeteners. Real the full label on your choice of baking blend to assure that it is free or low in sugar.
Meringue Powder- 3 teaspoons

Stevia Baking Blend product- 3 cups

Cornstarch- 3 teaspoons

Vanilla Extract- 1 tsp

Water- ½ cup
Start by combining your Cornstarch with your Stevia. You can process them on high in a food processor or you can sift them if you have no processor. Our goal result should be something of a confectioners sugar consistency. Set this aside.

In a mixing bowl, combine together the water, vanilla and the Meringue powder. Beat this until peaks start to form. You will need a whisk attachment for best results.

Once your peaks have started to form, you can switch to a beater attachment on your mixer. Add your dry ingredients from your first bowl to the mixing bowl. Mix until well blended.
*As an Amazon Associate I earn from qualifying purchases. This means that the links on this website, and specifically on this post, that lead to other sites may be affiliate links.
Please note: Nutritional data has been calculated using a tool that comes with this recipe card and not by me. This means that Nutritional Information is only an estimate and can vary especially with ingredients that you use. The accuracy of this tool may differ from other tools as expected. Also note that there is no instructional value to the video that may be attached to this recipe. It is only there for visual pleasure. For more information about the images in this recipe, please refer the the recipe instructions. Thank you!
---
Follow Me