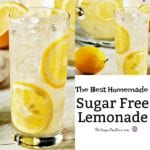 Print Recipe
The Best Sugar Free Homemade Lemonade
A delicious way to enjoy lemonade without the added sugar.
Sugar Alternative- ½ cup equivalent to sugar

Lemon Juice- fresh squeezed is best as bottled lemon juice may have sugar added to it- you will need a cup in total. The average lemon yields about 3-4 tablespoons of juice. A cup holds 16 tablespoons of liquid. Thus

you will need between 4-6 lemons juiced.

Ice

Water- up to ½ gallon

Optional- lime juice 3-4 tablespoons and/or mint sprigs for garnish and/or sparkling water instead of regular water

yum so good... and/or sliced lemons for garnish.
Start by squeezing the juice out of your lemons. Transfer the juice to a large pitcher. If adding lime juice to the recipe, do so now.

In another pitcher, the one you will serve or store your beverage in, place the amount of ice that you desire. If you would rather to just simply add the ice to the glasses and not to the pitcher, skip this step because you do not need to follow it.

Pour the lemon juice over the ice and fill the pitcher with water. Garnish with lemons/mint if desired.
*As an Amazon Associate I earn from qualifying purchases. This means that the links on this website, and specifically on this post, that lead to other sites may be affiliate links.
Please note: Nutritional data has been calculated using a tool that comes with this recipe card and not by me. This means that Nutritional Information is only an estimate and can vary especially with ingredients that you use. The accuracy of this tool may differ from other tools as expected. Also note that there is no instructional value to the video that may be attached to this recipe. It is only there for visual pleasure. For more information about the images in this recipe, please refer the the recipe instructions. Thank you!
---
Follow Me