(Click Here to Print)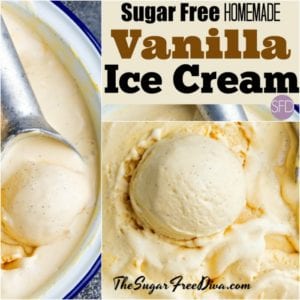 Sugar Free Vanilla Ice Cream
Three ways to make your own homemade sugar free vanilla ice cream.
Heavy Whipping Cream- 2 cups.

Milk or half and half- 2 cups.

Sugar Alternative- equivalent to 1 cup of sugar.

Vanilla Extract- 3 teaspoons.
If you are not using an ice cream maker, prepare a shallow freezer and mixer safe bowl by freezing it for about an hour. If you are using an ice cream maker then you can use a bowl that has not been placed into the freezer.

For both methods, in a mixing bowl whisk together all of the ingredients on low. Mix this for a few minutes to make sure that all of the ingredients are well blended together.

If you are not using an ice cream maker then transfer the mixture to the frozen bowl and freeze. Every 30 minutes for the next 2 -2 1/2 hours take the mixture out of the freezer and beat for a couple of minutes. Then return the ice cream to the freezer. Continue this process until your ice cream has that desired consistency.

If you are using the ice cream maker route simply cover the mixture lightly before you freeze it. Freeze for at least 8 hours before using it in your ice cream maker.

Another way to make this is to fill a gallon sized zip top bag half way with ice and sprinkle the ice with a bit of Kosher salt. Take a smaller zip top bag and fill it with your ice cream directly from the mixing bowl from the second step above. Seal both bags and shake for about 10 minutes or until it appears to be ice cream. This method was a favorite of my kids when they were little and looking for a fun thing to do.