(Click Here to Print)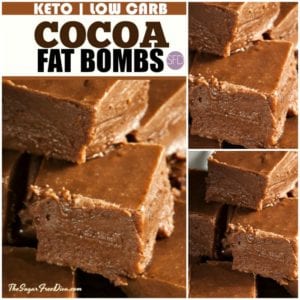 KETO LOW CARB COCOA FAT BOMBS
A low carb keto snack or dessert
Peanut Butter- 1/2 cup.  Here is how to make your own sugar free peanut butter.

Cream Cheese- 1 8 ounce package softened to room temperature.

Coconut Oil- 1/2 cup.

Unsweetened Cocoa Powder- 3 tablespoons.

Sugar Alternative- Equivalent to 1-2 tablespoons of sugar. The amount that you use will have to do with taste. Start with the 1 tablespoon equivalent and add additional as needed. Does not have to be granular alternative.

Vanilla Extract- 1 teaspoon.
Prep a rimmed cookie sheet or similar sheet with parchment paper. You can also use a silicon mold for this recipe.

In a small sauce pan over low heat, melt together the peanut butter, cream cheese, and coconut oil. Stir this as it melts. Do not allow this to bubble or boil.

Once the ingredients have melted, remove from heat and stir in the remaining ingredients one at a time (cocoa powder, sugar alternative, and vanilla extract).  If this seems like it is not sweet enough for your liking simply add a bit more sweetener as stated above.

Pour this into your prepared cookie sheet/mold and freeze until hard- about 15-20 minutes.

Remove from freezer and cut into pieces. Store in freezer (can store in the refrigerator however, they may become soft).
Please see post for details.