(Click Here to Print)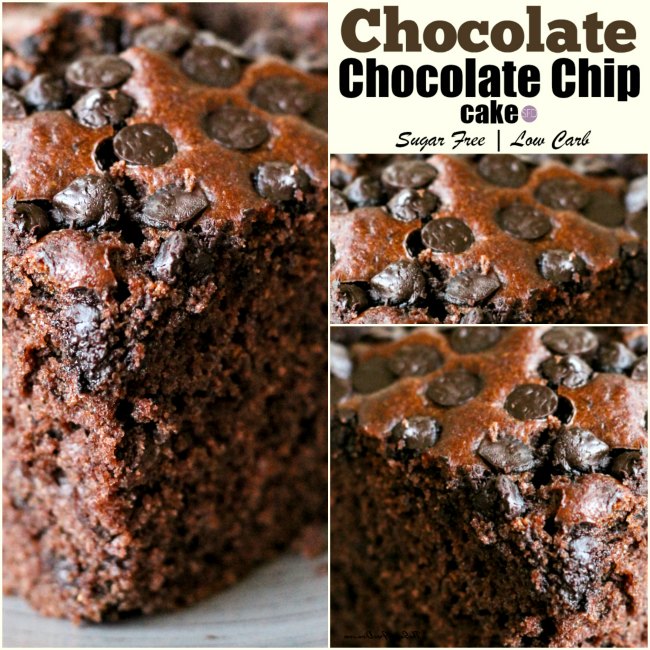 Sugar Free Chocolate Chunk Cocoa Cake
A chocolate chip cake with sugar free, low carb, and gluten free options.
Flour- 1 cup. All purpose flour or gluten free flour or low carb Carbalose flour.

Baking Soda- 1/2 teaspoon.

Unsweetened Cocoa- 1/2 cup. Make sure that yours has no added sugar.

Butter- 6 tablespoons softened to room temperature.

Sugar Alternative- Equivalent to 1 cup of sugar. Please use granular in this recipe.

Eggs- 2

Canola or similar oil- 2 1/2 tablespoons.

Vanilla Extract- 1 1/2 teaspoons.

Water- 1/2 cup plus 1 teaspoon

room temperature.

Sugar Free Chocolate Chips- 1/2 cup. See post for gluten free options.
Preheat your oven to 325 and prep your cake pan well for nonstick.

In a medium bowl, mix together your flour and baking soda. Then, stir in the cocoa. Set this bowl aside.

Now in a mixing bowl cream together the butter and sugar alternative. I use a paddle attachment on medium speed.

Once the butter and sugar have been creamed together, turn the mixer speed down. Add one egg and about half of the contents of the first bowl (flour etc) mix for 10-15 seconds and then add the remaining flour mixture and egg.

Add the oil, vanilla extract, and water and mix until smooth. Scrape the mixing bowl with a spoon if needed. Also, if the batter seems thick, which may happen as a result of using flour alternatives, add a teaspoon of additional water as needed.

Fold in the chocolate chips by hand.

Bake this for 30 minutes and then insert a toothpick in an area which you cannot see any visible chocolate chips. Chocolate chips that are melted can give a false result.

Bake this cake for another 5-10 minutes as needed. Be careful about where you are checking with a toothpick as mentioned, due to a possible false result. You will also need to use your eye to assess the cake.

Allow this cake to cool well before serving, frosting, etc.
Please see post for ingredient details.