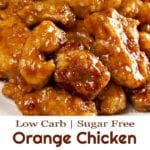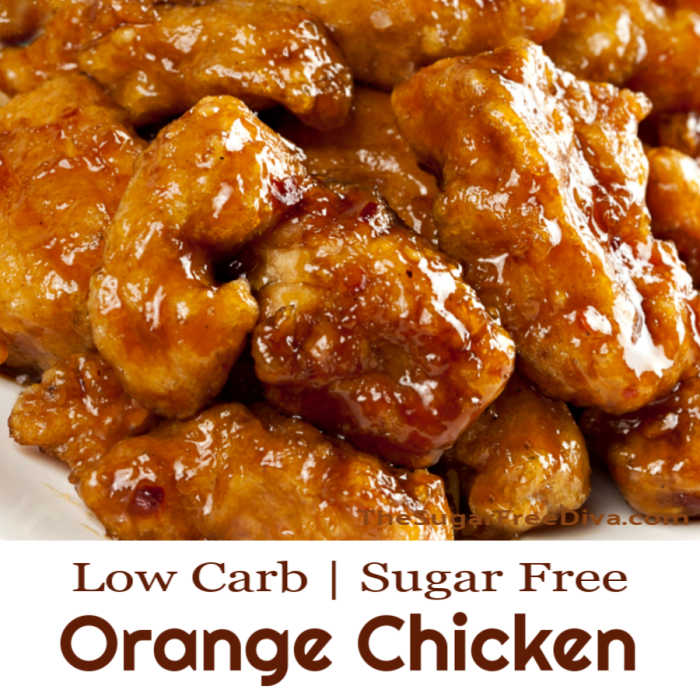 Print Recipe
Sugar Free Low Carb Orange Chicken
This delicious recipe for Sugar Free Low Carb Orange Chicken is so good that it tastes just like the real restaurant version.
Start by sauteing or cooking the chicken until it begins to brown. You can use a vegetable spray on the skillet or use your preferred method of browning chicken.

When the sauce begins to bubble and the ingredients are combined, you can add the chicken to the sauce. Lower the heat and cook for an additional 5-6 minutes
*As an Amazon Associate I earn from qualifying purchases. This means that the links on this website, and specifically on this post, that lead to other sites may be affiliate links.
Calories:
141
kcal
|
Protein:
24
g
|
Fat:
3
g
|
Cholesterol:
72
mg
|
Sodium:
345
mg
|
Potassium:
451
mg
|
Vitamin A:
135
IU
|
Vitamin C:
3.8
mg
|
Calcium:
17
mg
|
Iron:
0.6
mg
Please note: Nutritional data has been calculated using a tool that comes with this recipe card and not by me. This means that Nutritional Information is only an estimate and can vary especially with ingredients that you use. The accuracy of this tool may differ from other tools as expected. Also note that there is no instructional value to the video that may be attached to this recipe. It is only there for visual pleasure. For more information about the images in this recipe, please refer the the recipe instructions. Thank you!
---
Follow Me