(Click Here to Print)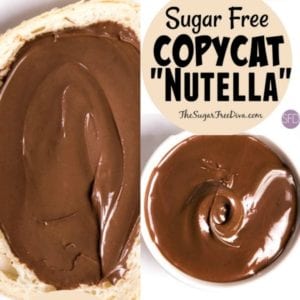 Sugar Free Copycat Nutella
Make your own Hazelnut Spread using this no sugar added recipe
Roasted Hazelnuts Skinned–1 Cup

see post for more details

Canola Oil–1 Teaspoon

Sugar Alternative -1 Tablespoon equivalent to sugar

Sugar Free Chocolate Chips–1/2 Cup or 1/4 cup unsweetened cocoa

Greek Yogurt–1 Tablespoon
If hazelnuts are not roasted and skinned, do so by roasting them in a 350 oven for 15-18 minutes. Allow them to cool and then remove the skins

Place your chocolate chips in a microwave safe cup and melt them in the microwave. I set my microwave on medium high and melt in 20 second increments stirring between increments.  You can melt them over a double boiler if preferred. Don't forget to stir.

In a food processor, process your hazelnuts and oil together for about a minute or until they become somewhat pasty.

Add your yogurt, sugar alternative and the cocoa (if using cocoa) to the food processor and continue to blend. You will need to stop the processor a few times to scrape the sides to ensure that everything is blending together.

Add your melted chocolate chips (if using chocolate chips) and pulse your food processor a few times until blended.
See post for ingredient details. This recipe has been recently updated