Make your own Hazelnut Spread using this no sugar added recipe
Because of all of those great recipes that I see online, I decided to make this Sugar Free Copycat Nutella like recipe.
That popular chocolate hazelnut spread is everywhere it would seem.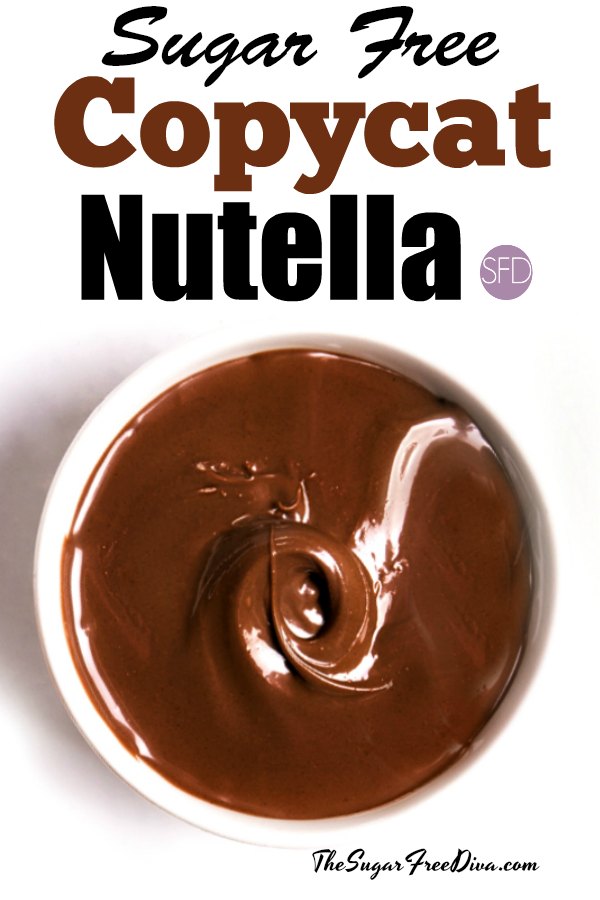 Sugar Free Copycat Nutella
People seem to like their hazelnut spread.
Most homemade hazelnut spreads come with a lot of sugar unfortunately. With that sugar comes the calories and everything else that people, like myself, seem to dread. You may know exactly what I mean.
This spread has certainly made the hazelnut famous however.
Before the hazelnut spread craze, you may not have ever eaten a hazelnut before. I know that I never had one unless it was part of a bowl of mixed nuts that was set out at a party or similar gathering. Hazelnuts actually have a bit of protein and fiber. More than many other nuts as well.
There are a few ingredients that we need for this recipe.
Hazelnuts can be hard to find locallu. However, you can easily find hazelnuts online.
To roast hazelnuts, simply place them into a toaster oven. or regular oven, and roast at 350 for 15-18 minutes. You can use a regular baking sheet to roast them on.
You will also need some chocolate chips for this Sugar Free Copycat Nutella recipe.
Since we are sticking to our sugar free idea here, you will need sugar free chocolate chips. Luckily, you can also find sugar free chocolate chips online as well.
Here are some related recipes that you may also enjoy.
You can check out my guide on baking with sugar alternatives on Amazon
I have some great tips on which alternatives may work in a recipe such as this one.
Be sure to follow me on facebook and subscribe to my recipes via email to keep up to date as well.
The Recipe for Sugar Free Copycat Nutella
This is actually a lot easier than you may think it is.
What you will need to make this.
Roasted Hazelnuts Skinned–1 Cup,see post for more details

Canola Oil–1 Teaspoon

Your choice of Sugar Alternative -1 Tablespoon equivalent to sugar

Sugar Free Chocolate Chips–1/2 Cup or No sugar added Cocoa Powder 1/4 cup

Greek Yogurt–1 Tablespoon
How to make this recipe.
If hazelnuts are not roasted and skinned, do so by roasting them in a 350 oven for 15-18 minutes. Allow them to cool and then remove the skins
Place your chocolate chips in a microwave safe cup and melt them in the microwave. I set my microwave on medium high and melt in 20 second increments stirring between increments.  You can melt them over a double boiler if preferred. Don't forget to stir.
In a food processor, process your hazelnuts and oil together for about a minute or until they become somewhat pasty.
Add your yogurt, sugar alternative and the cocoa (if using cocoa) to the food processor and continue to blend. You will need to stop the processor a few times to scrape the sides to ensure that everything is blending together.
If using chocolate chips, add your melted chocolate chips (if using chocolate chips) and pulse your food processor a few times until blended. However, if you are using the cocoa method you can skip this step.

Print Recipe

Sugar Free Copycat Nutella

Make your own Hazelnut Spread using this no sugar added recipe

Ingredients

Roasted Hazelnuts Skinned–1 Cup

see post for more details

Canola Oil–1 Teaspoon

Sugar Alternative -1 Tablespoon equivalent to sugar

Sugar Free Chocolate Chips–1/2 Cup or 1/4 cup unsweetened cocoa

Greek Yogurt–1 Tablespoon

Instructions

If hazelnuts are not roasted and skinned, do so by roasting them in a 350 oven for 15-18 minutes. Allow them to cool and then remove the skins

Place your chocolate chips in a microwave safe cup and melt them in the microwave. I set my microwave on medium high and melt in 20 second increments stirring between increments.  You can melt them over a double boiler if preferred. Don't forget to stir.

In a food processor, process your hazelnuts and oil together for about a minute or until they become somewhat pasty.

Add your yogurt, sugar alternative and the cocoa (if using cocoa) to the food processor and continue to blend. You will need to stop the processor a few times to scrape the sides to ensure that everything is blending together.

Add your melted chocolate chips (if using chocolate chips) and pulse your food processor a few times until blended.

Recipe Notes

See post for ingredient details. This recipe has been recently updated

Please note: Nutritional data has been calculated using a tool that comes with this recipe card and not by me. This means that Nutritional Information is only an estimate and can vary especially with ingredients that you use. The accuracy of this tool may differ from other tools as expected. Also note that there is no instructional value to the video that may be attached to this recipe. It is only there for visual pleasure. For more information about the images in this recipe, please refer the the recipe instructions. Thank you!

---

Follow Me

https://www.pinterest.com/thesugarfreediva/

https://www.facebook.com/thesugarfreediva/

updated 5/17/18