As someone who always has the stuff in her fridge, I am always seeking the answer as to How to Use Greek Yogurt as a Substitute in Recipes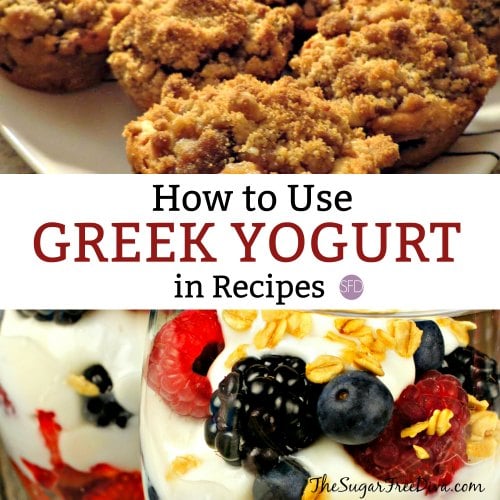 How to Use Greek Yogurt as a Substitute in Recipes
A few days ago I had a reader ask me for a good substitute for the Greek Yogurt that was in one of my recipes.
That question got me questioning whether or not the Greek Yogurt really was the best wet ingredient to use in a recipe. Especially a recipe such as that one. I simply like to add Greek Yogurt to my baking and cooking because it has so many benefits to it as a food. However, is Greek Yogurt really the best wet ingredient for a baked good?
We have enough of a challenge around here trying to pull the sugar out of our creations.
While I myself stay away from sugar, I must  admit that in my own restaurant, there is plenty of sugar used. We would probably not serve a whole lot of waffles without some kind of dusted sugar on top of it. Our fancy coffees  would possible take a hit as well without the sugar in the added to the flavorings in them.
There are some things that you should know about using Greek Yogurt in recipes such as the ones that I share.
First of all, just because I suggest using Greek Yogurt doesn't mean that you have to use it. You can feel free to substitute something else. This kind of Yogurt has protein and is less 'liquidy' than other wet ingredients. Thus, the result may be a bit dryer than expected. You could remedy this by subbing in something like water for a quarter of the called for Greek Yogurt. Also, keep in mind that full-fat Greek Yogurts work best for baking. You can use the low fat versions in amadips, dressings, etc.
Before we use substitutes in recipes, we should probably determine the reason for the substitution.
When we determine why we are substituting, we can determine which substitute to use. I substitute this kind of Yogurt for higher fat products when I want less fat in a recipe. Also, if I want to add a bit of protein.
Sometimes, when we do substitute ingredients, taste or texture can be a bit compromised.  However, often we add the Greek Yogurt because we like the 'tangy' taste of it better in dressing or dip recipes. You can add your substitutes accordingly.
What can be substituted for Greek Yogurt?
Sometimes, we can substitute Greek Yogurt because we want to knock down the calories in something. Other times we will use it to add some protein. Another reason that you can use this yogurt is to take advantage of the benefits the experts tell us that are in it.
Here are some ideas of substitutions or alterations that you can make.
(if you use) Buttermilk- Use about a quarter less than you would use yogurt.
(if you use)Milk+Vinegar (it's an acidic thing here)--Use about a quarter less than you would use yogurt.
(if you use)Milk+Lemon Juice (same as above)--Use about a quarter less than you would use yogurt.
(if you use)Regular Yogurt- You will need to strain the liquid out to get it to be more like the Greek kind for texture.
Or, if you are using Greek Yogurt instead of regular yogurt in a baking recipe, reduce the amount added by about a third and add water in that third's place.
Here is a nifty cheat sheet for you
You can print it out here (click on the image first)or pin it to a pin board.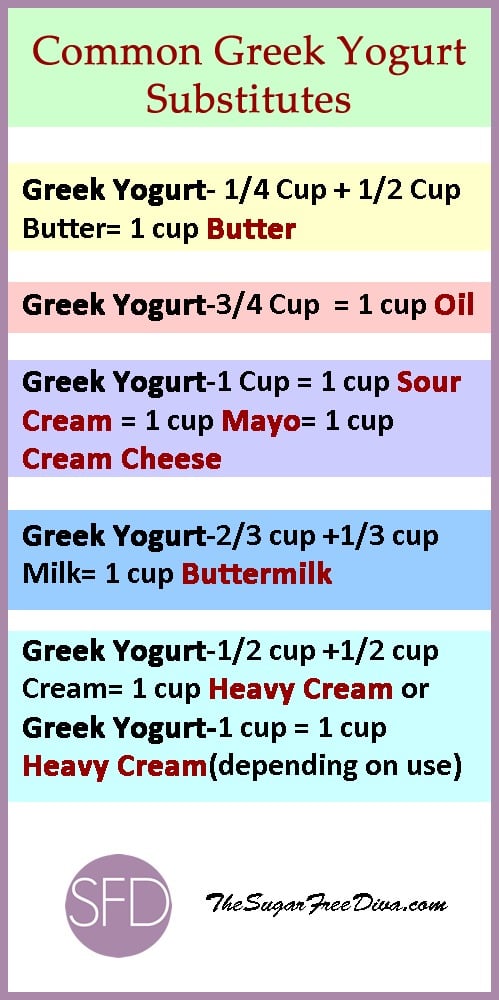 By the way, did you know that you could make your own Greek Yogurt?
You can find  Yogurt Makers on Amazon.There are some great books on the subject as well. You can find books on how to make your own   Yogurt on Amazon as well.
*Disclosure...By the way, I am not a dietitian or an expert or anything else really. Just a recipe sharer. If you are looking for expert advice, you can seek an expert.