Learning how easy it is to make Homemade Sugar Free Strawberry Jelly was one of the best things that I have ever done.
Jelly is an essential item in most kitchens, including my one.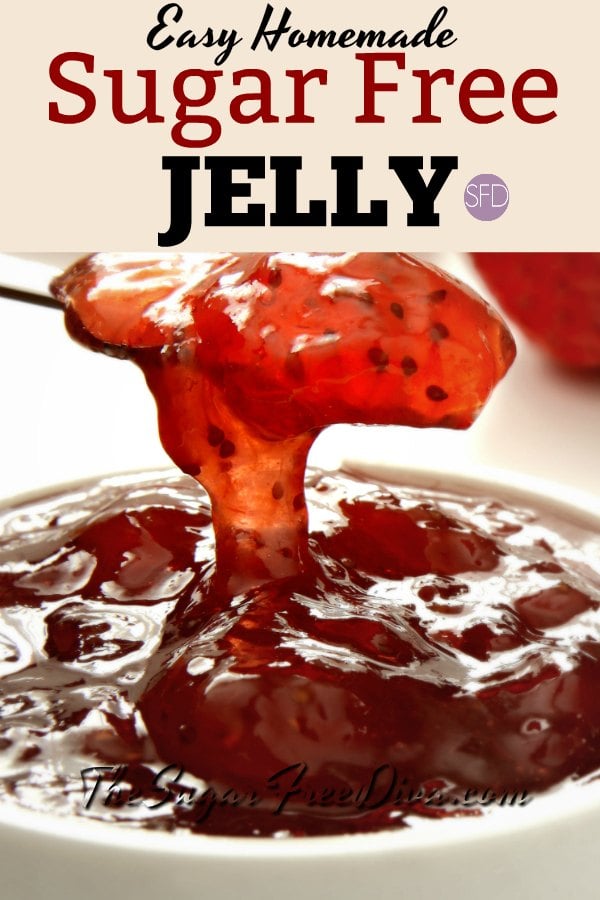 Homemade Sugar Free Strawberry Jelly
Making jelly is just one more way that we can enjoy a hearty bounty of strawberries.
I am one of those people who seem to love all of the summer fruit that is in season. This fruit not only at it's best price, it is at it's optimal quality. It is a good thing that we get to take part in it all thanks to our local farmers markets and grocery stores.
Eating peanut butter and jelly sandwiches is a popular thing in my house.
I would guess that we are not the only family who enjoys the popular PB&J. PB&J is a staple to lunch boxes, picnics, and kitchen tables all over. Personally, I have always liked the way that the wet fruit of the jelly complements the nutty taste of peanut butter.
It is because I like the perfect match when your get the peanut butter stuck to the roof of your mouth and the jelly comes along to pull it away.
One problem that I have always had with the jelly is that it can be a bit too sweet for me.
I have found that many store bought jelly's can be laden with sweet from sugar that is added. That can be because sweet can sell better for a lot of foods. However,not everyone enjoys all of the sweetness. Especially, since the fruit brings it's own sweet taste to the jelly.Hence, I learned that I can make jelly using sugar free gelatin. Any sugar in this recipe comes directly from the strawberry- about .6 gram per berry.
This recipe uses real fruit and no additional sugar is added to it.
It is also really easy to make. I like that this recipe is just one more way to take advantage of a great summer bounty such as strawberries.
You will need sugar free gelatin for this Homemade Sugar Free Strawberry Jelly.
The flavor gelatin should have something to do with the kind of fruit that you are using. For example, if you are using strawberries, try using a strawberry gelatin. Also, instant gelatin works for this recipe as well. You can find sugar free instant gelatin on Amazon.
An alternative to using a box of flavored gelatin would be to use a pectin, such as no sugar added sure-jell
SURE-JELL is a dry pectin product that can be used to make either cooked jams and jellies or quick-and-easy freezer jams and jellies. It is available for lower sugar recipes too. However, you will need to combine SURE-JELL with 1/2 cup of sugar alternative such as Splenda in this recipe for sweetness. If you use the pectin method, be sure to follow the directions for proper canning. The jars will need to be prepared differently than in the recipe below. You can find Sure-Jell, with no sugar added, on Amazon.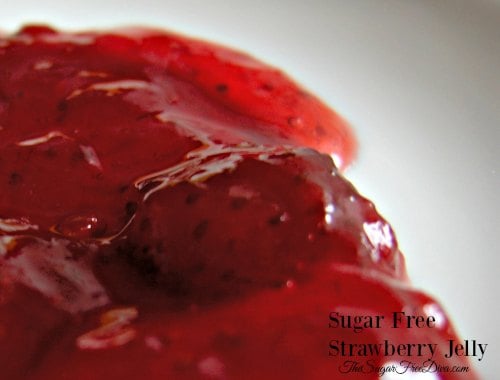 Keep up with great recipes such as this one.
You can check out my guide on baking with sugar alternatives on Amazon
I have some great tips on which alternatives may work in a recipe such as this one.
Be sure to follow me on facebook and subscribe to my recipes via email to keep up to date as well.
Also, check out these similar recipes.
They are related to this recipe.
The recipe for Homemade Sugar Free Strawberry Jelly
Here is what you will need to make Sugar Free Sugar Free Strawberry Jelly
Strawberries- 2 cups- if using frozen use no sugar added
Instant Gelatin in Strawberry- 1 -3 ounce box
Cold Water- 1 cup
Sugar Alternative–1/4 cup equivalent to sugar in volume. Also, granular works best.
How to make Homemade Sugar Free Strawberry Jelly
Start by placing your strawberries in a blender. Blend the strawberries until a near puree results. However, there should be some chunks of strawberries for best results.
Using a large saucepan, set on medium heat, combine your gelatin, cold water and sugar alternative. Cook this, stirring continuously, until the ingredients are combined together. This should take you about 3-4 minutes.
Next, we will add the strawberries to the saucepan. Stir in your strawberries 1/2 cup at a time. Be sure to stir the saucepan contents between strawberry additions.
When all of the strawberries have been added to the pan, bring the pan to a boil.
While your saucepan is heating up to that boiling poin, you can prepare empty jars by washing and drying them if you have not done so. I recommend using the method suggested by the manufacturer of the jars.
Once the items on the stove begin to boil, turn the heat down and allow to simmer for 2 1/2 to 3 minutes. Carefully pour the mix into the jars and allow to cool.
Once your jelly has cooled in the jars you can cover them tightly. The you can store them in your refrigerator.
This method of homemade jelly should last a couple of weeks in the refrigerator.
NOTE: If using pectin instead of jello, please refer to the post above for alterations to the recipe.
Details Prep time: 10 mins Cook time: 20 mins Total time: 30 mins Yield: 42-48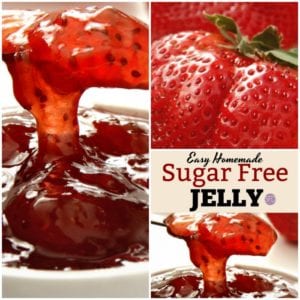 Homemade Sugar Free Strawberry Jelly
This is an easy method for making your own strawberry jelly that has no added sugar except from what comes from the strawberries.
Ingredients
Strawberries- 2 cups- if using frozen use no sugar added

Instant Gelatin in Strawberry- 1 -3 ounce box

Cold Water- 1 cup

Sugar Alternative–1/4 cup equivalent to sugar in volume. Also

granular works best.
Instructions
Start by placing your strawberries in a blender. Blend the strawberries until a near puree results. However, there should be some chunks of strawberries for best results.

Using a large saucepan, set on medium heat, combine your gelatin, cold water and sugar alternative. Cook this, stirring continuously, until the ingredients are combined together. This should take you about 3-4 minutes.

Next, we will add the strawberries to the saucepan. Stir in your strawberries 1/2 cup at a time. Be sure to stir the saucepan contents between strawberry additions.

When all of the strawberries have been added to the pan, bring the pan to a boil.

While your saucepan is heating up to that boiling poin, you can prepare empty jars by washing and drying them if you have not done so. I recommend using the method suggested by the manufacturer of the jars.

Once the items on the stove begin to boil, turn the heat down and allow to simmer for 2 1/2 to 3 minutes. Carefully pour the mix into the jars and allow to cool.

Once your jelly has cooled in the jars you can cover them tightly. The you can store them in your refrigerator.

This method of homemade jelly should last a couple of weeks in the refrigerator.

NOTE: If using pectin instead of jello, please refer to the post above for alterations to the recipe.

Details Prep time: 10 mins Cook time: 20 mins Total time: 30 mins Yield: 42-48