I have always wondered How to Make a Low Carb Stromboli.
Maybe you have wondered How to Make a Low Carb Stromboli as well.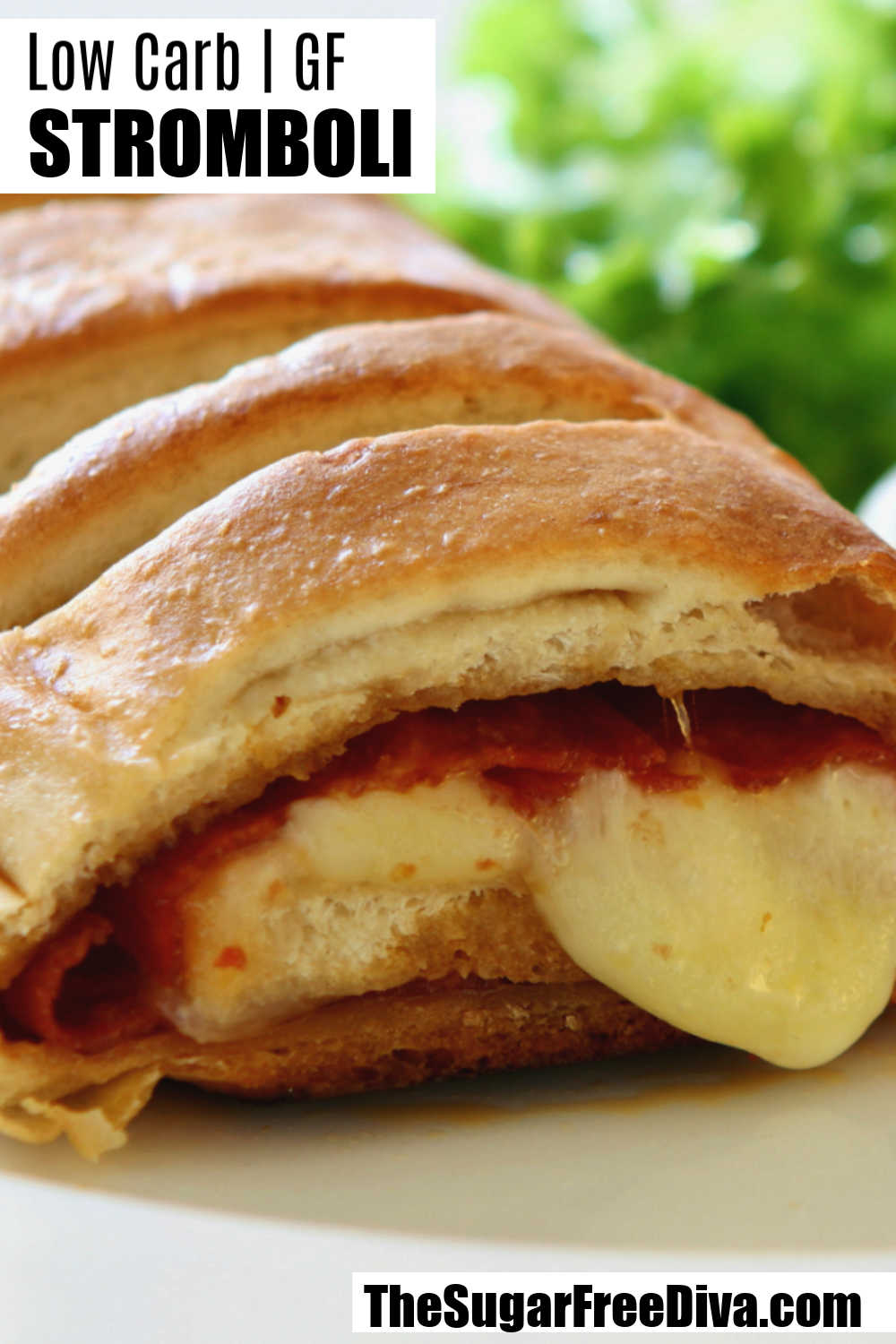 How to Make a Low Carb Stromboli

After all, Stromboli's are known partially because of their bread content.
And, we know that bread is loaded with carbohydrates and thus, pretty much the enemy of the low carb diet follower.

However, everything that you can add to the center of your Stromboli can be low in carbohydrates.
So, in order to make this low in carbs, we simply need to use a low carb bread in our recipe. No problem!!
A while back, I posted a recipe for a Low Carb Calzone.
You may also be wondering what the difference between a Calzone and a Stromboli is. Believe it or not there is indeed, despite how similar a Calzone and Stromboli may seem to be.
A Stromboli resembles a loaf of bread with Italian meats, cheese, and maybe some vegetables inside of it.
The bread used in a Stromboli is usually from pizza or Italian bread dough.
However, a Calzone on the other hand, is made from bread dough.
A Calzone is usually smaller in size as well. Maybe the biggest difference between a Stromboli and a Calzone is that a Stromboli has its origin from the United States rather than from Italy. The Calzone has its origins from Italy.
As mentioned, you can make a Stromboli using pizza dough or bread dough.
Because this is a low carb Stromboli recipe, we will focus on using low carb recipes for both choices.
Thankfully, I do have options for you when it comes to low carb (and gluten free) pizza or bread dough.
For the inside of this Stromboli, we will use pizza ingredients.
Pizza ingredients include anything that you would most likely put on top of a pizza. For example, you can stuff your Stromboli with mozzarella cheese, pepperoni, and maybe some mushrooms.
There are also sauce options for this recipe.
As far as a sauce goes, pizza sauce, Mariana sauce, or any Italian style tomato sauce is used. You can add it to your Stromboli or use the sauce as a dip for your baked Stromboli.
A moment ago, I mentioned that there are options for the dough that can be used to make your Stromboli.
You can use a pizza dough or a bread dough recipe.
Either one should work for your homemade Stromboli.
Here are some recipes for low carb and/or dough that you can use.
Lastly, this recipe mirrors a pizza recipe in a lot of ways.
This is because to make a Stromboli, will will roll out the dough like we would roll out a pizza crust dough.
Also, we use similar ingredients to stuff our Stromboli to what we would put on top of a pizza.

Here are some similar recipes that you may also like.
Keep up to date with my recipes
You can check out my guide on baking with sugar alternatives on Amazon

I have some great tips on which alternatives may work in a recipe such as this one.
Be sure to follow me on facebook and subscribe to my recipes via email to keep up to date as well.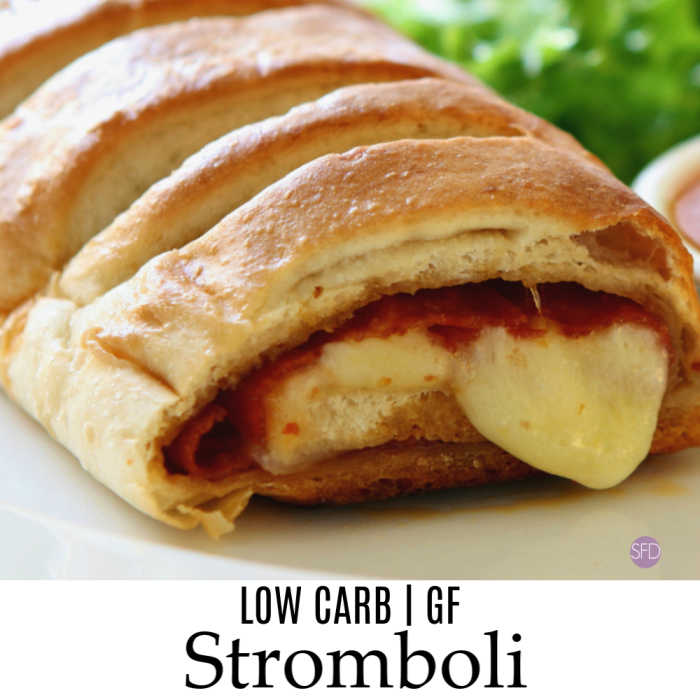 The recipe for How to Make a Low Carb Stromboli
As mentioned, you will need a low carb dough, such as one of these:
What you will need to make this How to Make a Low Carb Stromboli
Sauce is an optional ingredient. Use a pizza sauce, Mariana sauce, or any Italian style tomato sauce is used. You can add it to your Stromboli or use the sauce as a dip for your baked Stromboli.

How to make How to Make a Low Carb Stromboli
The Recipe Card for How to Make a Low Carb Stromboli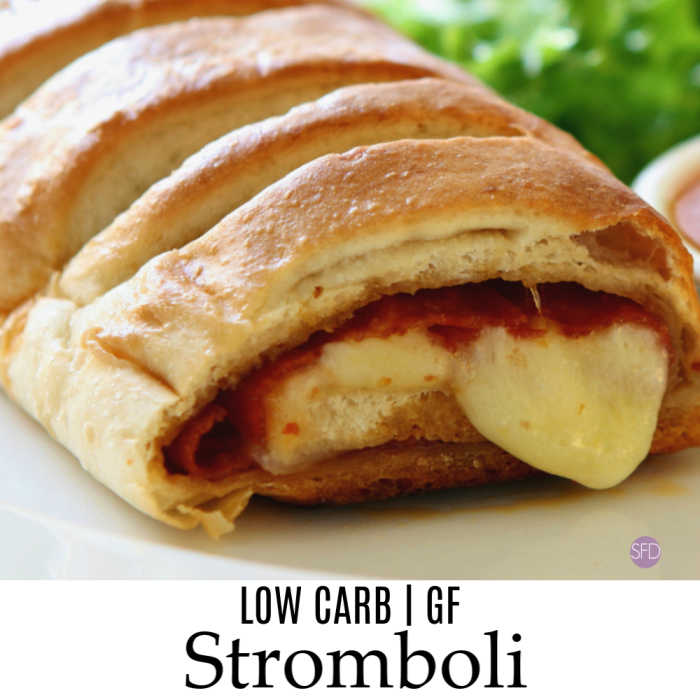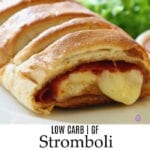 Print Recipe
How to Make a Low Carb Stromboli
Stromboli is a popular Italian style meal to make. It is also surprisingly easy to make as well. This is how to make a Low Carb Stromboli.
Instructions
Prepare your Stromboli dough as directed in the dough recipe that you are using. Preheat your oven to 375. Prepare a cookie sheet for nonstick. Roll the dough out on the cookie sheet, making sure that the dough is evenly rolled out. Then brush the dough with some of your melted butter (saving the rest for later).

Evenly distribute the sliced meat over the dough and the cover with the cheese. Any optional ingredients can be added here as well. This includes any sauce that you may want to add.

In the step we will roll or fold (once over) the Stromboli and shape it into a 'loaf'. In doing so, be sure to pinch the edges of the dough. Cut slits in the top of the Stromboli and then brush the remaining butter over it. Bake for 20-25 minutes or until just browned.
Recipe Notes
Please factor in the nutritional data for the dough that you choose to use in your Stromboli.
*About Sugar Alternatives
Specific sugar alternatives are not given in the recipes presented on this site. Only suggestions are given as to the 'kind' of alternative to use. It is up to you to select the alternative to use that suits your needs best. If the recipe is heated or cooked, it is best to use an alternative that can be heated or cooked with for best results. This site does not endorse any specific ingredients,
*As an Amazon Associate I earn from qualifying purchases. This means that the links on this website, and specifically on this post, that lead to other sites may be affiliate links.
Nutrition
Calories:
293
kcal
|
Protein:
12
g
|
Fat:
26
g
|
Saturated Fat:
11
g
|
Cholesterol:
69
mg
|
Sodium:
833
mg
|
Potassium:
119
mg
|
Vitamin A:
305
IU
|
Vitamin C:
0.2
mg
|
Calcium:
104
mg
|
Iron:
0.7
mg
Please note: Nutritional data has been calculated using a tool that comes with this recipe card and not by me. This means that Nutritional Information is only an estimate and can vary especially with ingredients that you use. The accuracy of this tool may differ from other tools as expected. Also note that there is no instructional value to the video that may be attached to this recipe. It is only there for visual pleasure. For more information about the images in this recipe, please refer the the recipe instructions. Thank you!
---
Follow Me
Thanks so much for visiting!
If you decide to make this recipe, please stop back and let me know how it turned out for you. Also, if you have any tips or tweaks to the recipe to share, please do so in the comment section below. My readers like to stop by periodically for updates on the recipes. Reading the comments below is helpful to these readers and hopefully to you too!!
Looking for a recipe that is not on my site?
Please let me know and I will will on getting that recipe for you.
Happy baking, eating, and enjoying life!
You can see items that have been featured on my Sugar Free Sunday Spotlight here.