Obviously, since this is a 'sugar free' site, we all want to know How to Measure Sugar Alternatives
By those sweeteners, I mean what we are using instead of sugar.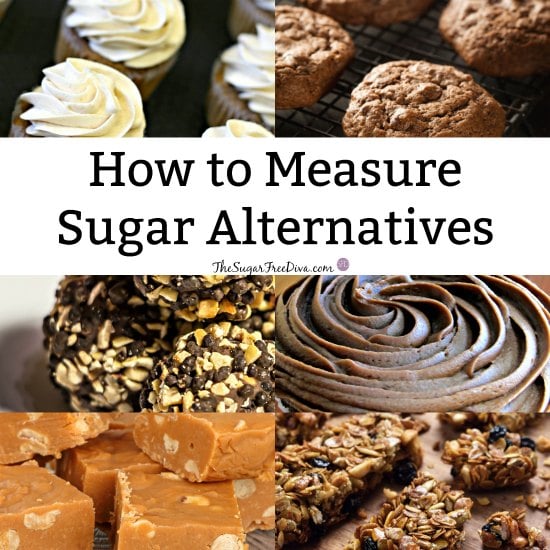 How to Measure Sugar Alternatives
When I fist started this site, I made the mistake of specifying one particular sugar alternative in a recipe.
As if we could all agree upon the one sweetener that we can all enjoy in a recipe. I learned my lesson early that there are options for sweeteners. Every recipe should have options as well.
When I bake at home, I usually first go with what I have on hand first.
There is a famous brand name sweetener that I purchase in a large bag at my local warehouse club pretty affordably. However, this sweetener may not always be the best choice for recipes, as we all know.
I can appreciate folks who like to stick with the all natural sweeteners too.
Seeing my parents suffer with pretty bad dementia really made me think about a lot of what goes into my body. Not that there is any scientific proof that I know of linking sweeteners to this damming disease.
Luckily we have choices that are not sugar.
While these choices may be natural or not so natural, they are not sugar. For me, that means my blood sugar will not spike and fall. For you, that may mean something different.
These days, when I post recipes, I will say "alternative".
Also, I will say the amount to use as per the sugar equivalent since not all equivalents are measured the same. Hence, if your sugar alternative is not measured in 1:1 with sugar you may need to do some math to make your amounts equivalent to the recipe amounts. For example, if I say "1 cup equivalent to sugar" then I meant whatever amount of your sweetener would be equal to 1 cup of sugar because you may be using something different than I use.
Because we all know that math can be tasking on the brain, here are some hints.
After all, who wants to use their brain to do math when you are in give me something almost sweet to eat? Not me.
My listing is of common sugar alternatives that people like to use and not necessarily any that I would promote or suggest as you should use what works best for you.
Keep in mind that different brand names will have sweeteners in different packaging etc that may differ in equivalents.
(according to their websites etc)
Here are equivalents to Measure Sugar Alternatives
1 cup of sugar=
Agave Nectar*- ⅔ cup
Coconut Palm Sugar- 1 cup
Erythritol- 1 ⅓ cup
Equal- 25 packets or EQUAL SPOONFUL 1 cup
Honey*- substitute ½ to ⅔ cup honey.
Maple Syrup- ½ cup
Molasses- ½ cup
SPLENDA® NO CALORIE SWEETENER, GRANULATED- 1 cup
SPLENDA® No Calorie Sweetener and SPLENDA® Naturals Stevia Sweetener Packets- 24 packets
Also, SPLENDA® Sugar Blend- ½ cup
SPLENDA® Brown Sugar Blend- 1 cup
Stevia- Equivalent Stevia powdered extract 1 teaspoon or Equivalent Stevia liquid concentrate 1 teaspoon
SweetLeaf®- 24 packets or 2 tbsp shaker or 4 tsp drops or ½ tsp extract powder or ⅔ cup Sugarleaf
Truvia Natural Sweetener- ⅓ cup+ 1 ½ tbs or 24 packets.
Truvia Brown Sugar Blend- ½ cup
Also,Truvia Baking Blend- ½ cup
Truvia Nectar- ¼ cup+ 1 tbsp+ 2 tsp
Xylitol- 1 cup
*Honey- For every cup used subtract ¼ cup of other liquids from the recipe, add ¼ teaspoon baking soda and reduce the temperature of the oven by 25°F rather than the usual temperature as well. Agave- reduce the liquid in the recipe by ¼ cup rather than the full amount--Also, this substitution will also work for Demerara Sugar, Turbinado Sugar, Evaporated Cane Juice, or Sucanat as well.
For more information, you find an array of books all about blood sugar and sugar alternatives on Amazon.
Here is a cheat sheet for you to pin or print.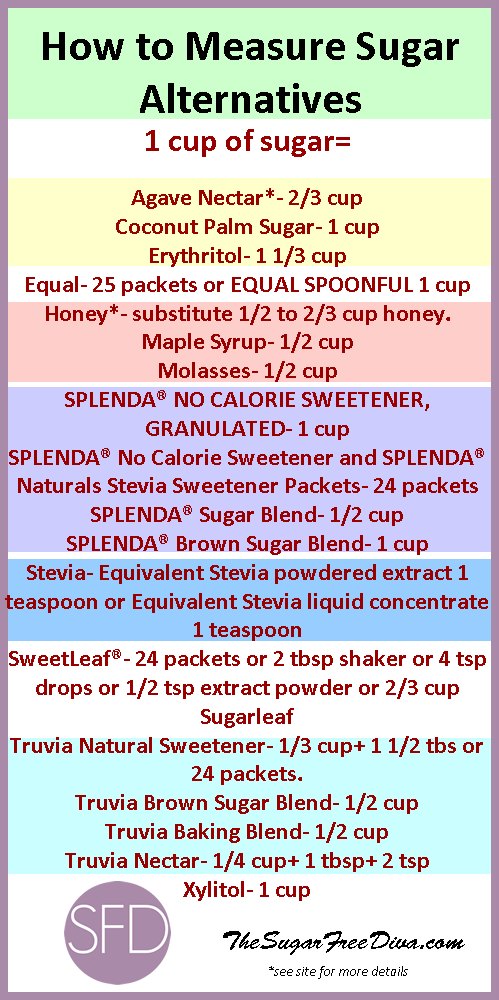 While you are here, you may be interested in these most noteworthy, especially relevant recipes as well.