This Sugar Free Homemade Zucchini Muffins Recipe is really one of my favorites.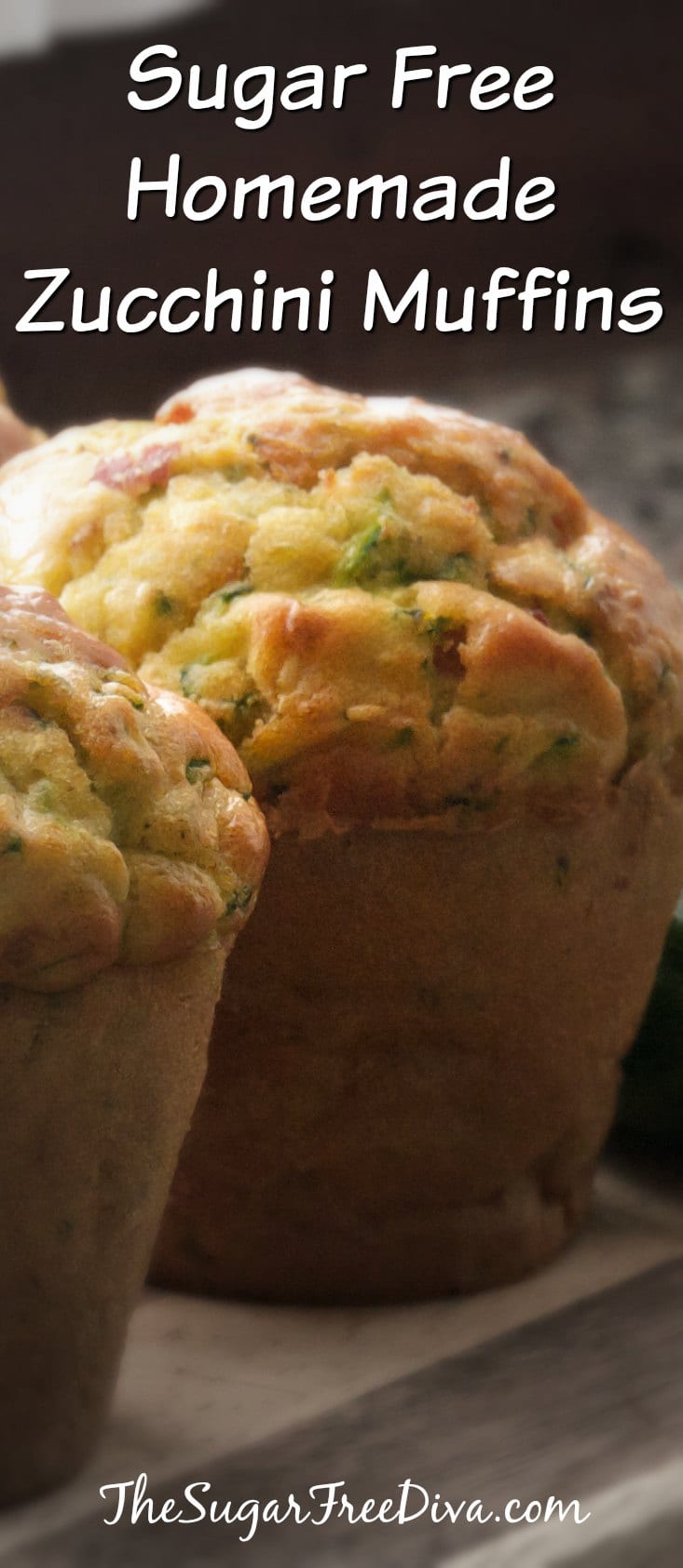 Sugar Free Homemade Zucchini Muffins Recipe
I grow zucchini garden in my garden every summer.
I love growing zucchini because watching the progress of the plants in my garden is really fun to do. Watching them grow is an amazing thing to see especially, when they star to flower.
Finding something to do with all of that zucchini is easy to do.
We eat plenty of it plain. I also bake with the results of my bounty.
Zucchini, aka. Summer squash, is a healthy vegetable.
When you eat one average zucchini you will eat about 33 calories worth of goodness. That's pretty good because you can get a pretty good side dish or muffin batch made with that one zucchini. Zucchini is also virtually fat free and is a good source for potassium, vitamin A and vitamin C.
Most people do not know that the flowers from squash plants, such as zucchini, are edible.
In some places, it is customary to fry the flowers and then eat them. Of course, this would mean that because you ate the flowers, there would be no zucchini to enjoy later on. The flowers are stunning to look at just the same.
The Recipe-Sugar Free Homemade Zucchini Muffins
This recipe is easy to make. The difference in this recipe from other recipes is that we use sugar alternatives rather than sugar. The sugar alternative that should be used is the one that you are most comfortable using. As long as it is in equivalent amounts of that product to what is called for in the recipe, it should be good.

Sugar Free Homemade Zucchini Muffins
Ingredients
Zucchini- 1 1/2 cups shredded with skin.
Flour- 1 1/2 cups AP
Sugar Alternative- 1 cup equivalent
Baking Powder-1/2 teaspoon
Baking Soda-1/2 teaspoon
Salt- 1/2 teaspoon
Ground Cinnamon- 1 teaspoon
Egg s-2 Large
Oil- such a canola- 1/2 cup
Vanilla extract -1 tsp
optional- chopped walnuts or other nut 1/2 cup optional- lemon juice 1 tablespoon optional- raisins or other dried fruit- 1/2 cup
Instructions
Preheat your oven to 350 and prep your muffin pan for nonstick. I am a fan of silicon baking pans or using parchment paper.
In a large mixing bowl, combine the flour, sugar alternative,baking powder, baking soda, cinnamon, and salt.
In another bowl, mix together the eggs, vanilla, (lemon juice if added) and oil.
Add the bowl of wet ingredients to the mixing bowl that contains your dry ingredients and mix together.
Fold in your remaining ingredients including the zucchini.
Bake your Sugar Free Homemade Zucchini Muffins for 20-25 minutes or until toothpick comes out clean.
https://thesugarfreediva.com/sugar-free-homemade-zucchini-muffins/
Recipe courtesy of TheSugarFreeDiva.com
We like to eat these muffins while they are warm.
However, they are also delicious as left overs the next day. I also like to make these and bring them into my restaurant for my coworkers to enjoy. Everyone likes these especially, when I also bring in some zucchini for them to bring home to enjoy.