As silly as it may seem, I find that it can be important to know how to make How to make Sugar Free Condensed Milk.
Also important to know is that it is possible to do this.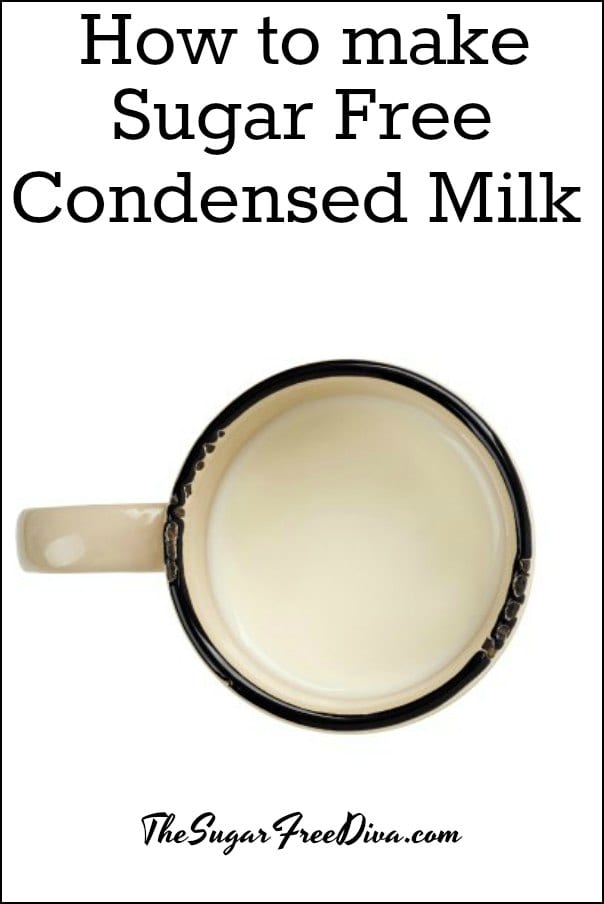 How to make Sugar Free Condensed Milk

This recipe is for all of use who have been stumped by an ingredient in a recipe.
For me, that 'recipe-stump' usually is something like condensed milk.

I spend quite a bit of time trying to convert normal recipes into sugar free ones.
Often, this recipe conversion means having to find work-around for certain recipes. This is especially true when I am baking something wonderful.

There is a difference between evaporated milk and condensed milk.
I am mentioning this because people often wonder if you can substitute one for the other.
Thanks to this recipe, or simple hack, you can substitute a version of evaporated milk for the condensed milk.
Yes, condensed milk is sweetened while evaporated milk is not
However, you should know that both are virtually the same in milk concentration. Hence, evaporated milk can be used for the condensed stuff. All we need to do is sweeten it using this method.

Here are some similar recipes that you may also like.
I will be posting recipes in the near future that incorporate this sugar free condensed milk.

Keep up to date with my recipes
You can check out my guide on baking with sugar alternatives on Amazon

I have some great tips on which alternatives may work in a recipe such as this one.
Be sure to follow me on facebook and subscribe to my recipes via email to keep up to date as well.
The recipe for How to make Sugar Free Condensed Milk
Method 1- using evaporated milk or other kind of milk.
How to make How to make Sugar Free Condensed Milk
Whisk together the evaporated milk with the sugar alternative. Then heat this mixture on low-medoum heat on the stove. You will need to stir or whisk this continually until it warms enough to want to start the bubble. At this point, reduce the heat to low and allow to simmer. If a thick layer wants to form, simply skim it off.
When this mixture reaches your desired thickness, you can remove from heat and mix in the butter.However, if your desired thickness has not been reached in an hour, you can stir in the Guar Gum just before you sir in the butter. Also, for added flavor you can add a teaspoon of vanilla.
Method 2- easy
Dry Milk Powder– 1 cup.
Tap Water- 1/3 cup.
Sugar Alternative- 1/3 cup (granular works best).
How to make this.
Over medium heat in a sauce pan, combine together the dry milk powder with the tap water. Stir this as needed and cook until it thickens- about 10 to 20 minutes.
Remove this from heat and stir in the sugar alternative.
Allow this to cool at room temperature and then refrigerate for at least a half hour before using.
When ready to use, stir with a fork or whisk.
Method 3- the easiest.

Simply purchase sugar free condensed milk online.