This Easy Sugar Free Banana Cream Pie recipe is impressively great tasting as it tastes like creamy banana in a pie..
I also like how easy it is to make this tasty banana pie!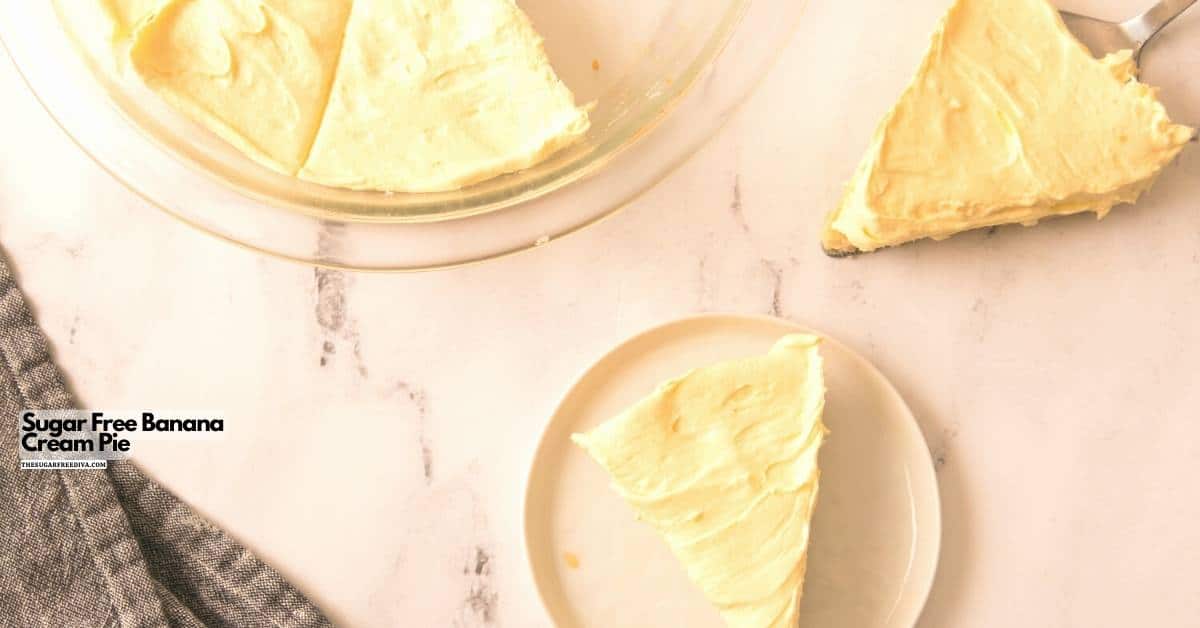 Easy Sugar Free Banana Cream Pie

This is basically a four ingredient recipe (plus pie crust) for a pie that has no added sugar in it.

I have many pie crust recipes that you can use for this pie or you can use a pre-made sugar free pie crust.
Have you tried my Sugar Free Lemon Mousse Pie?

That lemon mousse pie is very similar to this banana pie as they are both sugar free no bake pie recipes.
However, this pie is made with banana flavoring while that pie is lemon.
To make this banana pie recipe you will need sugar free banana pudding. You can find sugar free banana pudding here.
This recipe is especially for anyone asking how do you make banana cream pie.

Many recipes for banana cream pie do indeed contain bananas.
However, this recipe does not as we are using banana pudding instead.

This recipe can also be made low in carbohydrates using a low carb banana pudding.

To keep this recipe as keto and low carb friendly as possible, we will not add bananas to the recipe. However, adding a few slices of banana to the top of the pie before serving is a possibility if this is okay for your needs.
You may be wondering what the difference is between a cheesecake and a pie.

This banana pie recipe is based upon a basic no bake cheesecake recipe.
We are using cream cheese as the base for the structure of this pie.

This is a no bake pie recipe.
It is really easy to make and perfect for serving up to a gathering of friends or just for yourself.

However, this recipe makes for a great tasting dessert too.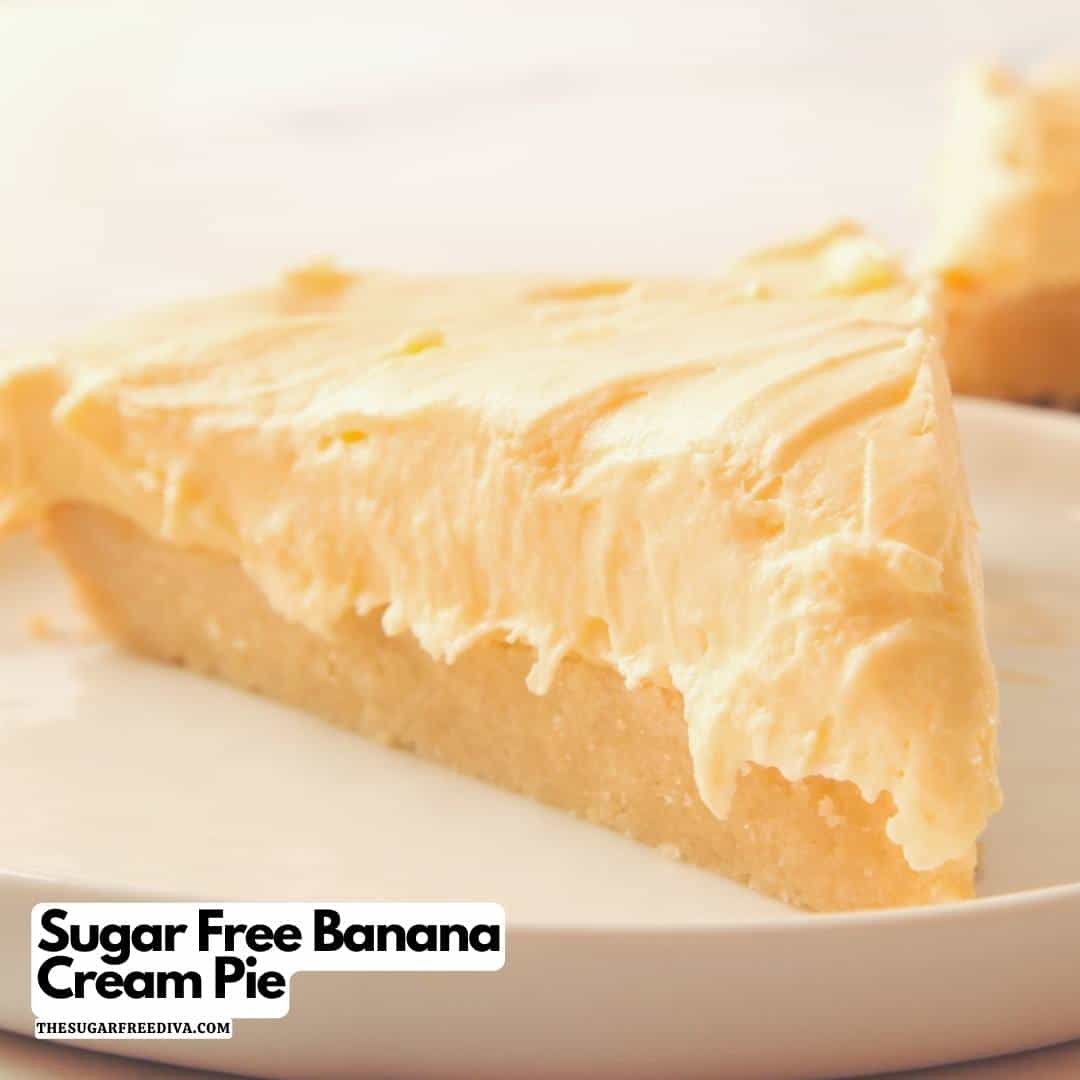 Here are some tips for making sugar free no bake pie.

While this recipe is for banana cream pie you could make it into any kind of cream by. Simply substitute in another sugar free pudding flavor such as sugar free butterscotch or chocolate cream pie.


More helpful tips for you.
Make this recipe in advance and allow it to set in the freezer or refrigerator. This will allow the texture to set better.
Avoid licking the spoon or utensils that you use to make this recipe with. It is usually a good idea to do so anyway whenever you are creating in the kitchen. However, in the case of this recipe, your saliva can affect the ability of your pie to set correctly.
An easy way to soften your cream cheese is to remove the block from its wrapper and microwave it for 10 seconds. Of course, you should place it in a microwave safe bowl or dish before doing so.
I am providing you with a pie crust recipe. Feel free to use your own recipe for pie crust or a premade low or no sugar one.
How to store this banana cream pie.

If you carefully cover this pie with foil it should keep for about six weeks frozen or about five days refrigerated when properly stored. Allow the pie to defrost before serving.
Here are some similar recipes that you may also like.
Keep up to date with my recipes
You can check out my guide on baking with sugar alternatives on Amazon

I have some great tips on which alternatives may work in a recipe such as this one.

Be sure to follow me on facebook and subscribe to my recipes via email to keep up to date as well.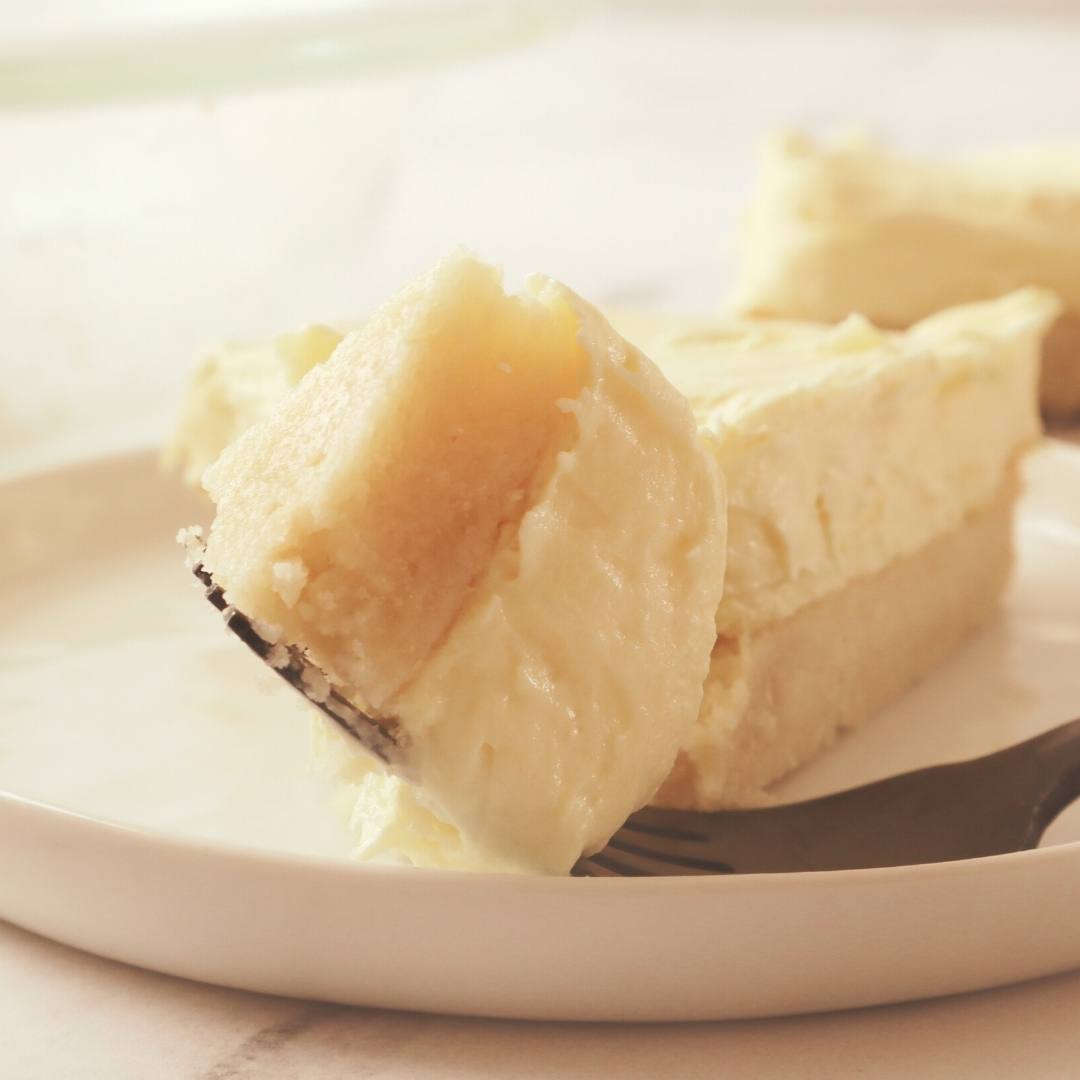 How to make a low carb, keto, sugar free pie crust.
You will need:

How to make the crust.
Place chopped pecans and almond flour in a skillet on medium heat stirring frequently until golden brown (about 10 minutes).
Then combine the toasted ingredients with the remaining ingredients in a mixing bowl.
When you are able to press this ingredients together, press it into a prepared pie pan and then refrigerate until set.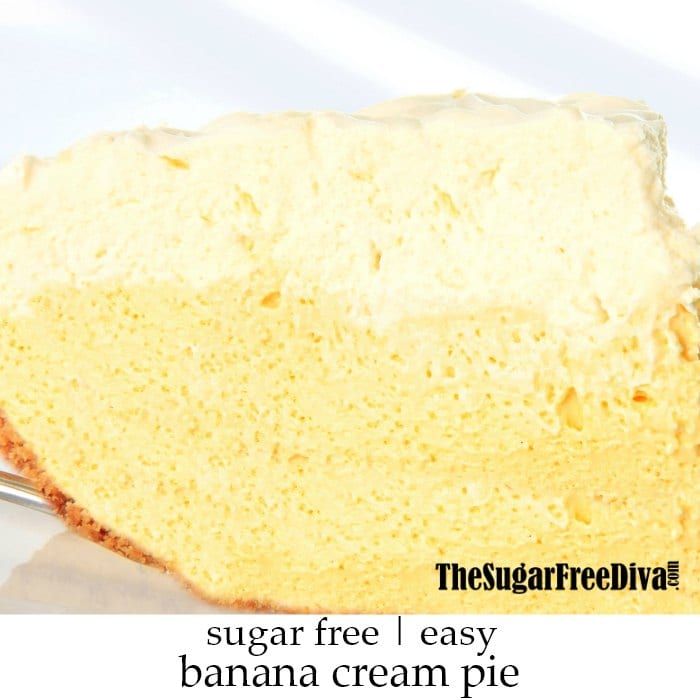 Ingredients needed to make banana cream pie with no added sugar.
Pie Crust- 1 pie crust prepared as directed. There is a recipe above or you can purchase a crust premade.
Sugar Free Banana Pudding - 1 four serving box.
Cream Cheese- 1 eight ounce bar softened to room temperature.
Sugar Free Whipped Cream or Topping- 1 cup for the filling and an additional for topping before serving. If you are using a store bought tub, be sure that it is thawed first for best results.
Optional- sugar alternative as needed to sweeten this up to your taste. It should only take a tablespoon or two depending on the product that you are using.
Optional- to thin up the consistency of your pie, add some milk (tablespoon at a time while mixing) or whipping/heavy cream or yogurt if needed.
How to make this Sugar Free Banana Cream Pie.
Prepare the crust as indicated above or using a purchase pie crust. The pie crust recipe above will need to be refrigerated in order to set properly. Also, place your mixing bowl in the refrigerator (for at least 20 minutes) before making the mousse pie filling. *Tip: place the bowl into your refrigerator when you refrigerate the pie crust!
In the refrigerated bowl, beat the cream cheese until it is smooth and creamy. Add the sugar free (dry, not prepared) banana pudding and blend until smooth.
Switch to a whisk attachment if possible and add the whipped topping. Set the mixer on medium/high and mix until creamy and well incorporated.
Transfer the mixed ingredient to the pie crust. Evenly spread the ingredients in the pie crust and refrigerate covered until set, about four hours.
You can serve this pie with a low carbohydrate sugar free whipped topping if desired.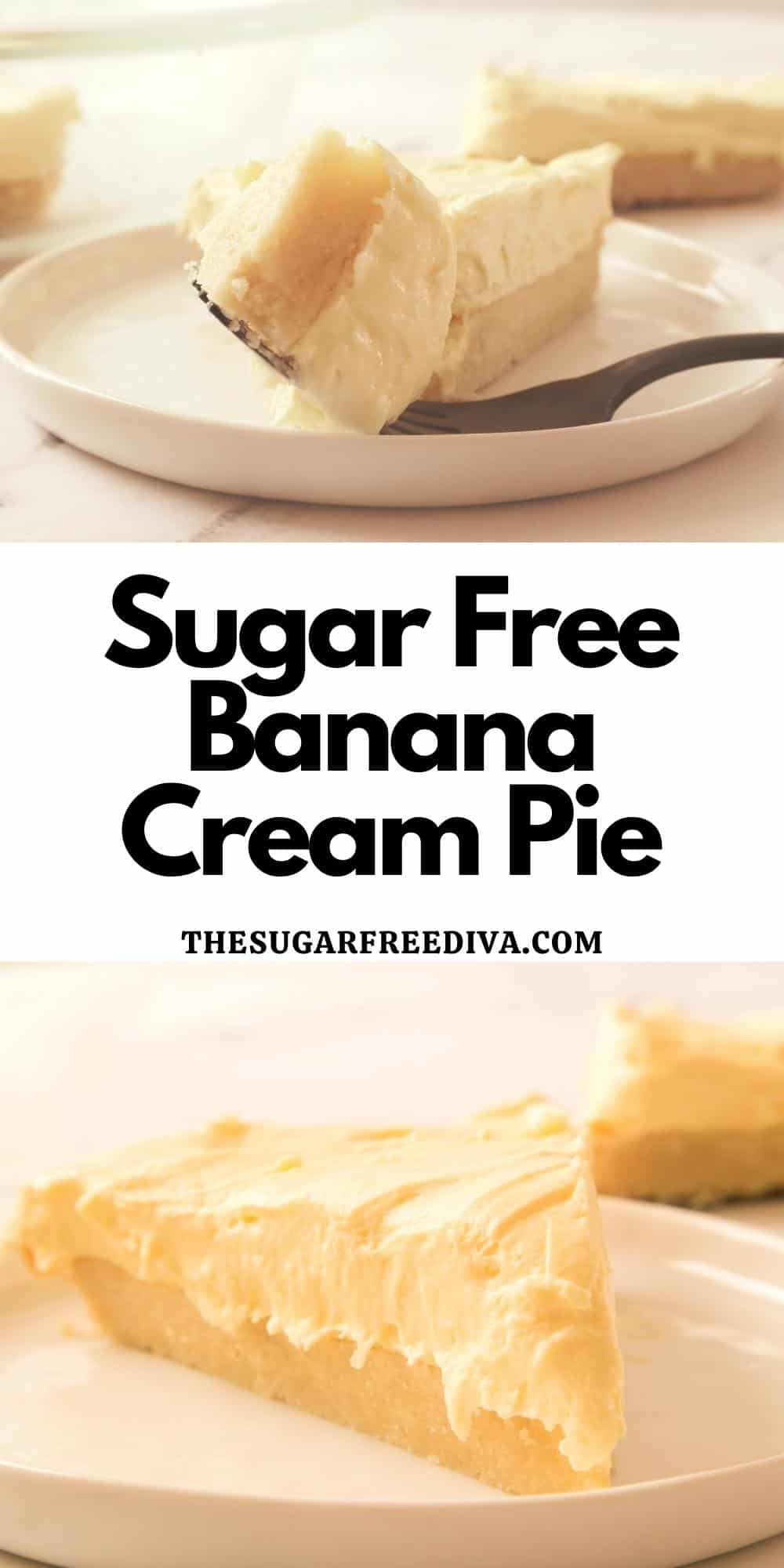 The Recipe Card for Easy Sugar Free Banana Cream Pie
Easy Sugar Free Banana Cream Pie
This delicious tasting and Easy Sugar Free Banana Cream Pie can be made low carb, keto or gluten free diet friendly as well.
Ingredients
1

Crust

-see post for details

8

ounces

Cream Cheese

-softened

1

Sugar Free Pudding

-4 serving box, banana

2

cup

Whipped Cream

-divided, save half for topping,.
Instructions
Prepare your pie crust as indicated and then allow it to cool.


Outfit your mixer with a whisk attachment. In your mixing bowl beat your cream cheese until it is smooth in texture.

Then add the whipped topping and beat until they become thick and blended. This could take a few minutes to happen.

Once the mixture becomes thickened you can add your instant pudding (and any optional additional sweetener) and mix until blended.

If the consistency seems a bit thick you can dd milk, cream or even yogurt and blend until you reach a good consistency.

Transfer the filling to the prepared crust. Refrigerate or freeze covered until firm. Refrigerating should take a few hours to firm up.

You can add the remaining whipped cream before refrigerating/freezing or when serving.
Recipe Notes
*Please check the nutritional labels to assure that you are sticking to your diet restrictions for any substitutions used.
- see post for alternatives
Please see recipe post for further details on this recipe.
Nutritional Information is only an estimate and can vary especially with ingredients that are used.
See thesugarfreediva.com for details on this recipe.
*About Sugar Alternatives
Specific sugar alternatives are not given in the recipes presented on this site. Only suggestions are given as to the 'kind' of alternative to use. It is up to you to select the alternative to use that suits your needs best. If the recipe is heated or cooked, it is best to use an alternative that can be heated or cooked with for best results. This site does not endorse any specific ingredients,
*As an Amazon Associate I earn from qualifying purchases. This means that the links on this website, and specifically on this post, that lead to other sites may be affiliate links.
Nutrition
Calories:
124
kcal
|
Carbohydrates:
3
g
|
Protein:
3
g
|
Fat:
10
g
|
Saturated Fat:
6
g
|
Cholesterol:
34
mg
|
Sodium:
78
mg
|
Potassium:
49
mg
|
Sugar:
2
g
|
Vitamin A:
387
IU
|
Calcium:
34
mg
|
Iron:
1
mg
Please note: Nutritional data has been calculated using a tool that comes with this recipe card and not by me. This means that Nutritional Information is only an estimate and can vary especially with ingredients that you use. The accuracy of this tool may differ from other tools as expected. Also note that there is no instructional value to the video that may be attached to this recipe. It is only there for visual pleasure. For more information about the images in this recipe, please refer the the recipe instructions. Thank you!
---
Follow Me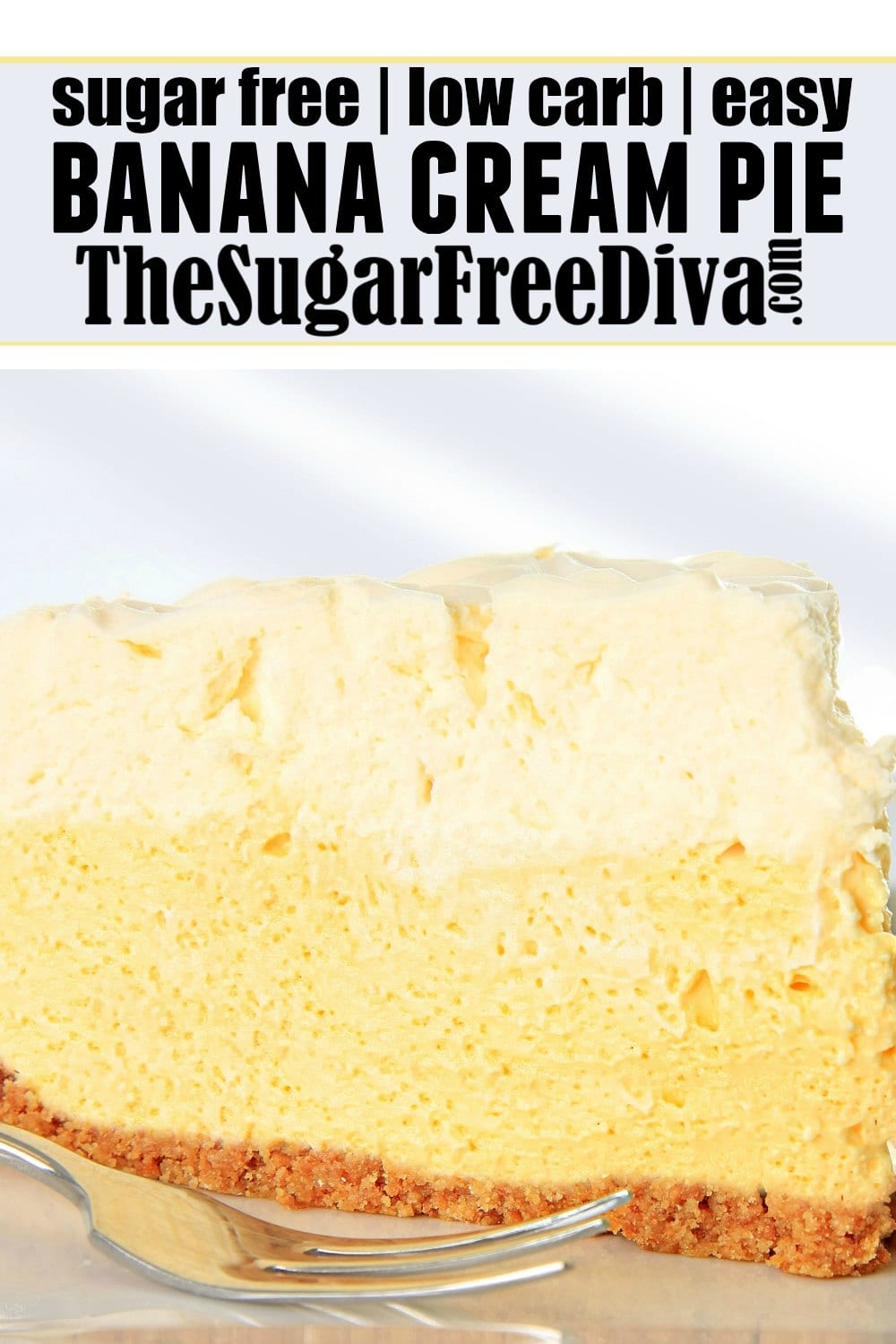 Thanks so much for visiting!
If you decide to make this recipe, please stop back and let me know how it turned out for you. Also, if you have any tips or tweaks to the recipe to share, please do so in the comment section below. My readers like to stop by periodically for updates on the recipes. Reading the comments below is helpful to these readers and hopefully to you too!!
Looking for a recipe that is not on my site?
Please let me know and I will work on getting that recipe for you.
Happy baking, eating, and enjoying life!

Nutritional Information is only an estimate and can vary especially with ingredients that are used.
This delicious tasting and Easy Sugar Free Banana Cream Pie can be made low carb, keto or gluten free diet friendly as well.

Please see recipe post for further details on this recipe.
You can see items that have been featured on my Sugar Free Sunday Spotlight here.
......
updated 4/22