Low Carb Zucchini Egg Cups that so much goodness in them.
I like that this is a tasty and easy breakfast recipe to make when you have a crowd to serve.

Low Carb Zucchini Egg Cups

This is an easy to make breakfast or brunch idea that is baked in an oven.
Because this egg recipe is baked in an oven, you can possibly even call it a 'muffin'.

Did you try my recipe for Keto Egg in a Bagel?
That recipe calls for baking an egg that is set inside of the hole of a keto low carb bagel.
This recipe however, features an egg along with some great tasting vegetables.
This recipe calls for baking the eggs and vegetables in a muffin tin.
You can find a great variety of sizes of muffin tins here (along with disposable ones).
People ask what happens when you cook an egg in the oven.
I know that it may sound silly at first because we are so use to cooking eggs on the stove.
However, the eggs on the stove are usually cooked individually as eggs.
In this recipe, the eggs are basically an ingredient rather than the sole focus.
That is, in this recipe the eggs are beaten and then other ingredients are added before everything gets baked. It helps to think of these baked eggs as kind of like mini quiche but, without the crusts.
You may be wondering how to you not overcook eggs.
Nobody likes having to deal with 'rubbery' eggs.
Not only are over cooked eggs not so pretty to look at, they can be kind of unappetizing too.
Here is how to avoid getting those rubbery eggs.
It is important to not over-bake the eggs.
That is, rather bake the eggs at the suggested temperature and for the suggested amount of time in this recipe.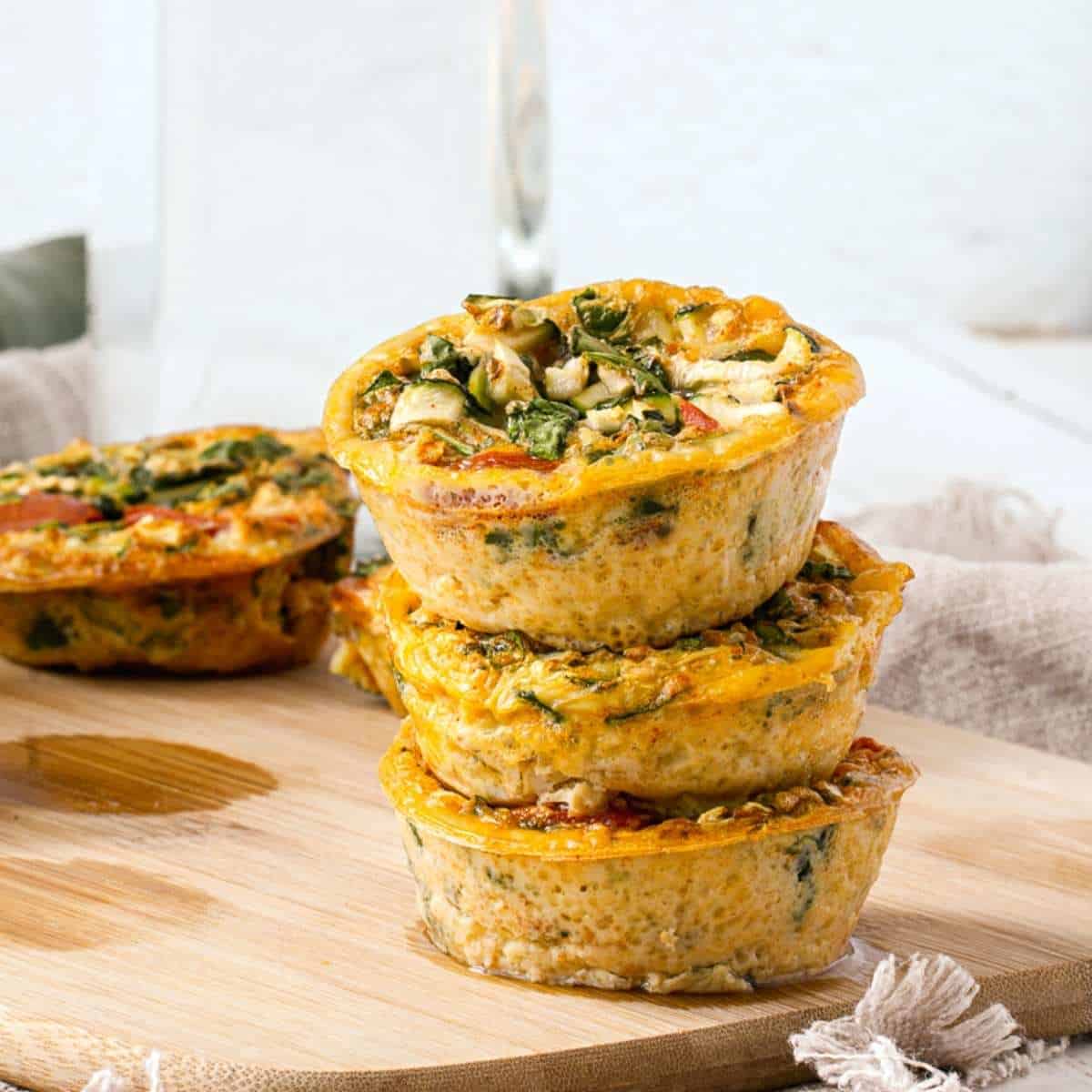 Here are some tips healthy baked egg cups .
We are adding baking powder to this recipe to make the eggs even more fluffy. If you would like a less fluffy result, simply omit the baking powder.
Here are some more helpful tips for you.
I have added broccoli and spinach to this recipe. Feel free to omit one and just use one. Or, you can sub in another vegetable such as cauliflower.
You can also add some shredded cheese to these baked egg cups. I like shredded cheddar or mozzarella cheese in this recipe.
Make this recipe more like a muffin. Simply add a quarter cup of a keto flour and omit the baking powder.
How to store baked egg cups.

These Low Carb Zucchini Egg Cups are best when they are fresh out of the oven.
However, leftovers can be stored refrigerated in an air tight container for up to three days.
Here are some similar recipes that you may also like.
Keep up to date with my recipes
You can check out my guide on baking with sugar alternatives on Amazon

I have some great tips on which alternatives may work in a recipe such as this one.
Be sure to follow me on facebook and subscribe to my recipes via email to keep up to date as well.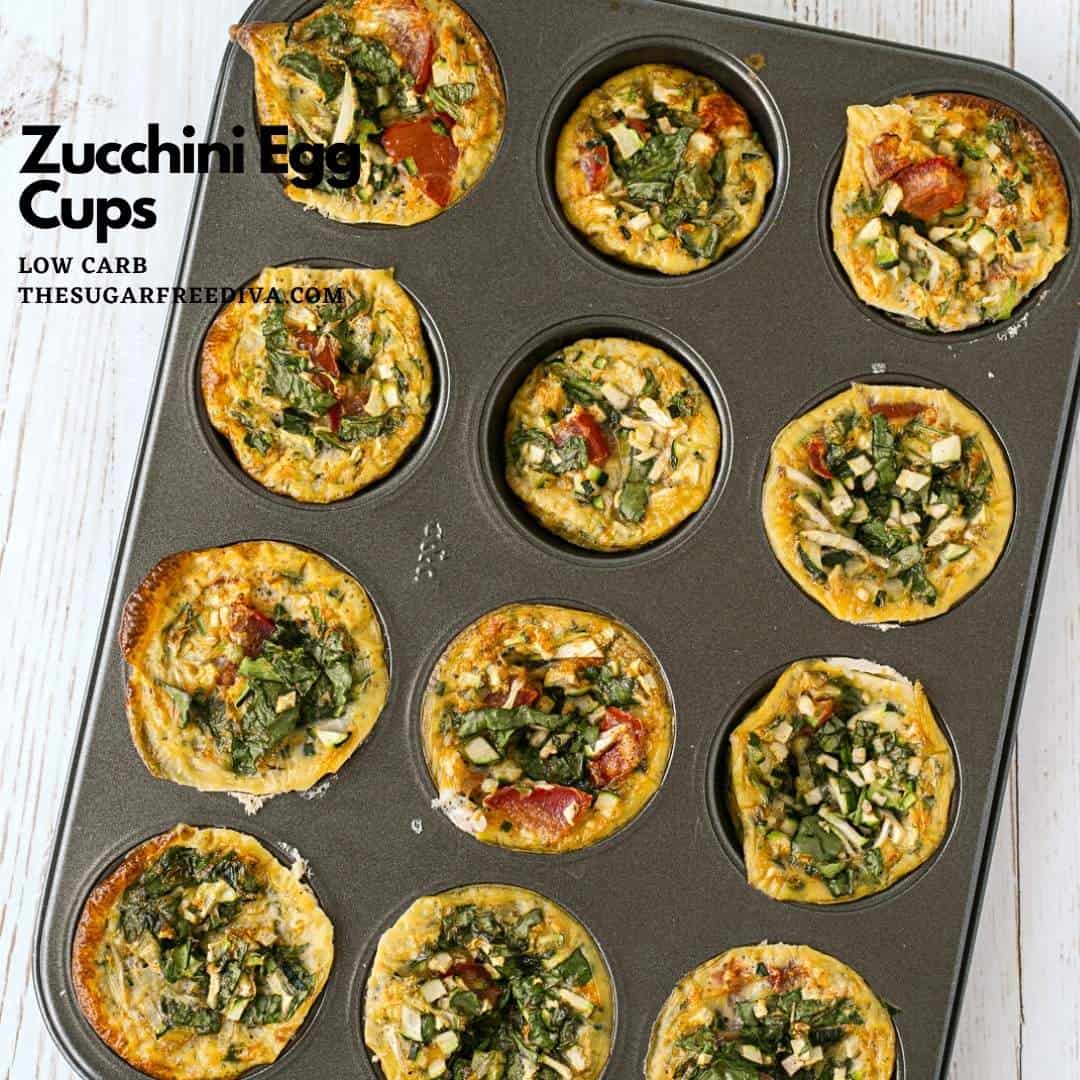 The recipe for baked scrambled egg cups
Prep work for this recipe is both essential and simple.
Make sure that your muffin pan is well prepped for easy removal.
You can also personalize this recipe.
Adding precooked meats, such as bacon or chopped sausage, is one way to personalize this recipe.
Another way to personalize this recipe is to add Seasonings as desired. This can include Italian Seasonings, Mediterranean Diet Seasoning Blend, Greek Seasoning Blend, Salt, and/or Pepper.
Ingredients needed to make spinach egg muffins
Zucchini- 2 ½ cups chopped.
Spinach- 2 cups lightly packed, Spinach should be fresh, washed, and allowed to fully drain.
Tomato- 1.
Eggs- 8, averaged sized eggs at room temperature.
Baking Powder- 1 teaspoon
Seasonings as desired. This can include Italian Seasonings, Mediterranean Diet Seasoning Blend, Greek Seasoning Blend, Salt, and/or Pepper.
Optional- shredded cheese, chopped bacon, or additional vegetables.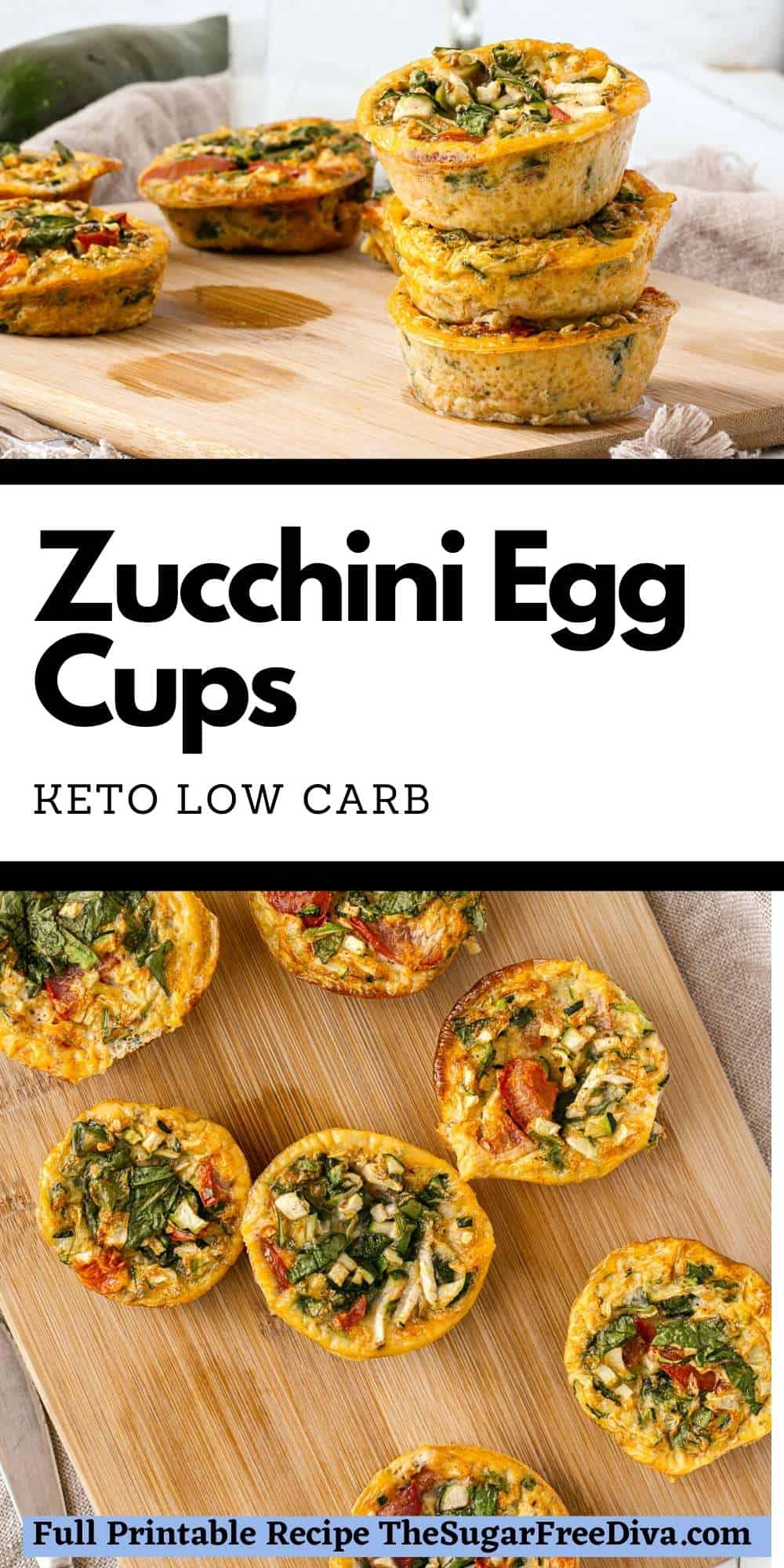 How to make baked egg cups with spinach
Preheat your oven to 350 and prep you muffin pan well for nonstick.
If you have not done so, wash or remove the skin and chop up your zucchini. Also, wash and drain your spinach and then chop into 1 inch pieces. To prepare the tomato, slice it in half and scoop out the seeds and liquid. Then chop the tomato into small pieces.
Use a whisk or whisk attachment on a mixture to beat the eggs for two minutes. You want to introduce air into the eggs which will make them fluffy. Then add the baking powder and seasoning an beat for another minute. Use a spatula to fold in the chopped vegetables.
Evenly distribute the mixture into your prepped muffin pan to about ¾ full. Bake until set, about 20 minutes.
The Recipe Card for Low Carb Zucchini Egg Cups
Thanks so much for visiting!
If you decide to make this recipe, please stop back and let me know how it turned out for you. Also, if you have any tips or tweaks to the recipe to share, please do so in the comment section below. My readers like to stop by periodically for updates on the recipes. Reading the comments below is helpful to these readers and hopefully to you too!!
Looking for a recipe that is not on my site?
Please let me know and I will work on getting that recipe for you.
Happy baking, eating, and enjoying life!

Nutritional Information is only an estimate and can vary especially with ingredients that are used.
Low Carb Zucchini Egg Cups, a simple healthy protein packed egg and vegetable breakfast baked like a muffin.
Please see recipe post for further details on this recipe.
You can see items that have been featured on my Sugar Free Sunday Spotlight here.