Sugar Free Peanut Butter Twix is copycat version of the popular candy bar.
This homemade candy bar tastes like a lush yummy crunchy peanut butter cookie with a chocolate covering.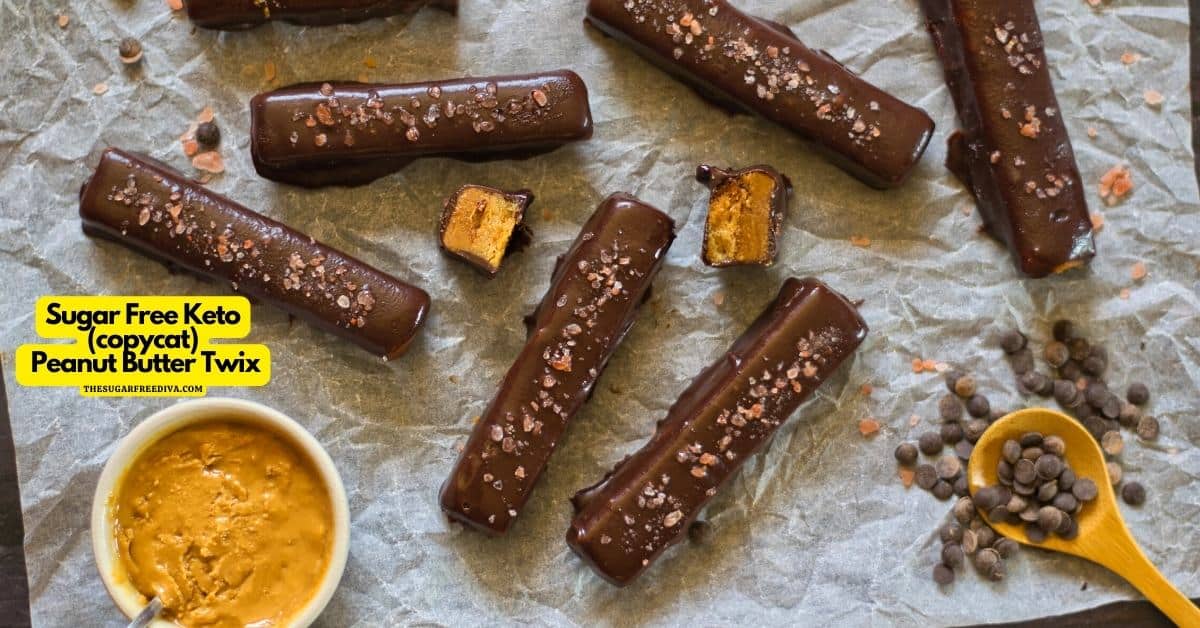 Copycat Sugar free Peanut Butter Twix bars.

The inside of this bar is a crunchy peanut butter cookie.
That cookie is then covered with sugar free chocolate.
Did you try my Sugar Free Copycat Twix Bars?
That recipe is also a copycat version of the popular candy bar. However, this version has the added peanut butter flavor to it!
To make this recipe you will need sugar free dark chocolate chips. You can find a variety of dark chocolate chips with no added sugar here.
What is a Twix Bar?
A 'Twix Bar' is a popular candy bar.
The candy bar resembles connected cookies that are covered in chocolate.

The cookies themselves are comprised of two layers.
On the bottom there is a crunchy shortbread cookies.
Layered on top of the cookies is a caramel-like sweet layer.
Why is it called Twix?
Twix is rumoured to be of 'English' origin.
As are result, its name can be traced to the British.

The "TW" is said to represent twins (as the candy bar will have two cookies).
Then the "IX" comes from the shortened name for 'biscuits' (aka cookies).
😉
Tips for making this sugar free bar.
It is important that you oven gets to the correct temperature before baking the cookie portion of this recipe. For this reason you should allow the oven to preheat for at least 10 minutes.
More helpful tips for you.
Almond flour and coconut flour are both used to make to make the crunchy center of these bars. The ingredients and the amounts used should not be altered for best results.
Sugar free creamy peanut butter works best in this recipe. You could use an alternative sugar free nut butter instead.
The filling in my bars uses sugar free maple syrup. You could however use the liquid sugar alternative of your choice or actual maple syrup, making adjustments as needed.
How to store copycat peanut butter bars.
These bars should be stored in an airtight container. They can be refrigerated or frozen but, you should let them get to room temperature before serving for a more enjoyable bar.
Here are some similar recipes that you may also like.
👉 Be sure to follow me on Facebook, Instagram, Pinterest, and subscribe to my recipes via a weekly email to keep up to date.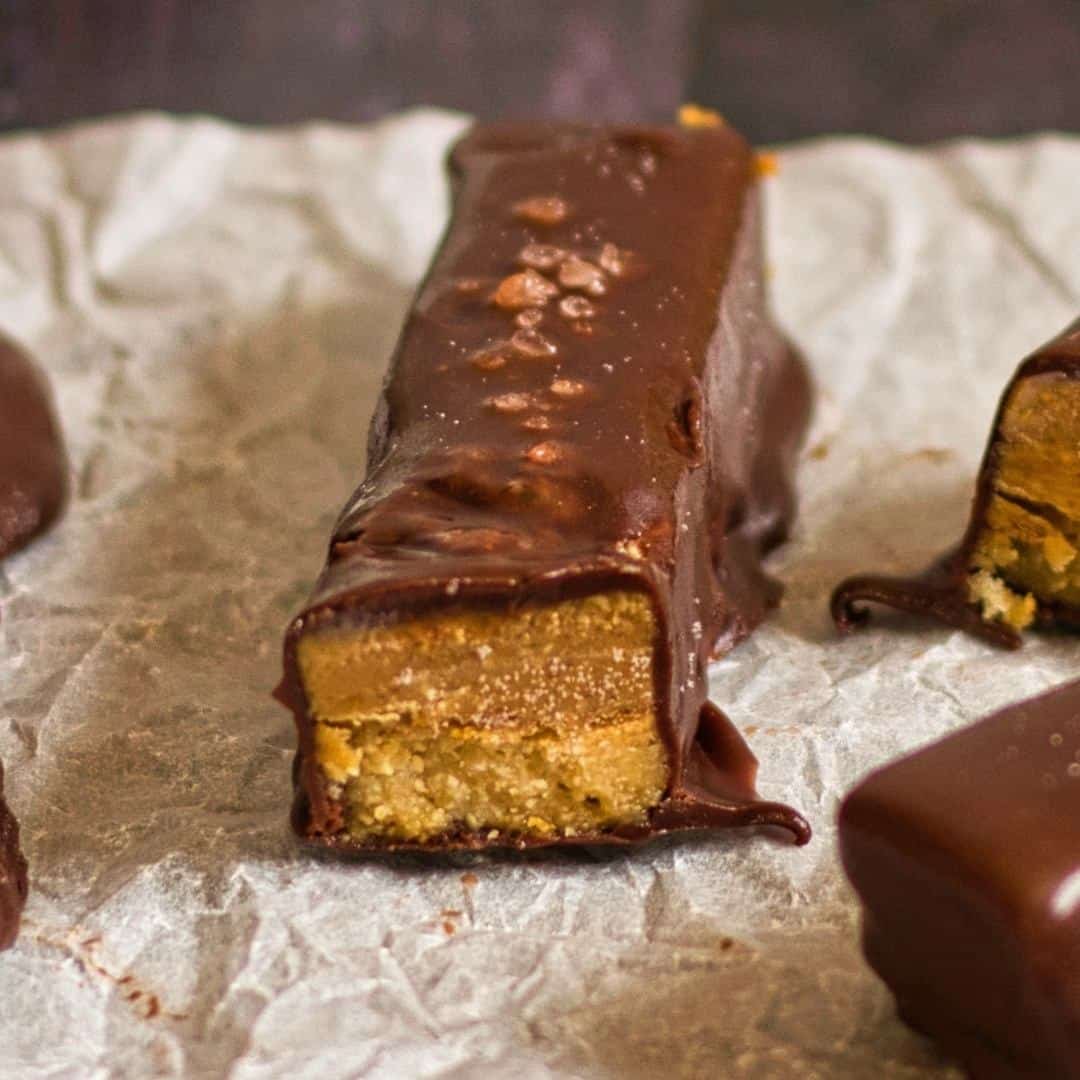 About this recipe for keto friendly copycat Twix bars.
This is a no added sugar recipe for a copycat peanut butter candy bar. To make this a keto low carbohydrate recipe, please make sure that the ingredients that you are using to make this recipe are all friendly to your diet.

This recipe is made in three stages.
The first stage of this recipe is making the shortbread cookie layer. Then we will top this with the peanut butter layer. Lastly, melted chocolate will cover the entire layered cookie to make the bars.
Ingredients needed to make this sugar free peanut butter Twix bar.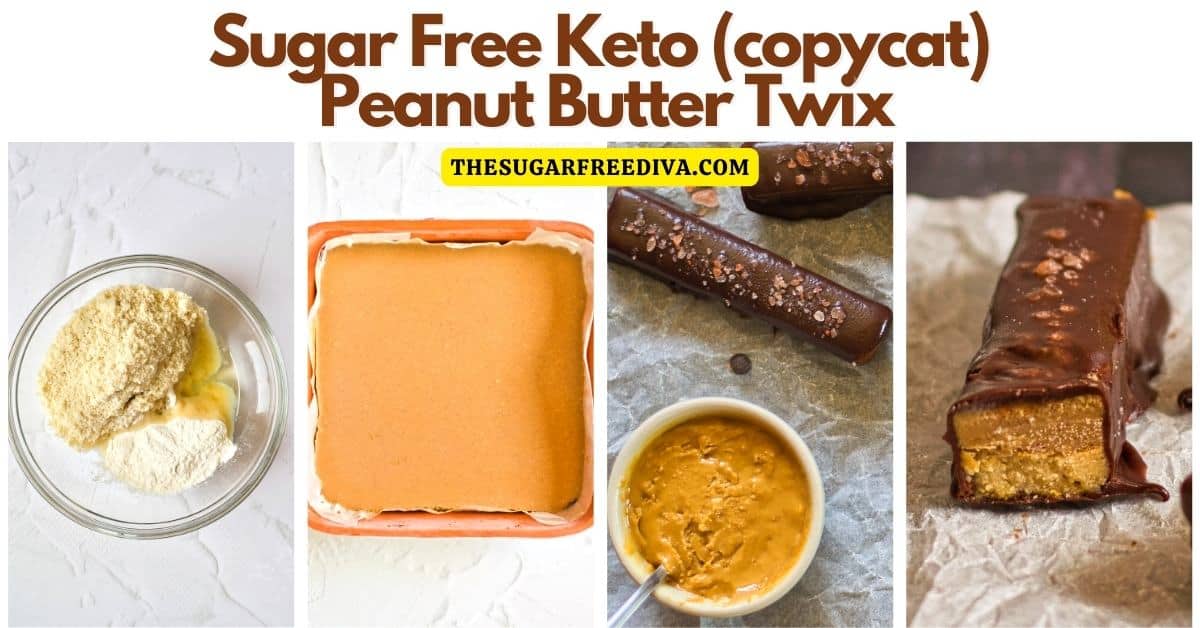 How to make Sugar Free Peanut Butter Twix (copycat version)
Cookie layer.
Make the bars.
The Recipe Card for Sugar Free Peanut Butter Twix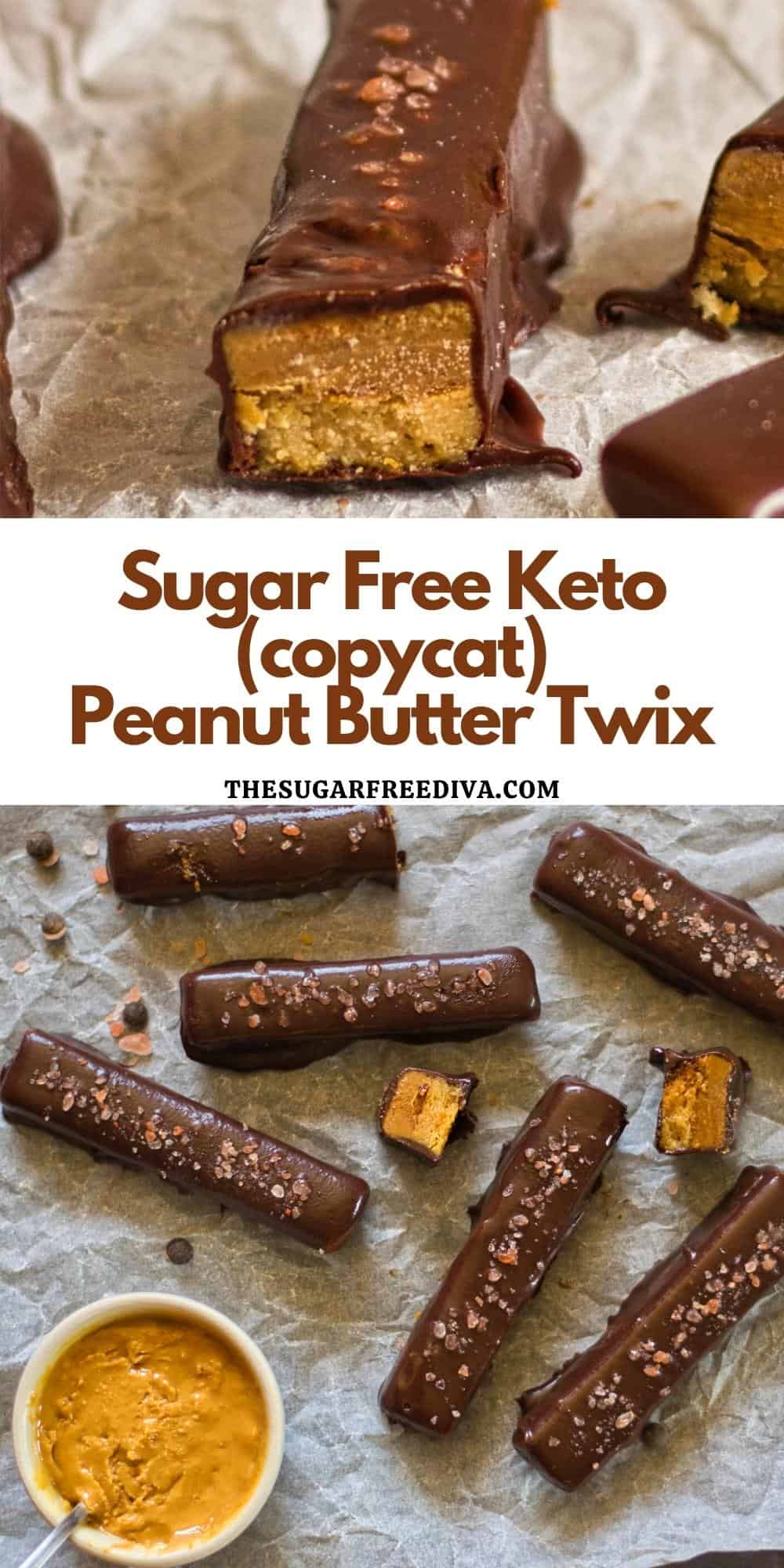 👇 Have you seen these popular recipes? 👇
Sugar Free Peanut Butter Twix,
Sugar Free Peanut Butter Twix, a delicious copycat version of a peanut butter flavored candy bar. No added sugar, keto.
Instructions
Preheat your oven to 350. Prep a square pan (8 X 8) with parchment paper that overhangs the edges.

In a large mixing bowl, use a fork or a whisk to combine together the almond and coconut flours. Then pour half of the melted coconut oil over the mix and work the ingredients into a dough.

Transfer the dough to the prepared baking pan and evenly press it into place. Use a fork to poke a few holes in the dough and then bake the dough until it turns golden.

Allow the shortbread layer to cool to room temperature .

In a medium mixing bowl., mix together the sugar free maple syrup, peanut butter, and remaining coconut oil until creamy. Pour this over the shortbread and evenly spread the peanut butter mixture over the entire layer of shortbread. Place this into your refrigerator until hardened.

Once the bars are set, use the overhanging parchment paper to lift the bars from the baking dish and place the bars on a flat surface. Use a knife, rocker style pizza cutter, or similar utensil to cut the cookies into bars.

Line a baking sheet with parchment or wax paper. Melt the chocolate according to the directions on the packaging and then stir in the oil. Use a fork or spoon to dip each of the bars into the chocolate and then place it onto the prepared baking sheet. Sprinkle the salt on top and refrigerate or freeze the bars until set.
Recipe Notes
*Please check the nutritional labels to assure that you are sticking to your diet restrictions for any substitutions used.
Also, please see the actual recipe post for further details on this recipe.
Nutritional Information is only an estimate and can vary especially with ingredients that are used.
See thesugarfreediva.com for details on this recipe.
*About Sugar Alternatives
Specific sugar alternatives are not given in the recipes presented on this site. Only suggestions are given as to the 'kind' of alternative to use. It is up to you to select the alternative to use that suits your needs best. If the recipe is heated or cooked, it is best to use an alternative that can be heated or cooked with for best results. This site does not endorse any specific ingredients,
*As an Amazon Associate I earn from qualifying purchases. This means that the links on this website, and specifically on this post, that lead to other sites may be affiliate links.
Nutrition
Calories:
143
kcal
|
Carbohydrates:
5
g
|
Protein:
5
g
|
Fat:
12
g
|
Saturated Fat:
8
g
|
Polyunsaturated Fat:
0.2
g
|
Monounsaturated Fat:
1
g
|
Sodium:
157
mg
|
Potassium:
0.1
mg
|
Fiber:
2
g
|
Sugar:
2
g
|
Calcium:
15
mg
|
Iron:
0.3
mg
Please note: Nutritional data has been calculated using a tool that comes with this recipe card and not by me. This means that Nutritional Information is only an estimate and can vary especially with ingredients that you use. The accuracy of this tool may differ from other tools as expected. Also note that there is no instructional value to the video that may be attached to this recipe. It is only there for visual pleasure. For more information about the images in this recipe, please refer the the recipe instructions. Thank you!
---
Follow Me
Thanks so much for visiting thesugarfreediva.com!
If you decide to make this recipe, please @thesugarfreediva on social to let me know how it turned out for you.
Looking for a recipe that is not on my site?
Please let me know and I will work on getting that recipe for you. Happy baking, eating, and enjoying life! Nutritional Information is only an estimate and can thus however, vary especially with ingredients that are used.
Sugar Free Peanut Butter Twix, a delicious copycat version of a peanut butter flavored candy bar. No added sugar and as a result, also keto diet friendly.
Please see recipe post for further details on this recipe.
You can however, also see items that have been featured on my Sugar Free Sunday Spotlight here.