Sugar Free Kool Aid Meringue Cookies is really a fun idea.
I like that this recipe can be made without adding sugar to it!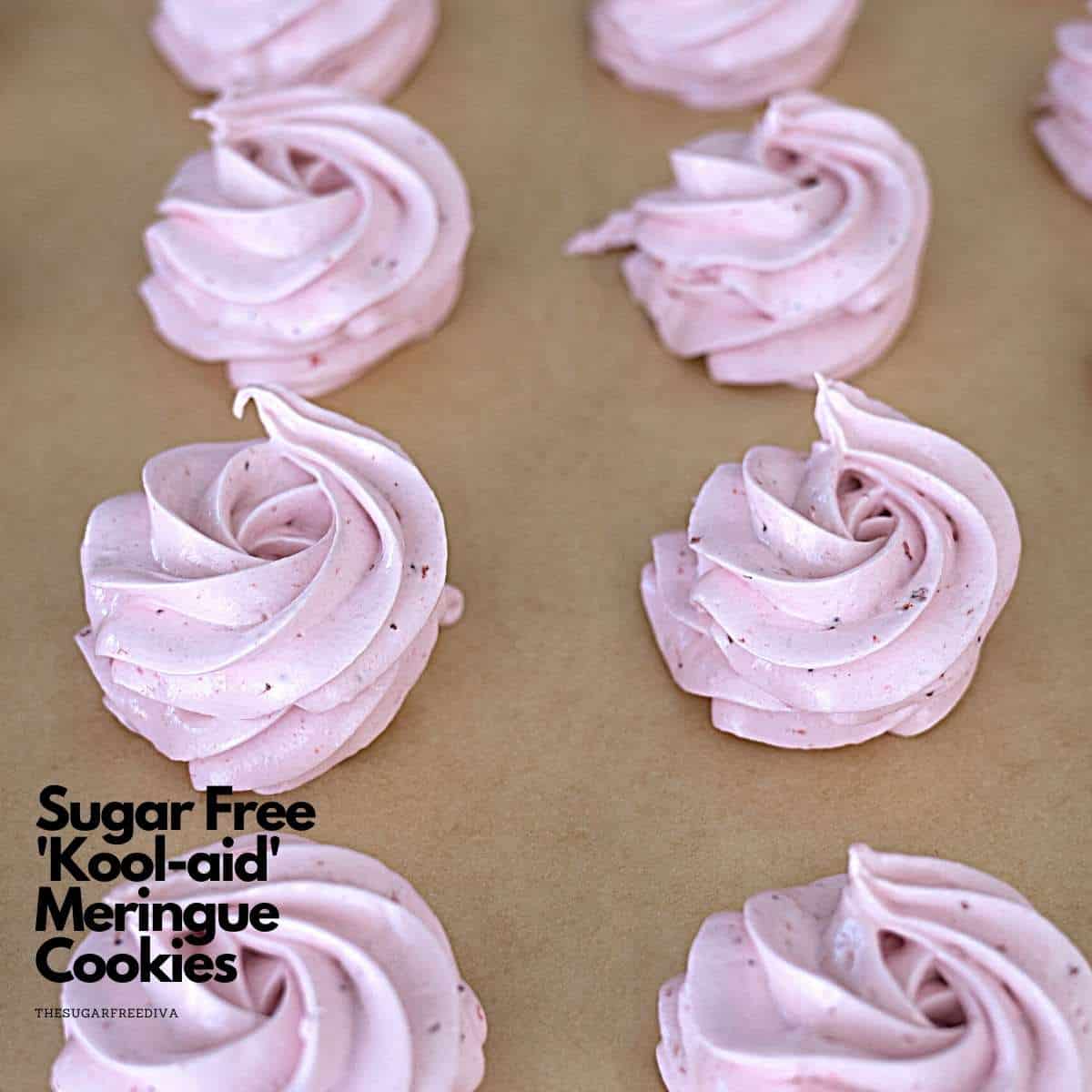 Sugar Free Kool Aid Meringue Cookies

A really fun cookie idea that embraced a common product.
The kool aid adds a fun color to these cookies that make them even better!

Have you tried my recipe for The Best Sugar Free Chocolate Chip cookies?
That is a popular cookie recipe that is based upon an old favorite cookie recipe.
This recipe is also based upon an old favorite even though it does not contain chocolate chips.

I am always looking for the perfect way to store my food. Luckily, I found these genius ideas for food storage which may also be helpful for you!
People ask if meringue cookies need sugar.
You would think that it does as sugar gives structure and flavor to meringue cookies.
Sugar has structural properties in it that you would think make it perfect for making into a cookie like a meringue cookie.
However, what makes a meringue cookie so perfect does not simply rely upon the sugar.
What is important is that we use egg whites and cream of tarter.
These are the ingredients that will make these cookies sugar free meringue cookies.
People ask, how do I make meringue crisp.
The secret for making crisp meringue cookies really has to do with the oven.
By oven, I mean the cookie baking process.
Here is what you need to know about baking meringue cookies.
These cookies are baked at a low temperature and for a long time.
However, even more important is that you should turn the heat off and allow the cookies to set in the oven overnight (without opening the oven door).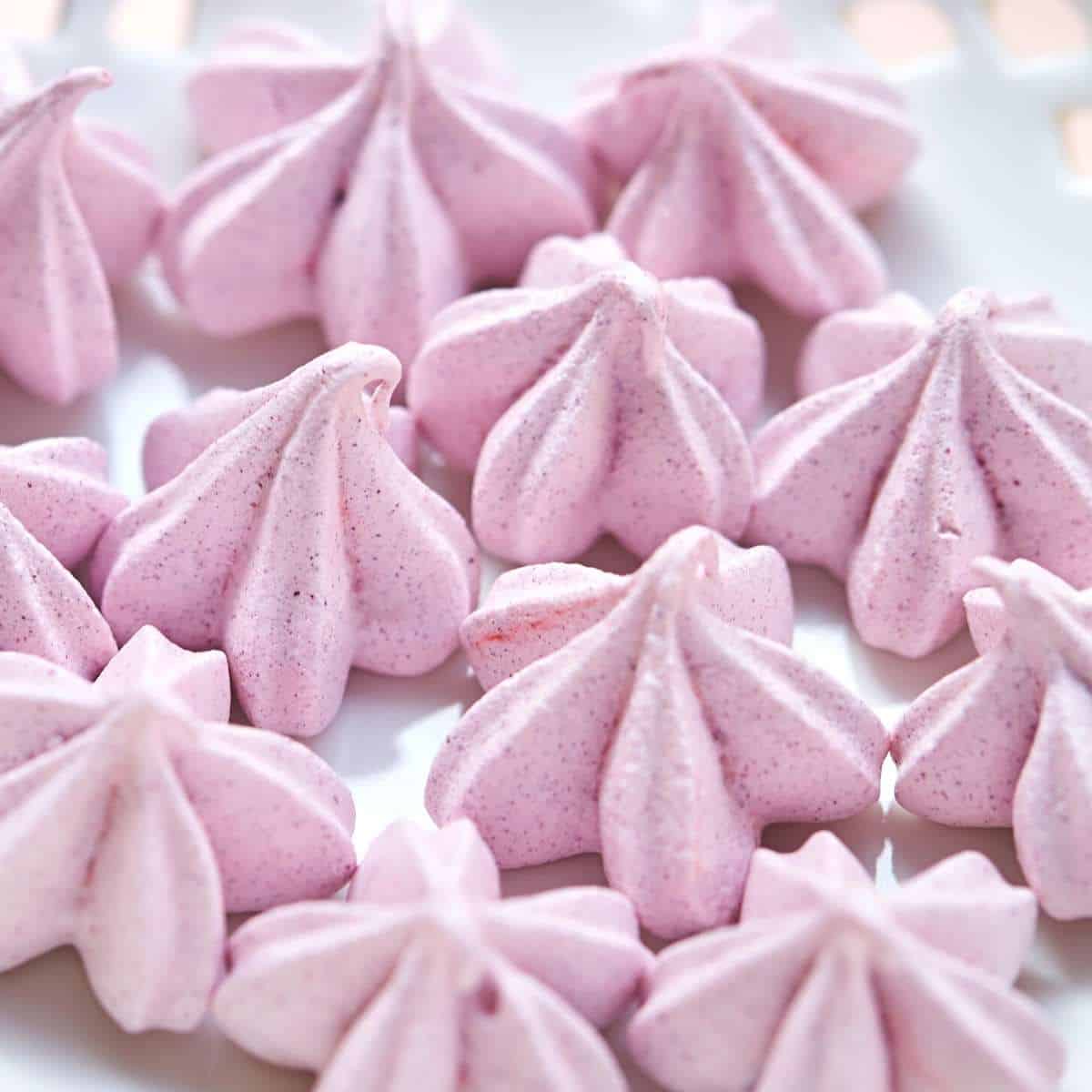 Here are some tips for making Kool-Aid cookies.
First off, you can find sugar free Kool-Aid online. Have fun using more than one color if you desire to.
Here are some more helpful tips for you.
It is important that your mixing bowl and anything that touches the batter has no added oil or grease. Fat can have an effect on how this recipe turns out.
This cookies can be made using a piping bag with a star tip. However, not everyone has these on hand. So, feel free to use a plastic zip top bag with a cut corner or a simple tablespoon to make your cookies.
Here is a simple hack. Add a couple teaspoons of sugar free gelatin mix with an extra egg white or two (adjust as needed). This will give your cookies both color and flavor!!
How to store meringue cookies.
The good news is that these cookies can be stored in an airtight container at room temperature for up to two weeks. Even better, you can freeze these cookies away for later enjoyment in an airtight freezer container!

Keep up to date with my recipes
You can check out my guide on baking with sugar alternatives on Amazon

I have some great tips on which alternatives may work in a recipe such as this one.
Be sure to follow me on facebook and subscribe to my recipes via email to keep up to date as well.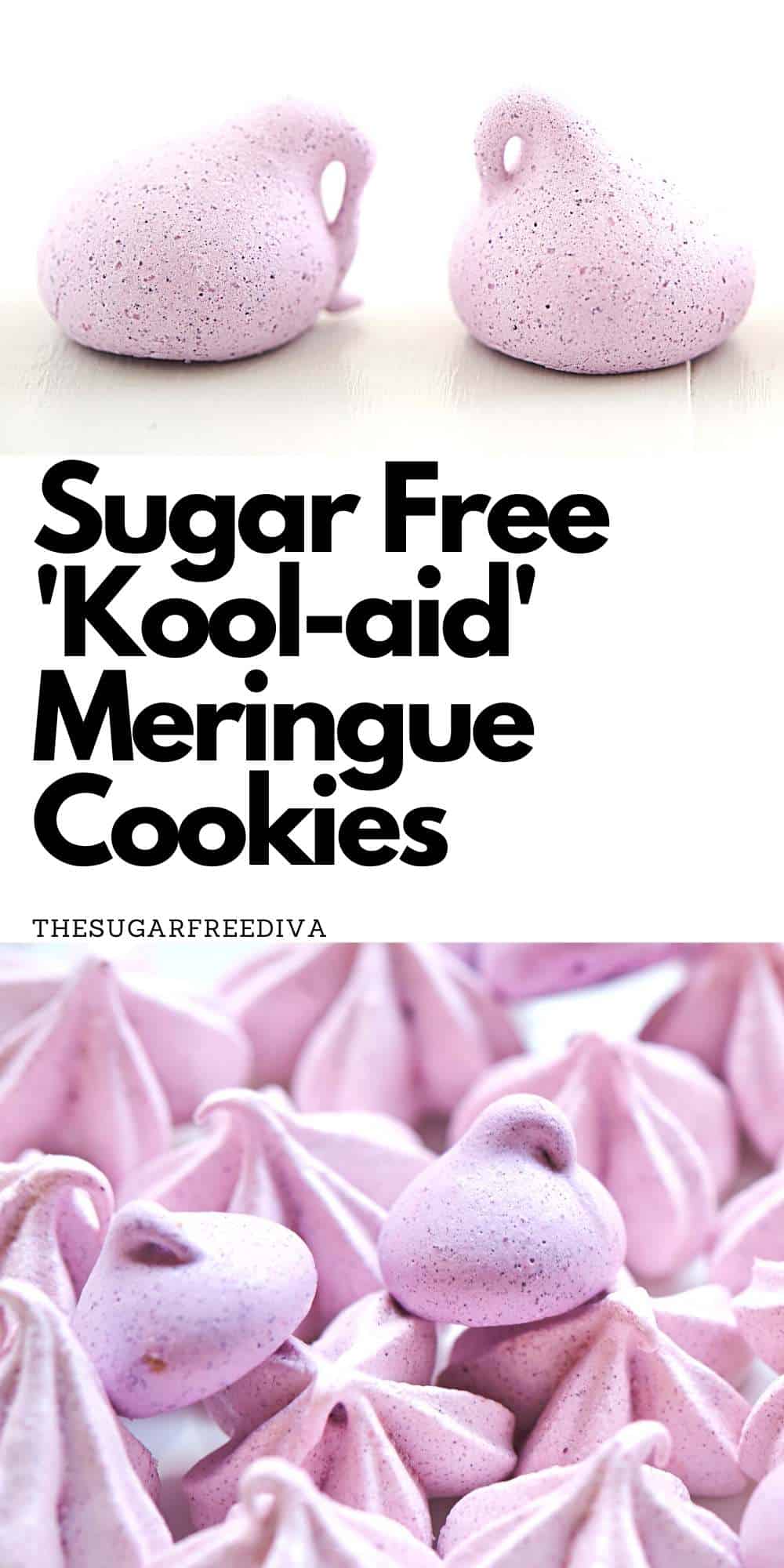 The recipe for Sugar Free Kool Aid Meringue Cookies
To make this recipe you will need sugar free, or no added sugar, Kool-Aid.
You can find sugar free Kool-Aid online.

Also mentioned, these cookies rely upon a rather unique method of baking.
You should know that the cream of tarter and the egg whites are needed to make these cookies so good.
Also important is that you bake these cookies at a low temperature for a long time and then turn the oven off to allow them to harden for as little as an hour to overnight.
Ingredients needed to make these Kool Aid Meringue Cookies