Sugar Free Pumpkin Chocolate Chip Cookies are a tasty cookie idea that is easy to make.
The flavorful cookies are sweet and buttery with a hint of cinnamon but, without the added sugar.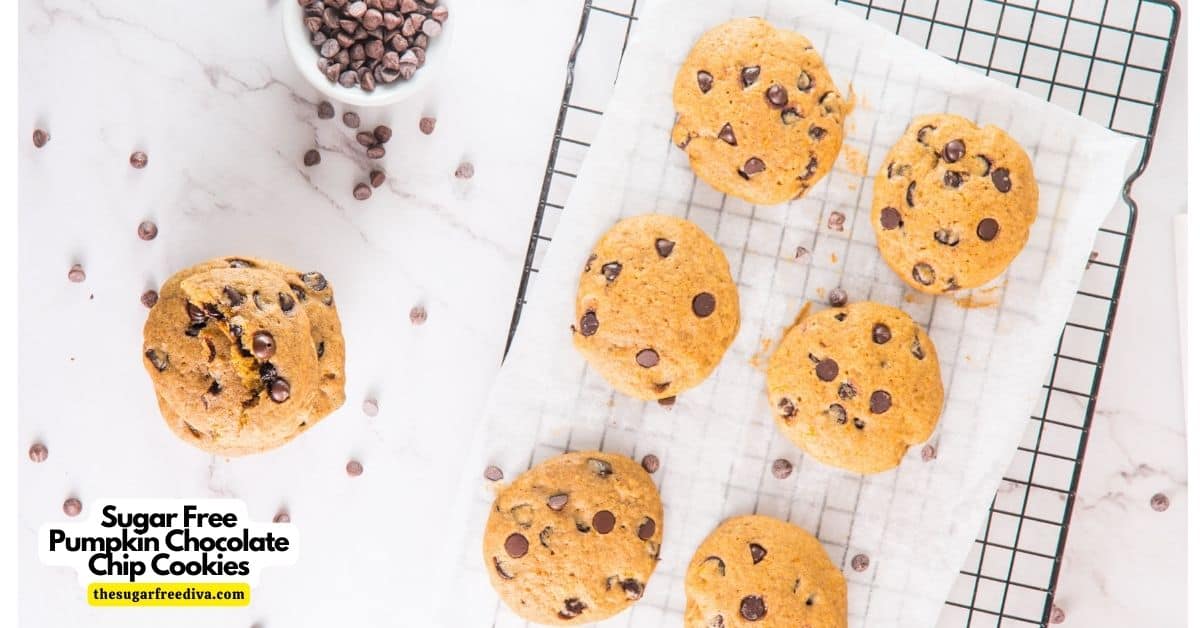 Chocolate Chip Pumpkin Cookies

This is a simple cookie recipe that is made with pumpkin puree.
Made with no added sugar, these tasty cookies are both soft in the center and crispy on the edges.
Did you try my recipe for Sugar Free Pumpkin Spice Truffles ?
Those easy no-bake bites are made with healthy ingredients and net out at three grams of carbohydrates. Both this recipe for chocolate chip cookies and that recipe for truffles are delicious sugar free recipe made with pumpkin puree.
To make this recipe you will need sugar free chocolate chip. You can find a selection of sugar free chocolate chips here.
Frequently asked about Pumpkin Puree.
What is pumpkin puree and how is it different from pumpkin pie filling?

Pumpkin puree is basically cooked and mashed pumpkin flesh.
The only ingredient added to pumpkin puree is pumpkin. Puree has a consistency that is similar to mashed potatoes.

Pumpkin pie filling on the other hand, has added ingredients so that it can be easily added to a pie recipe. These ingredients include spices and sugar. Once it is baked, pumpkin pie filling has a smooth and custard-like consistency that is desired in a pie.

To make a long description short, 😉 pumpkin puree is a plain, unseasoned, and unsweetened ingredient used for a variety of recipes, while pumpkin pie filling is a ready-to-use mixture specifically designed for making pumpkin pies.
How do you make pumpkin puree?

You simply bake the pumpkin until soft, scoop on the meat, and process it until smooth.

Start with a clean baking pumpkin (not the carving kind).

Prep a rimmed baking sheet for nonstick (parchment works) and the sprinkle a small amount of water over it. Preheat your oven to 375°F (190°C).

To prepare the pumpkin, make sure that is is clean, then remove the stem and cut the pumpkin in half. Scoop out any seeds and stringy pulp.

Roast the pumpkin on the baking sheet (cut-side down on the sheet) at 375 for about 45-60 minutes or until the flesh is tender when pierced with a fork.

After removing the pumpkin from the oven let it cool slightly (cool enough to handle) scoop the roasted pumpkin flesh away from the skin. Then transfer the roasted pumpkin flesh to a blender or food processor.

Blend or process the pumpkin until it is smooth and creamy.
Store the puree in an airtight container in the refrigerator for up to four days. Alternatively, you can freeze it for later use.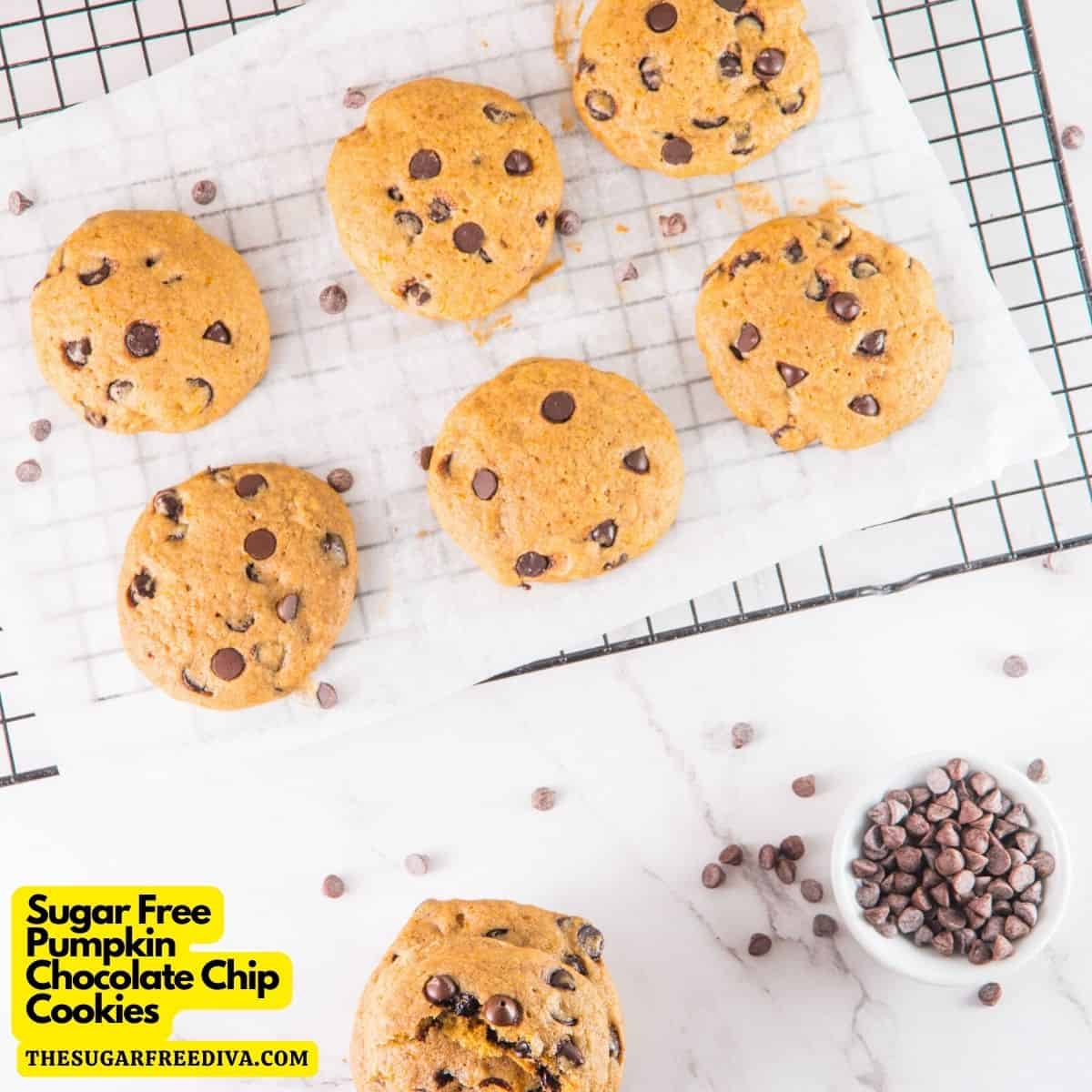 Tips for making pumpkin chocolate chip cookies.
My cookies were made using all purpose flour. You can however make these cookies lower in carbohydrates by using a low carb or keto all purpose flour that measures like all purpose flour (making adjustments as needed for binding). Also, you can find keto chocolate chips here.
More helpful tips for you.
Chilling the dough is an important step in this recipe. Not only does chilling the dough allow for the flavors to meld together, it also helps to prevent the cookies from spreading too much during the baking process.
Vanilla extract is used to balance out the flavors in this cookie recipe. However, you could use another extract, such as maple extract, to make these cookies taste more seasonal.
When selecting a pumpkin puree, it is best to use a canned version rather than making your own as a canned version has already been cooked. Just make sure that you pumpkin puree has no added ingredients (such as sugar added to it).
How to store chocolate chip pumpkin chocolate chip cookies.
These cookies should be stored in an airtight container. If properly stored, they should keep for up to a week at room temperatures or up to three months when frozen.
Here are some similar recipes that you may also like.
Keep up to date with my recipes
 
 
👉 Be sure to follow me on Facebook, Instagram, Pinterest, and subscribe to my recipes via a weekly email to keep up to date.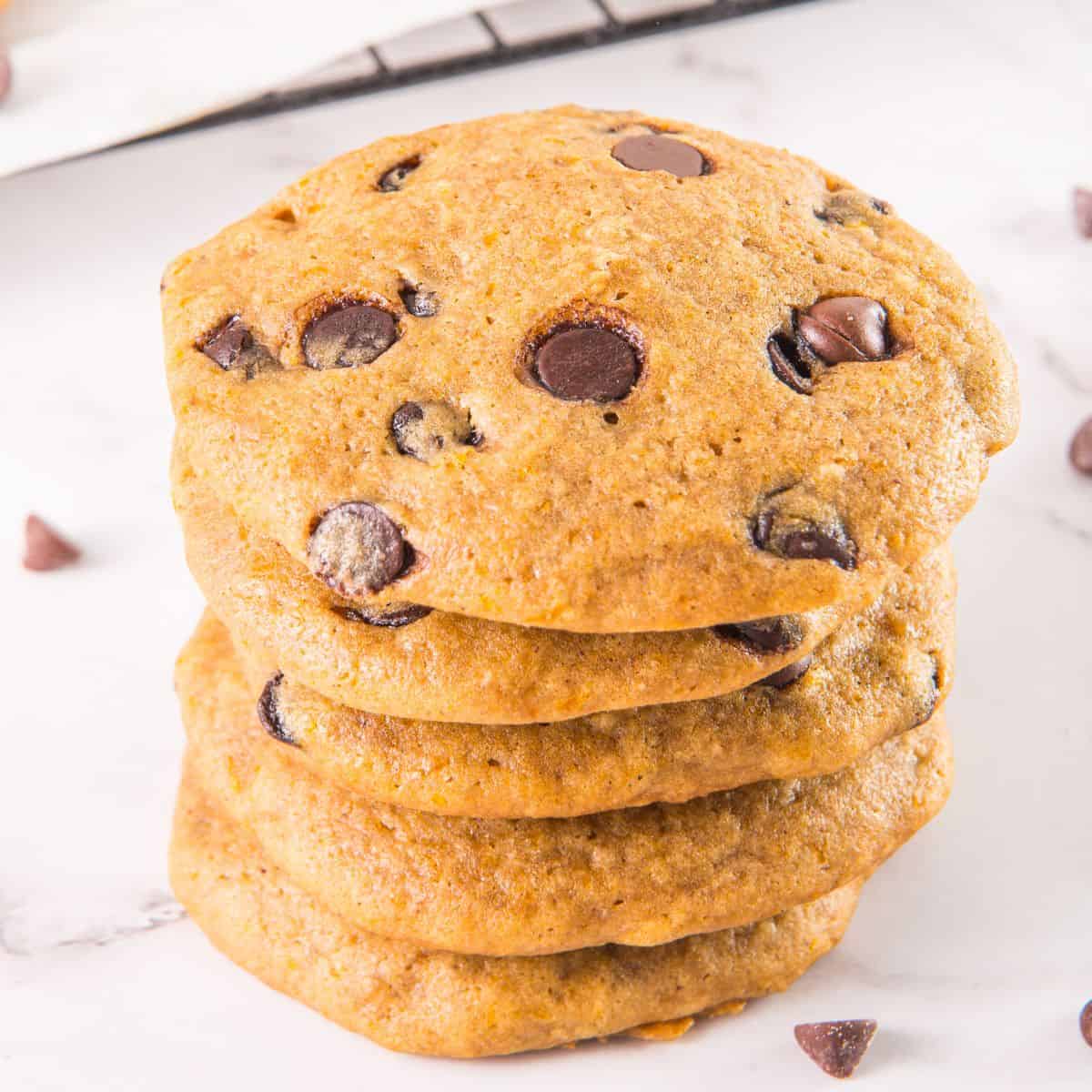 About this recipe for chocolate chip pumpkin cookies
This is a simple recipe for making soft and chewy chocolate chip pumpkin cookies with no added sugar. These cookies are made with pumpkin puree, which adds moisture and a hint of pumpkin flavor to this tasty recipe.

How to serve sugar free chocolate chip cookies made with pumpkin.
Ingredients needed to make Pumpkin Chocolate Chip Cookies that are Sugar Free
Expert Tip 👉 These Pumpkin Chocolate Chips Cookies are the perfect Thanksgiving treat.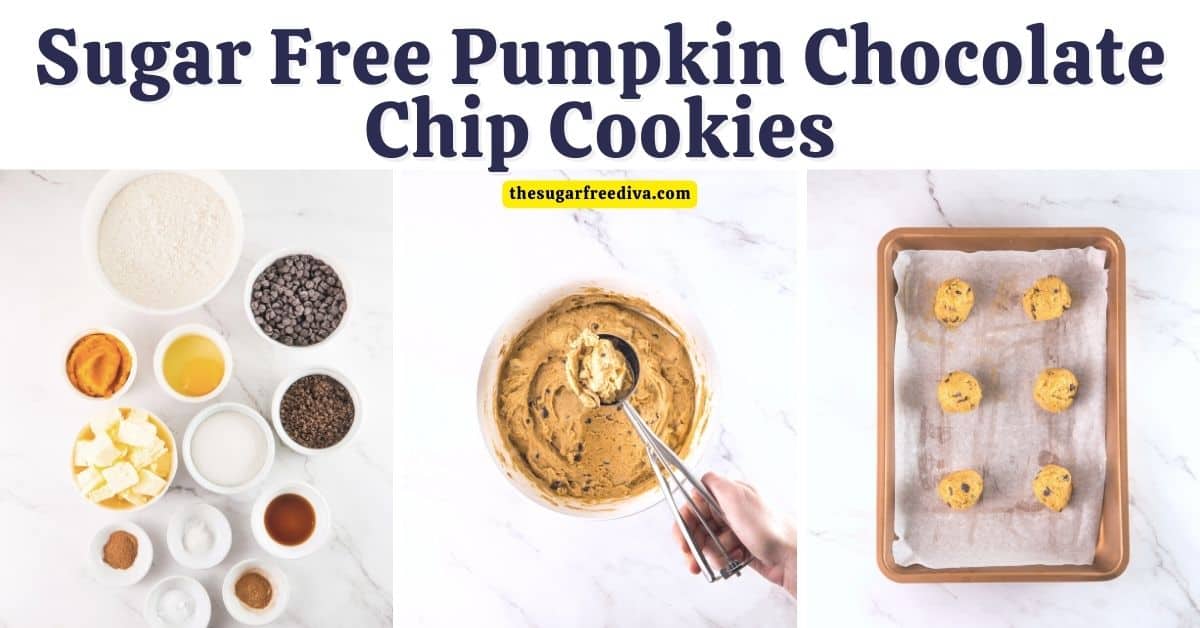 How to make Sugar Free Pumpkin Chocolate Chip Cookies
Yields 32 cookies
Preparation Time -25 minutes
Chilling Time - 2 hours to overnight
Baking time- 15 minutes
 
Expert Tip👉 If you are in doubt about whether the cookies are done, gently tap the top center of the cookies to see if they are soft but set and look at the bottom to see if they are golden brown.

👇 Have you seen these popular recipes? 👇
The Recipe Card for Sugar Free Pumpkin Chocolate Chip Cookies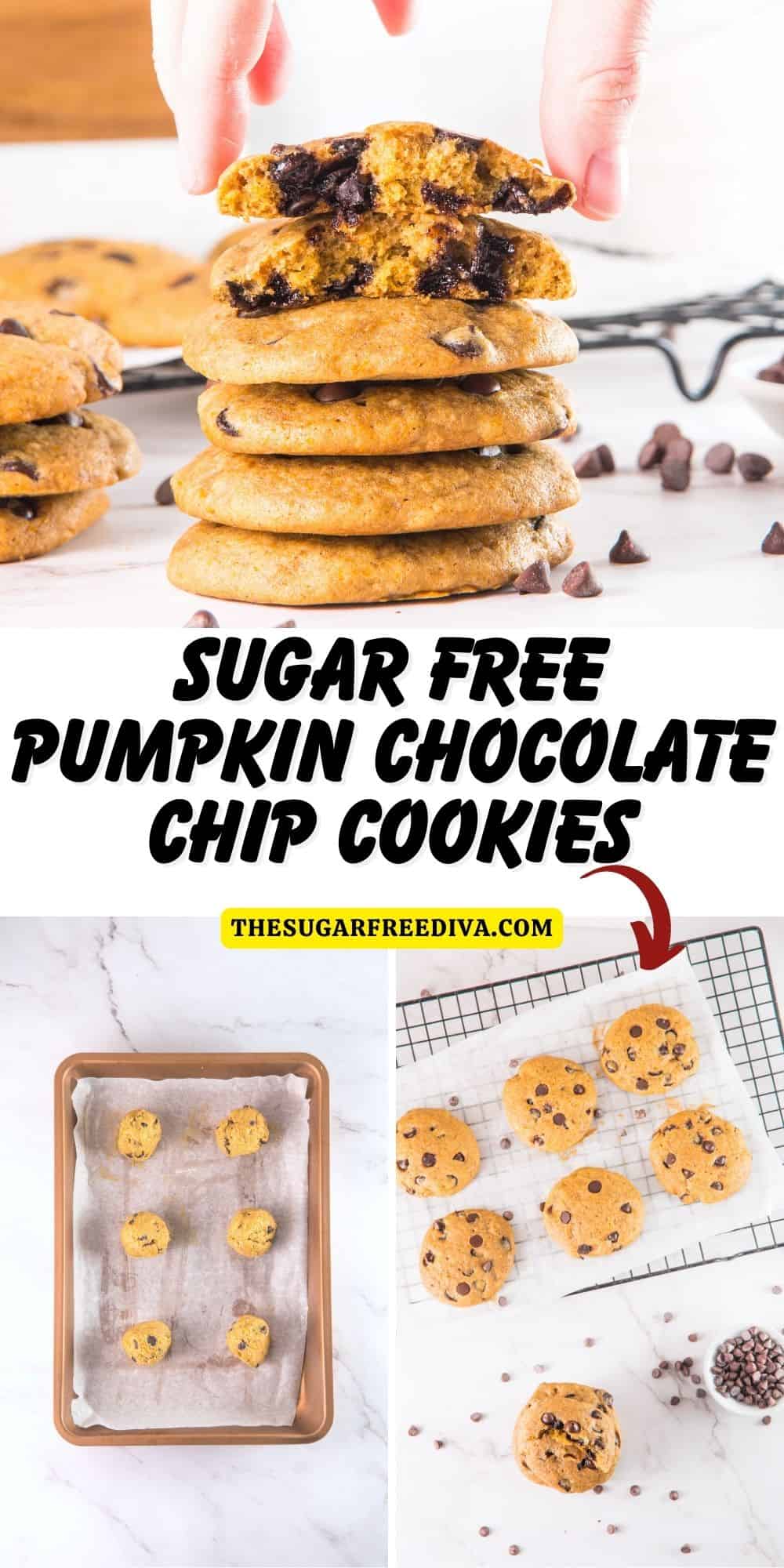 Sugar Free Pumpkin Chocolate Chip Cookie
Sugar Free Pumpkin Chocolate Chip Cookies, a delicious dessert or snack recipe made for soft and chewy cookies made with no added sugar.
Instructions
In a medium bowl, use a whisk or a fork to combine together the flour, baking soda, salt, cinnamon and pumpkin pie spice.

Next, in a mixing bowl, beat together the sugar alternatives (both white and brown) with the butter until smooth and creamy. Then beat in the egg and the vanilla extract.

Lastly, stir in the pumpkin puree until the mixture is smooth and creamy.

Gradually add the dry ingredients from the first bowl to the wet ingredients in the mixing bowl. Mix these ingredients until just combined (avoiding over-mixing) .

Lastly, gently fold in the chocolate chips until evenly distributed throughout the cookie dough.

Cover the mixing bowl with plastic wrap or similar seal and refrigerate the dough for at least two hours or if possible, overnight.

When you are ready to bake your cookies, prep two baking sheets for nonstick Also, preheat your oven to 350.

Use a medium or large cookie scoop (1 ½-2") to scoop out the dough and then place the scooped cookie dough onto the baking sheets , leaving about two inches between each of the cookies. Then lightly flatten the tops of each cookie using the palm of your hand or the bottom of a mug or similar item.

Bake your pumpkins cookies for 15 to 16 minutes or until the edges are set and are lightly golden.

Remove the cookies from the oven and let them cool on the baking sheet for a couple of minutes to set before transferring them to a cooling rack to cool completely.
Recipe Notes
*Please check the nutritional labels to assure that you are sticking to your diet restrictions for any substitutions used.
Also, please see the actual recipe post for further details on this recipe.
Nutritional Information is only an estimate and can vary especially with ingredients that are used.
See thesugarfreediva.com for details on this recipe.
*About Sugar Alternatives
Specific sugar alternatives are not given in the recipes presented on this site. Only suggestions are given as to the 'kind' of alternative to use. It is up to you to select the alternative to use that suits your needs best. If the recipe is heated or cooked, it is best to use an alternative that can be heated or cooked with for best results. This site does not endorse any specific ingredients,
*As an Amazon Associate I earn from qualifying purchases. This means that the links on this website, and specifically on this post, that lead to other sites may be affiliate links.
Nutrition
Calories:
48
kcal
|
Carbohydrates:
8
g
|
Protein:
1
g
|
Fat:
1
g
|
Saturated Fat:
0.1
g
|
Polyunsaturated Fat:
0.1
g
|
Monounsaturated Fat:
0.1
g
|
Trans Fat:
0.001
g
|
Cholesterol:
5
mg
|
Sodium:
56
mg
|
Potassium:
21
mg
|
Fiber:
0.4
g
|
Sugar:
0.2
g
|
Vitamin A:
604
IU
|
Vitamin C:
0.2
mg
|
Calcium:
4
mg
|
Iron:
1
mg
Please note: Nutritional data has been calculated using a tool that comes with this recipe card and not by me. This means that Nutritional Information is only an estimate and can vary especially with ingredients that you use. The accuracy of this tool may differ from other tools as expected. Also note that there is no instructional value to the video that may be attached to this recipe. It is only there for visual pleasure. For more information about the images in this recipe, please refer the the recipe instructions. Thank you!
---
Follow Me
Sugar Free Pumpkin Chocolate Chip Cookies, a delicious dessert or snack recipe made for soft and chewy cookies made with no added sugar.
Thanks so much for visiting thesugarfreediva.com!
If you decide to make this recipe, please @thesugarfreediva on social to let me know how it turned out for you.
Looking for a recipe that is not on my site?
Please let me know and I will work on getting that recipe for you. Happy baking, eating, and enjoying life! Nutritional Information is only an estimate and can thus however, vary especially with ingredients that are used.