This is a listing of the top 10 cheesecake recipe according to readers.
These tasty recipe ideas feature a variety of cheesecakes that have been popular on this site.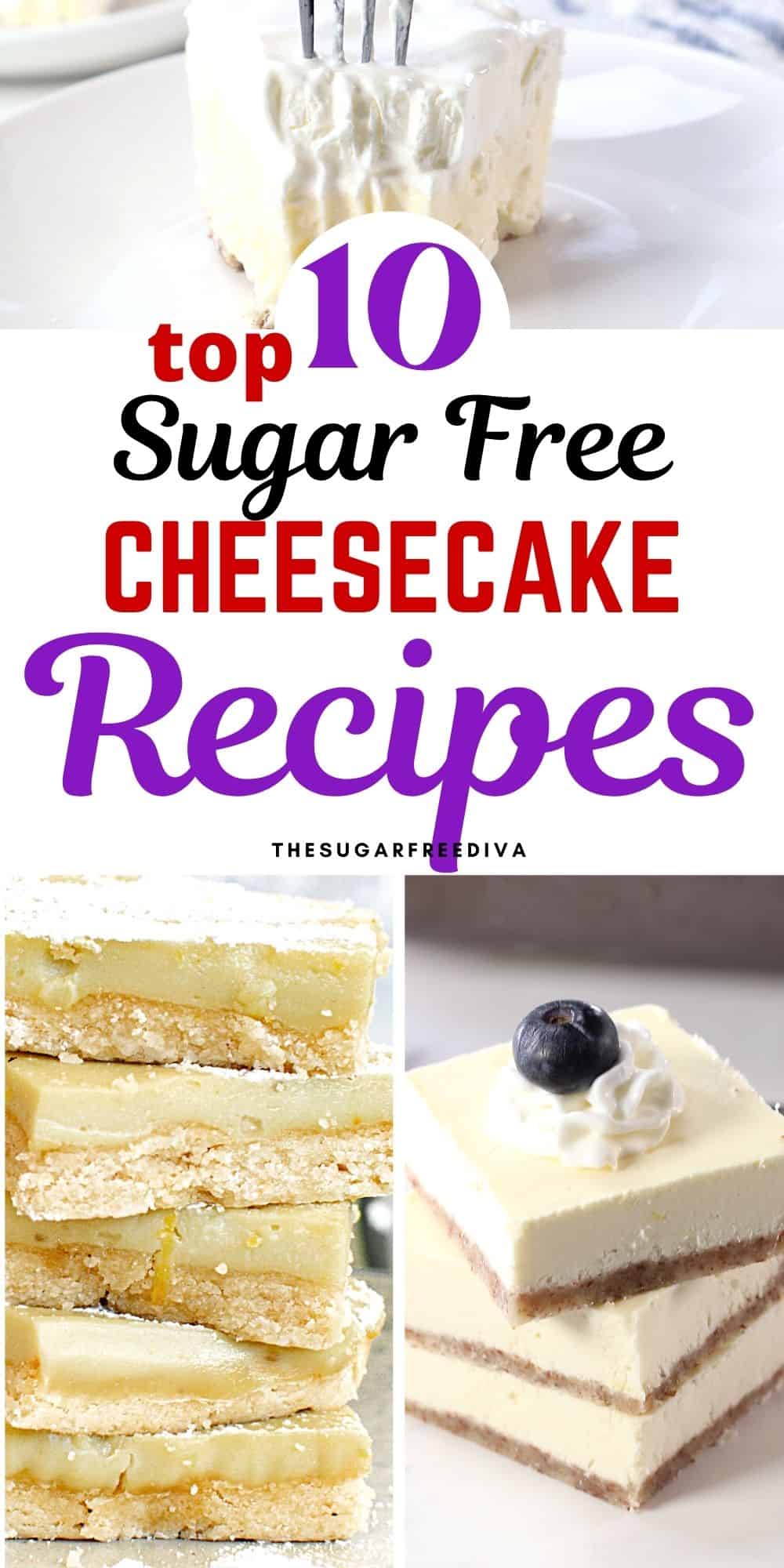 Sugar Free Cheesecake Recipes
This listing includes keto, low carb, gluten free, sugar free, and vegan ideas.
Also listed, are no bake, bars, and simple cheesecake recipe ideas.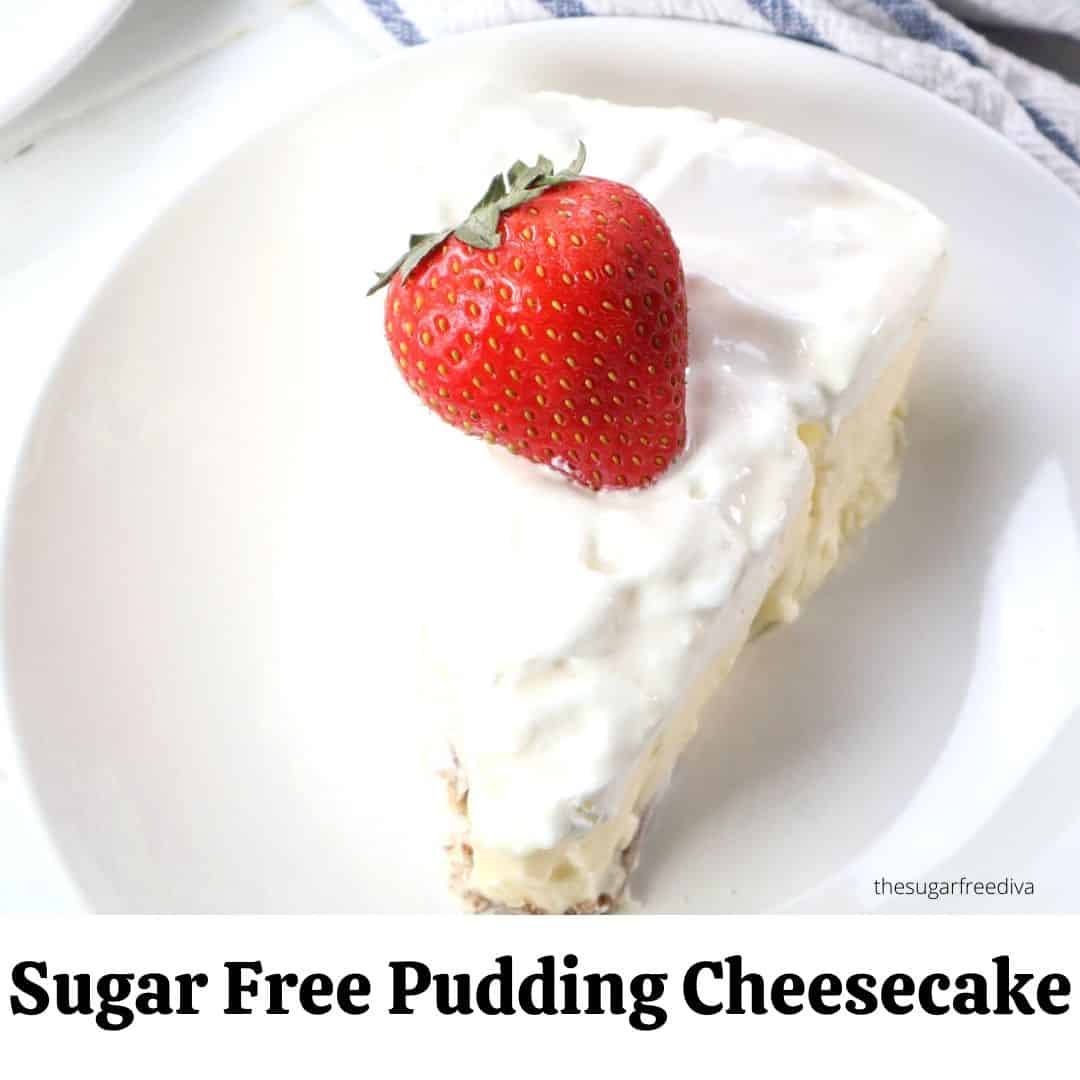 Sugar Free No Bake Pudding Cheesecake, a simple and delicious sugar free, gluten free, low carb diet friendly dessert recipe
This recipe is especially for anyone asking do cheesecakes have to be baked. Cheesecakes are cakes that have cheese, usually cream cheese, added to them. Cream cheese gives the cheesecake a thick texture that also adds structure to the dessert, but, does not require baking.
No bake cheesecakes are more likely to be friendlier to to many diets. This cheesecake can be made friendly to the low carb, sugar free, egg free, and gluten free diets.
2. Low Carb Lemon Cheesecake
Low Carb Lemon Cheesecake, A delicious and easy recipe for Lemon Cheesecake that is low in carbohydrates and sugar free.
This Low Carb Lemon Cheesecake that is perfect for right now. Howewver, this is really a great idea for dessert especially when you are sharing it with others.
When you look for a dessert like this one it is easy to wonder what is keto better than low carb.
While they are very similar diets (low in carbohydrates), keto and low carb diets to differ. The good news is that recipes such as this one, work for both keto and low carb diets.
3. Low Carb No Bake Mini Cheesecakes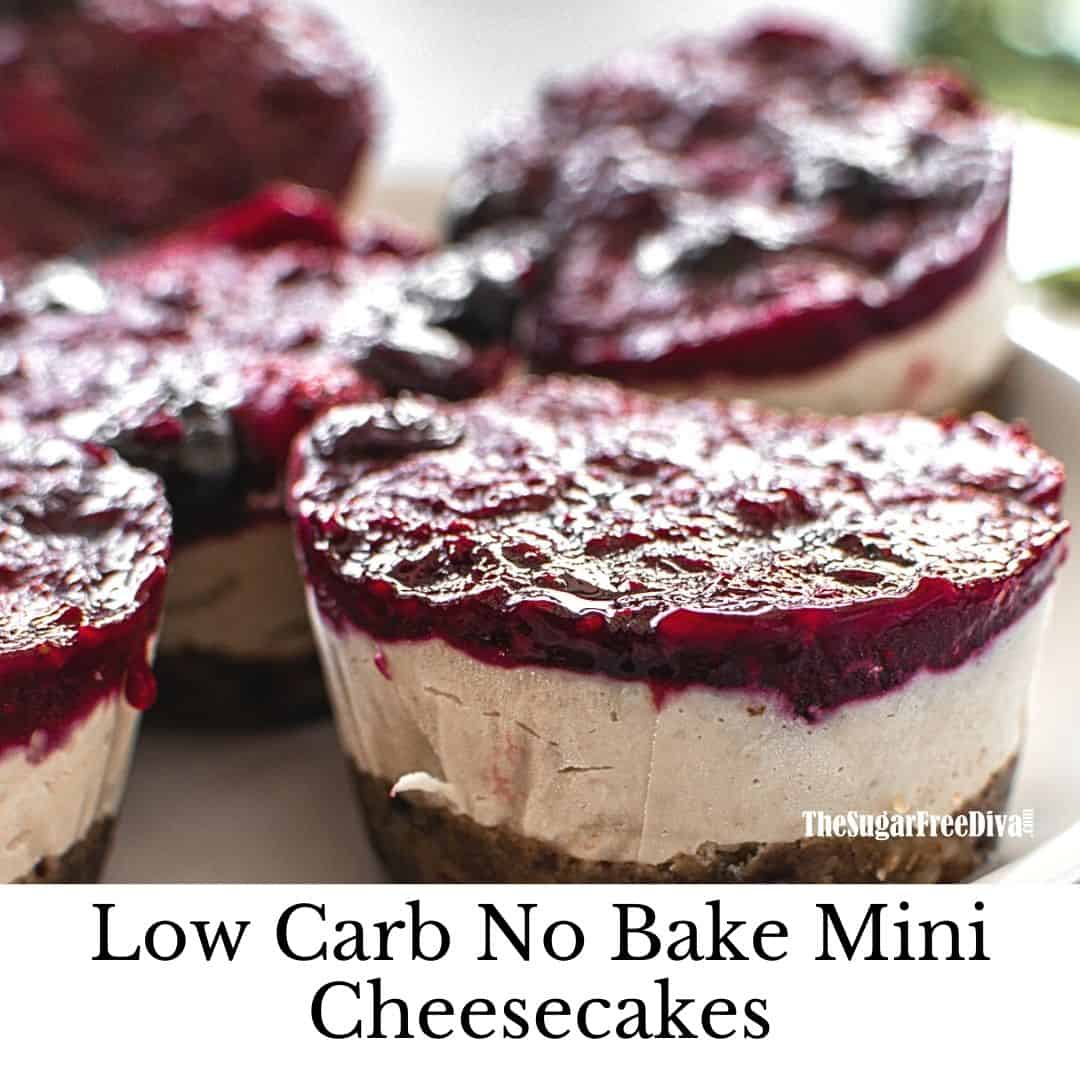 Low Carb No Bake Mini Cheesecakes, a delicious and simple idea for a sugar free, low carb, vegan friendly, no bake dessert recipe!
What makes these cheesecakes so good is the topping that can be added to them. The topping is simply sugar free jam. You can find sugar free keto friendly jam here, make your own sugar free jam using this recipe, or simply omit the topping.
This recipe for cheesecakes is made in a muffin tin.
To make it easier to remove the cheesecakes simply cut strips of parchment paper that you can line each of the individual tins with before you press the crust into them. Make sure that the strips (I use two per cheesecake) extend enough to use the extended paper as handles later on.
4. Keto Low Carb Strawberry Cheesecake Bites
Low Carb Strawberry Cheesecake Bites, a delicious and easy sugar free, low carb, and keto diet recipe that is perfect for snacks or desserts.
This recipe is for anyone asking what is the purpose of a keto fat bomb. A fat bomb is basically a bite sized keto treat that is high in fat content. The fat may be from coconut oil or dairy products, such as cream cheese and butter.
There are several reasons why keto followers like these bombs.
Obviously, fat bombs can give a quick taste or reminder of a sweet treat, such as cheesecake or cookie dough. However, because they are so high in fat, these bombs are filling and also are a good source of energy for folks avoiding carbohydrate energy.
5. No Added Sugar Vegan No Bake Cheesecake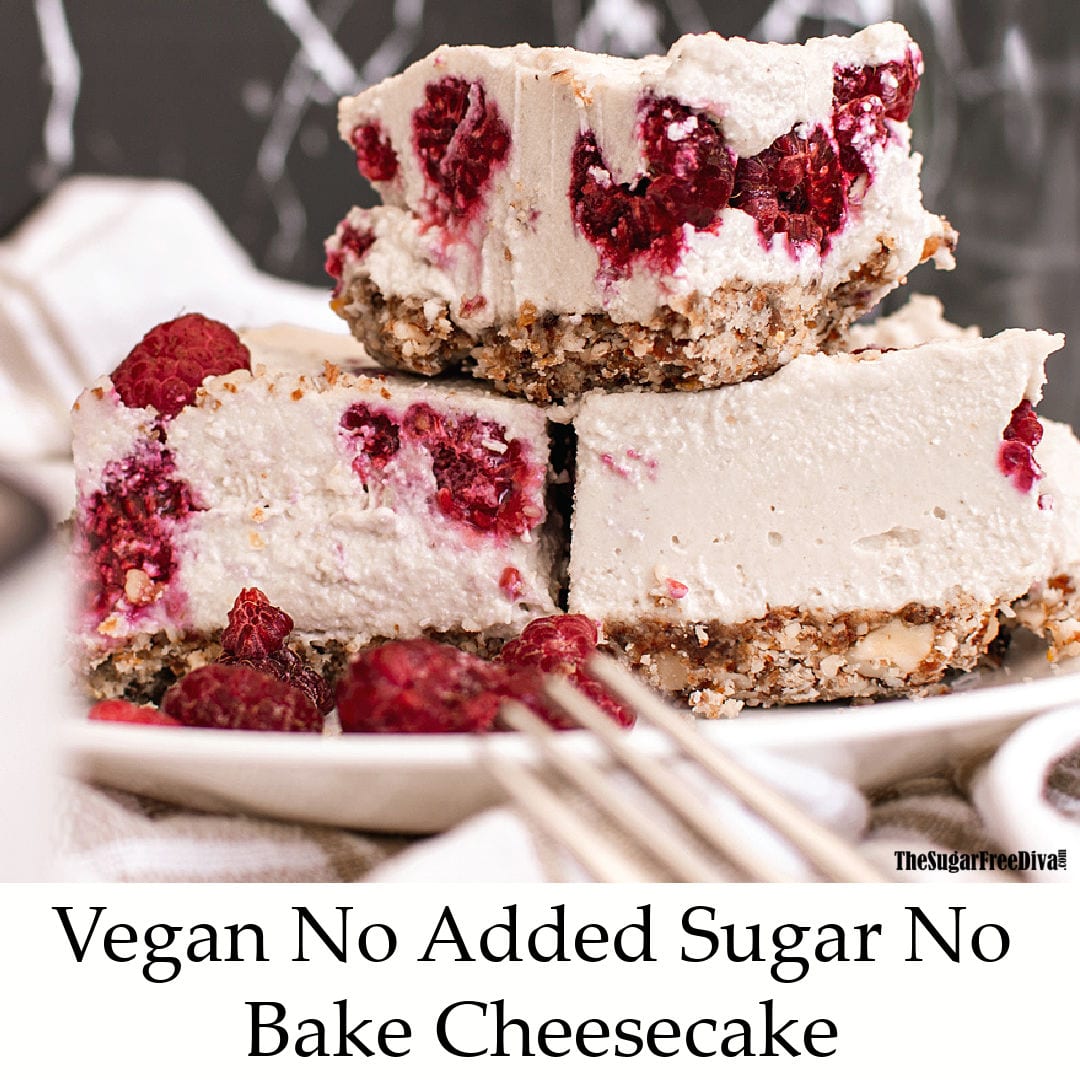 I must say that I am impressed with everything that is going on with this No Added Sugar Vegan No Bake Cheesecake.
Not only is this a sugar free dessert, it is also made using vegan products. I call this both a pie and a cheesecake.
This is a great tasting pie or cheesecake for anyone watching their sugar intake.
It is also a good dessert for anyone looking for a vegan dessert that has no added sugar in it. Feel free to make this dessert only vegan or only sugar free as I will offer ingredient alternatives to help you do so.
6. No Bake Sugar Free Cheesecake in a Jar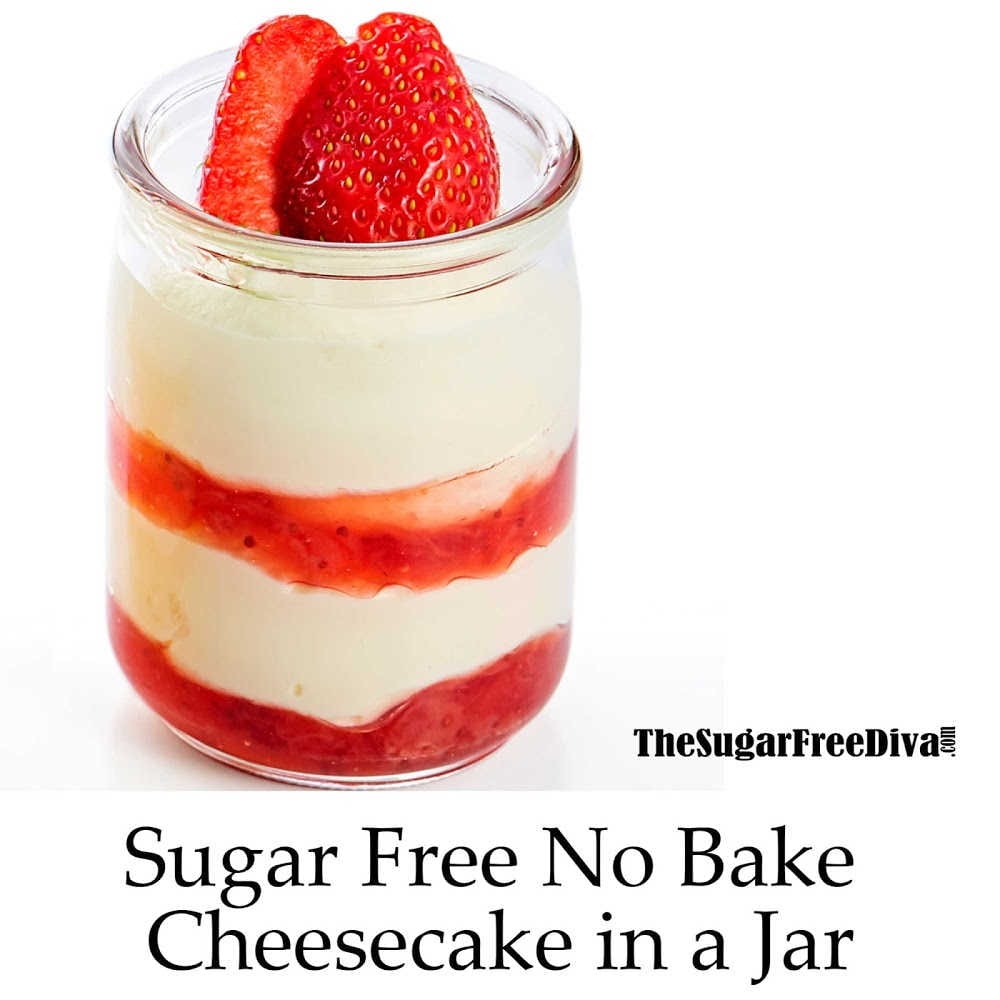 No Bake Sugar Free Cheesecake in a Jar, easy and quick recipe for cheesecake that can be made without adding sugar to it.
This recipe for cheesecake may be a good choice for if you are wondering what desserts can diabetics eat. I get a lot of diabetic readers who let me know that they have tried my sugar free recipes and have enjoyed how they turn out. Because this recipe does not involved adding any sugar alternative that needs to be baked, this recipe is especially a good choice.
However, you do not have to be diabetic to enjoy this cheesecake in a jar recipe.
It really is a great recipe for anyone, like myself, who simply likes to avoid as much sugar as possible. Even a better reason to make this jar dessert for a crowd no matter how big.
7. Low Carb Sugar Free Lemon Cheesecake
This Low Carb Sugar Free Lemon Cheesecake has been a very popular recipe on this site. I like that this recipe is kind of, in a low carbohydrate sugar free way, based upon the popular New York Style of cheesecake.
This is the sugar free and low carb answer to that craving that you may get for a cheesecake. However, it also make for a great dessert to share with others, especially during picnic or even holiday season. This cheesecake is a baked cheesecake recipe. I sat this because, sometimes you just need to have a good baked cheesecake around. But, that does not mean that sometimes a no-bake recipe is not a bad thing either (I'm not really partial to favorites here!).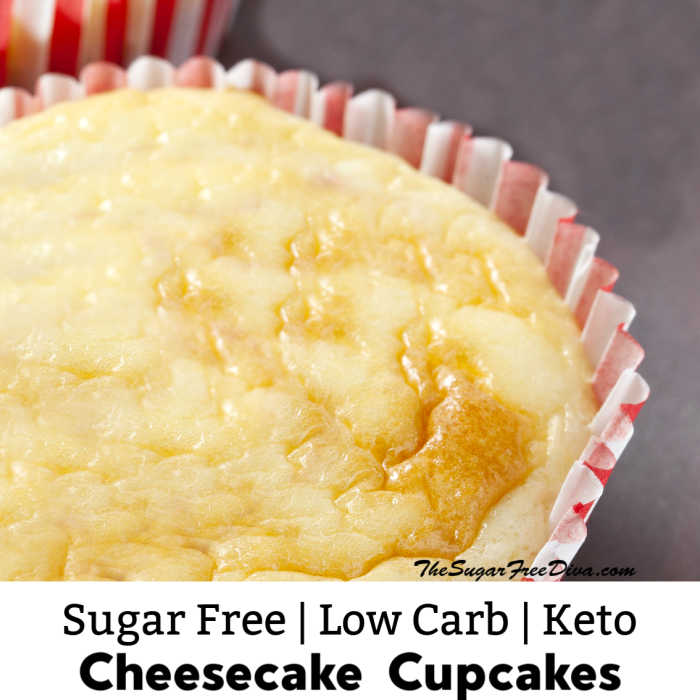 This delicious recipe for homemade Sugar Free Low Carb Cheesecake Muffins will really impress you and anyone that you share it with.
I like that his is the perfect recipe to make when you want to prepare individual servings of cheesecake. You can easily prepare these in advance and then take them with your to share with your friends. To be honest, I was not really sure of what to actually call these. While they can easily be called muffins, you could easily just call them cupcakes as well. What I do know is that these can be made low carb and thus sugar free.

Read more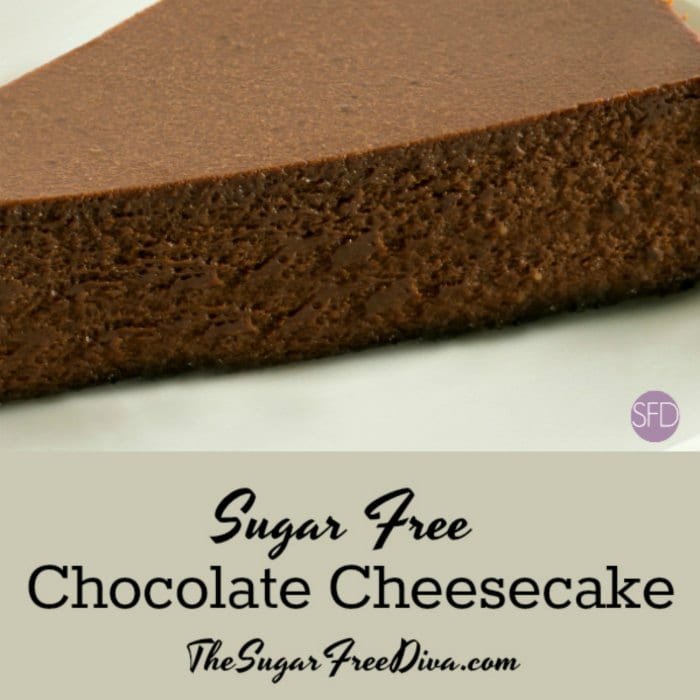 This no bake recipe for a chocolate cheesecake is easy to make.
You may be surprised by the hack that is used to make this lower in carbohydrates, sugar, and calories.
This easy recipe for a no-bake cheesecake is made with pudding.
It also takes about 10 minutes to make!
It is an impressive cake to share. The fact that it is relatively easy to make is even better, in my opinion.

Read more
Adding a layer of cheesecake to your brownies can give them a special taste. Cheesecake can also give brownies a special touch. That special touch can certainly give your brownies extra popularity when shared with others.
The good news is that these cheesecake brownies are also sugar free. Sugar free cheesecake brownies are something that you do not see every day. However, they really are pretty yummy to eat.
Here are some similar recipes that you may also thus like.
Keep up to date with my recipes
You can check out my guide on baking with sugar alternatives on Amazon

However, I have some great tips on which alternatives may work in a recipe such as the ones in this listing.
Be sure to follow me on facebook and subscribe to my recipes via email to keep up to date as well.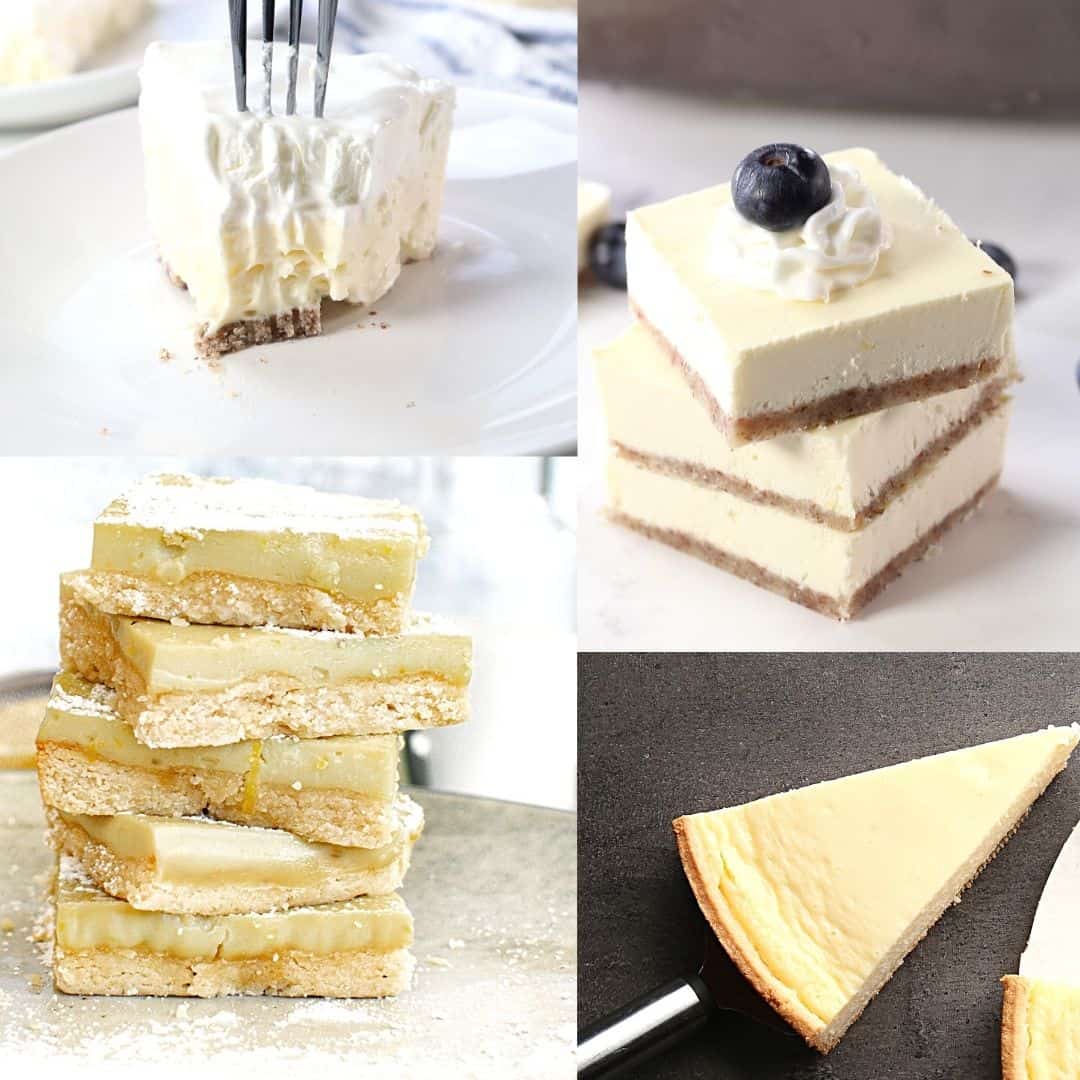 The best Sugar Free Cheesecake Recipes according to readers. Recipes include keto, low carb, gluten free, sugar free, and vegan ideas.