17 Sugar Free Dessert Recipes for Spring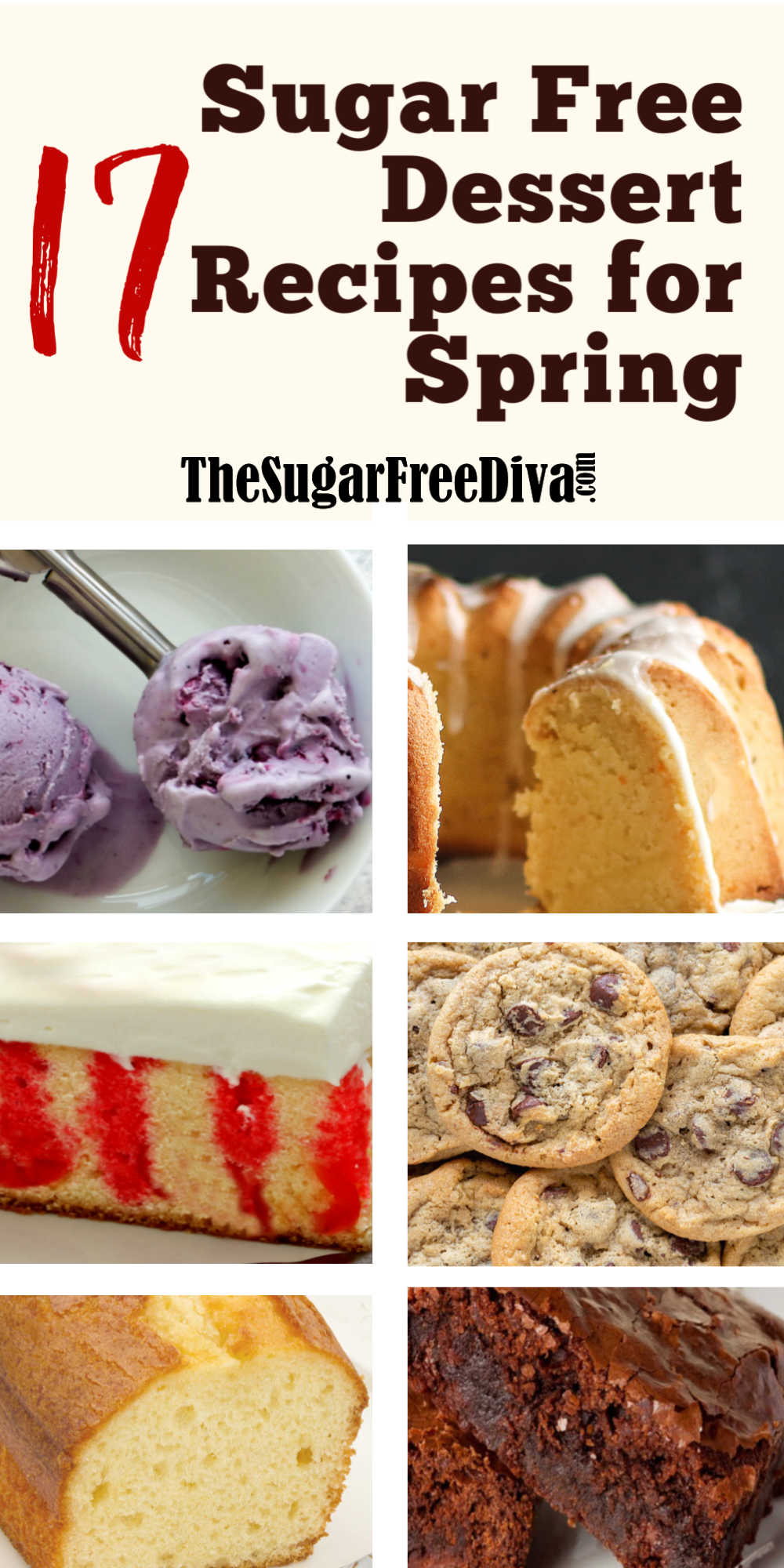 These are the best Sugar Free Dessert Recipes for the season

These recipes are perfect for sharing with others or enjoying all alone.
I like to share these recipes especially during all of the spring gatherings and holidays!

These recipes are sugar free or no added sugar.
Many of the recipes are low in carbohydrates or keto as well.
What all of the recipes do have in common is that they are tasty!

Keep up to date with my recipes
You can check out my guide on baking with sugar alternatives on Amazon

I have some great tips on which alternatives may work in a recipe such as this one.
Be sure to follow me on facebook and subscribe to my recipes via email to keep up to date as well.

17 Sugar Free Dessert Recipes for Spring
Here are some similar recipes that you may also like.
I must say that this recipe for Keto Low Carb Coconut Macaroons is an easy one to make. Also, I like that it is also a tasty recipe as well.

This Easy Sugar Free Banana Cream Pie recipe is impressively great tasting. I like that it is also easy to make.

This Sugar Free 'Magnolia' Style Chocolate Chip Cookies tastes just like the regular version. However, this cookie does not have all of the added sugar in it.

There really are a lot of different ways to make chocolate chips cookies. While I like every chocolate chip cookie that I have ever tasted, I can see why some folks are more partial to certain cookies. Really for me, it is more about the warm cookie just out of the oven rather than being about a certain taste or texture.

This recipe for Sugar Free Peanut Butter and Jelly Bars really brings me back to my childhood. However, this peanut butter and jelly recipe is made without adding a bunch of sugar to it!

This delicious recipe for Sugar Free Graham Crackers is especially nice when it comes to other recipes. By 'other recipes' I am most specifically referring to make sugar free s'mores.

How to Make Sugar Free Marshmallows is a question that I get asked a lot. However, I must say that I am thrilled that there is even a way to make marshmallows because there is so much that you can do with them besides enjoy eating them as they are.

For the longest time I was trying to figure out How to Make Sugar Free S'Mores. Once I found the ingredients in a sugar free form, the S'Mores were an easy thing to do!
Grilling season means eating some great food outdoors with family and friends. Of course, this means grilling up great desserts and treats to go with all of that great tasting food as well!

While chocolate chip may not be the number one favorite cookie for everyone, I would guess that it would place in the top three for most folks. This could have something to do with the variety of ways that you can make these yummy cookies.

This recipe for Sugar Free Blueberry Ice Cream is a vegan ice cream recipe as well. I like that it features the delicious taste of blueberries!
Obviously, one of those great tasting fruits is the blueberry. However, you could easily substitute in any similar fruit in order to enjoy this recipe!

This Low Carb Sugar Free Lemon Cheesecake has been a very popular recipe on this site. I like that this recipe is kind of, in a low carbohydrate sugar free way, based upon the popular New York Style of cheesecake.
Also, his is the sugar free and low carb answer to that craving that you may get for a cheesecake. However, it also makes for a great dessert to share with others, especially during a picnic or even the holiday season.

This Sugar Free Strawberry Poke Cake is perfect for this time of the year. I however like that it is also really easy to make!
And, this is the perfect nice weather cake to make and share with others. This cake is perfect for pot lucks, picnics, and family gatherings. You can make this even better by topping it with some of your favorite ingredients. I am talking about whipped topping. However, you could also add some sliced fresh strawberries to your poke cake.

This Sugar Free Lemon Bundt Cake can be enjoyed as it is. However, you could also drizzle a great Sugar Free Glaze such as this one over it. Another option would be to layer or serve it with a Sugar Free Lemon Curd such as this one.

In case you have ever wondered, this How to Make Sugar Free Pound Cake. Pound cakes a classic cake that everyone can seem to agree upon. I like that this one can be made without adding sugar to it!

I am always a fan of (Killer…) Sugar Free Chocolate Brownies. This is especially true when I am having a craving for some serious chocolate.

I use that term to show the seriousness of my love for these brownies. However, you can certainly describe you favorite brownies using your words of choice. I am using the term "killer' loosely of course.

This is really an EASY Sugar Free Strawberry Shortcake. I like that it reminds me of the season.

One average strawberry has about .6 grams of sugar in it. For those of us counting the carbohydrates, there are about net .7 in each strawberry. Also, if you are counting calories, each strawberry has under five.

There are not many ingredient lists that are as short as the one for this 3 Ingredient Sugar Free Peanut Butter Cookies. Especially when you factor in that this recipe is for delicious cookies. This is an updated version of a popular recipe on this site.

I am pretty excited about this recipe for No Bake Sugar Free Chocolate Cookies. That could be because they do not require an oven to make them.

However, this cookie is for those of us who embrace the idea of 'no bake'. Even though these cookies are technically not baked, they really are petty tasty.
Here is a Bonue Recipe.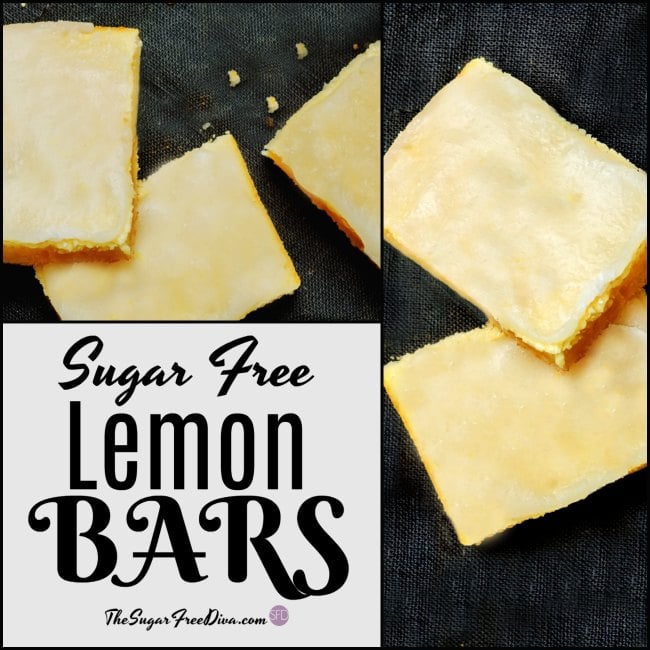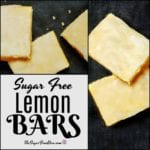 Print Recipe
Sugar Free Lemon Bars
A sugar free recipe for lemon bars.
Ingredients
Optional- crust as described above.

Eggs- 6 large.

Sugar alternative- equivalent to 2 cups of sugar. Granular works best.

Lemon Juice or alternatives listed above- 1 cup.

Flour- 1 cup alternatives can be low carb Carbalose or a gluten free flour.

Optional- lemon zest 1 tablespoon.

Optional- sugar free glaze or sugar free powdered sugar

see post
Instructions
If using a crust, prepare as directed. See the post above to see ideas on how to make your own without all of the sugar. Then, allow the crust to cool.

Preheat your oven to 350 and prep your baking dish (glass works best, not too heavily greased if using this method) for nonstick.

In a mixing bowl, whisk together your eggs, sugar alternative and lemon juice.

Stir in your flour and then, if adding zest, add it now. You can also add additional zest to the top for show 25 minutes into baking this.

Pour this over the crust or into the baking dish.

Bake for 30-35 minutes or until this is set.
Recipe Notes
The details of this recipe can vary as using a crust and various ingredients are optional. See post for details.
*As an Amazon Associate I earn from qualifying purchases. This means that the links on this website, and specifically on this post, that lead to other sites may be affiliate links.
Please note: Nutritional data has been calculated using a tool that comes with this recipe card and not by me. This means that Nutritional Information is only an estimate and can vary especially with ingredients that you use. The accuracy of this tool may differ from other tools as expected. Also note that there is no instructional value to the video that may be attached to this recipe. It is only there for visual pleasure. For more information about the images in this recipe, please refer the the recipe instructions. Thank you!
---
Follow Me
https://www.pinterest.com/thesugarfreediva/
https://www.facebook.com/thesugarfreediva/
These delicious and easy 17 Sugar Free Dessert Recipes for Spring are the best for sharing or enjoying alone. Many are also low in carbohydrates and keto as well!