For those of us wondering,this is How to Get the Nutritional Information of my Recipes
And also because, I too want to know!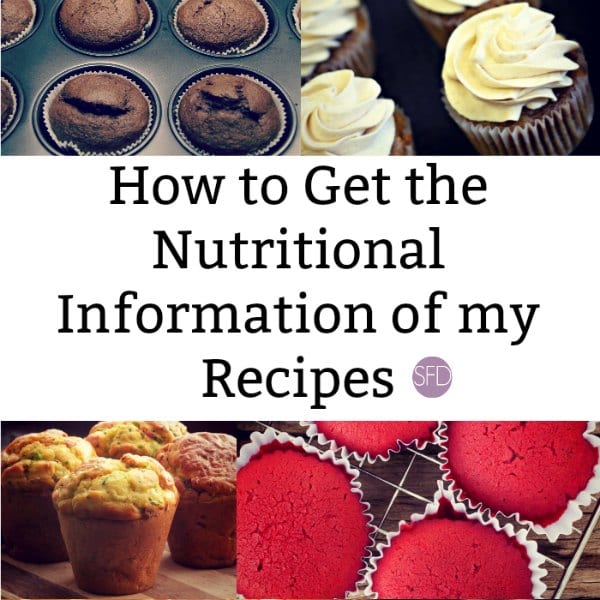 How to Get the Nutritional Information of my Recipes

This week I have had two readers ask me for the nutritional information of a recipe that I have posted here.
While the focus of this site as a whole is based upon living a sugar free lifestyle, we may still be interested in things other than sugar content. I know that often I am also concerned about carbohydrate content or salt content as well.
The truth is that when I started this site I had full intention of providing what nutritional content I could provide.
But then I would get comments and emails from people who did not like a certain ingredient or two that I would add to the recipe. As a result, I started to write my recipes with alternative ingredients in mind. And as a result of the alternative ingredients that are listed, I decided not to provide nutritional information. Nutritional information would just get too confusing for people as there would be some differentiation between the alternative ingredients.

I wish there was a way to please everyone as I know you probably have felt that way as well at some point about something too.
As a way to provide a way to obtain nutritional information, I have listed three ways to help you.
These methods of getting nutritional information will hopefully be helpful to you. However, I will mention that you should assure that it is your ingredient, whether an alternative or the one suggested, is the one used in the recipe to determine the nutritional content.
Method 1.
You may have noticed that every recipe has at least one of these "YUM" buttons on it.


.
That is a share button that you can use to share that recipe to Yummly- a recipe aggregate site.
While I am not necessarily begging for you to share my recipe (although, it would be a nice thing to do), clicking on this will save it to your recipe box. And, then if you go to your recipe box to view it you will see this (you may need to click on the "X" in the ad below to see it fully).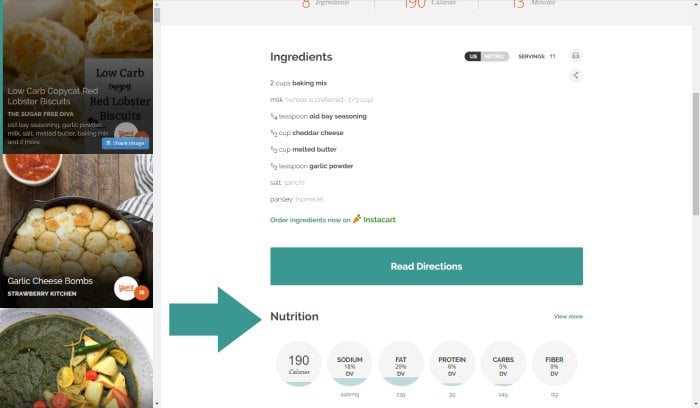 Cool right? That was easy.
However, you must know that they may use their ingredients in calculating that information if they are confused about something that I have listed in the ingredients.
Hence, where it should read "Carbquick" in the recipe above (their interpretation of my recipe), it simply states "Baking Mix" and thus, the carb count is off as a result. Using my ingredient would have knocked down that carb listing.
So this is a quick and easy method of finding nutritional information with a recipe that is as Yummly interprets it to be.
Method 2.
Use a calculator and insert the information yourself.
I found some cool calculators online that I will share.
If anything, they are kind of fun and informative to try out.
Method 3.
Visit a site that does the calculating for you.
I had to do this when I was updating my restaurant menus. There is a new rule that says that I need to give out calorie counts with the food on my menu. And, yes, people are still eating the food, if not more of it..
Here are some sites that can help you determine the nutritional information using your ingredients.
Finally, in the future, I will attempt to add a nutritional label, when I can.
If there are a lot of alternative ingredients that can be used, I will refrain from doing so as it can be confusing for folks.
By the way, I do have these interesting articles as well from my knowledge base: