Folks enjoying their low carbohydrate diet will enjoy this LOW CARB Baked Chicken Recipe
LOW CARB Baked Chicken Recipe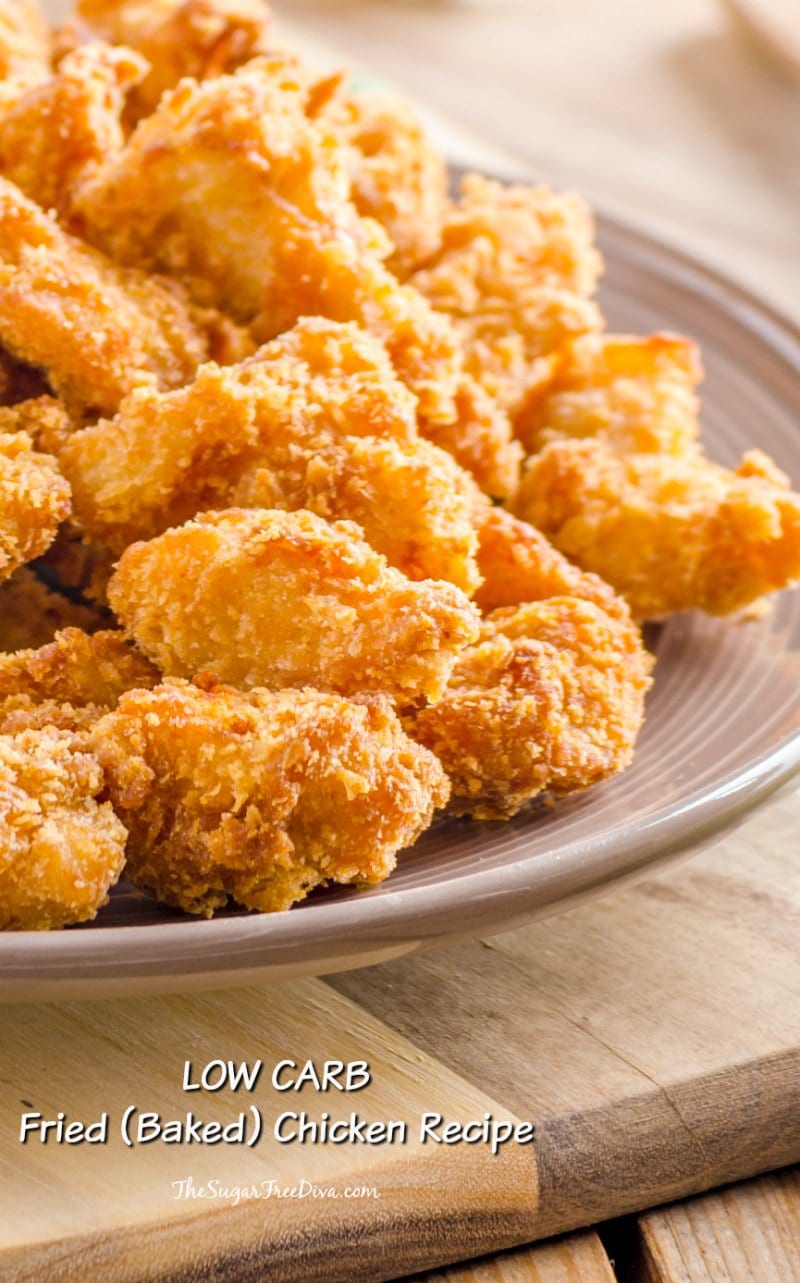 Chicken is a popular food for people adhering to a low carb style diet.
Unprepared chicken has no carbs in it. It is how chicken prepared that adds carbs despite it being carb-free.
Fried chicken is a popular meal.
Obviously, if  on a diet that avoids fried food an alternative is recommended. Hence, baked chicken is a good alternative to the friend chicken.
It is the breading and the fry oil that is synonymous with fried chicken.
Because the breading has carbs in it, an alternative must be used in it's place. Using an alternative flour to wheat flour is how to get that breading. Use a low carb flour in place of the higher carbohydrate flour.
Carbalose is a lower carb flour that can be used.
Carbalose flour is used as a wheat flour substitute because it behaves like wheat flour. It is made mostly from wheat, yet, lacks most non-fiber carbohydrates. When Carbalose is used in place of wheat flour it adds 80% less carbs.

Carbolose is the main ingredient in Carbquik Baking Biscuit Mix.
Carbquik is what is used in this chicken recipe. Thus, this recipe is low carb.
Baking chicken rather than frying it is a healthier way of preparing it.
While oil may be low in carbohydrates, it still adds calories. Oil is also more difficult to clean.
Oil is used in this recipe.
The oil is used in a small amount. Olive oil is the oil that is used however, most any oil, or even melted butter, are substitutes. However, the oil should be no or low carb to maintain the low carb count of this chicken

LOW CARB Baked Chicken Recipe
A delicious and easy recipe for a low carb baked chicken that resembles fried chicken but, without the added calories or carbs.
Ingredients
Chicken- 1 pound, strips (easy cheat!), chunks or cut up.
Olive or Other Oil- 1 tablespoon
Carbquik Baking Biscuit Mix- 1 cup
Seasonings*- Paprika, Italian Style,salt, pepper and/or other of choice- 1 1/2 tablespoon in total
Instructions
Preheat the oven to 400 and prep a baking pan for nonstick. Parchment paper or silicon mats are easy ways to prevent sticking chicken.
In a gallon sized zip top bag, combine the seasoning and the baking mix and set aside.
Using a soup or cereal sized bowl, pour the oil into the bowl.
Dip each individual chicken piece into the oil, shake the excess oil off back into the bowl and then place the chicken piece into the bag that was set aside.
Transfer the prepared chicken from the bag to the baking pan and then repeat until each piece of chicken has been prepared and placed on to the pan.
Bake the chicken for 30 minutes, flip or rotate it (depending on the cut being used) and continue to bake for another 10-12 minutes or until the chicken is no longer pink. This timing will depend on the cute of chicken being used.
Notes
*Seasonings of your choice to personalize this recipe. Those listed are suggestions. If using a prepared seasoning mix make sure it is low or no carb.
https://thesugarfreediva.com/low-carb-baked-chicken-recipe/
Recipe courtesy of TheSugarFreeDiva.com
What do you serve this baked chicken recipe with?
A green salad is a great choice. Also, broccoli would be a great choice.