This recipe for No Flour No Sugar Peanut Butter and Chocolate Chip Cookies is more simple than would be expected for a cookie recipe.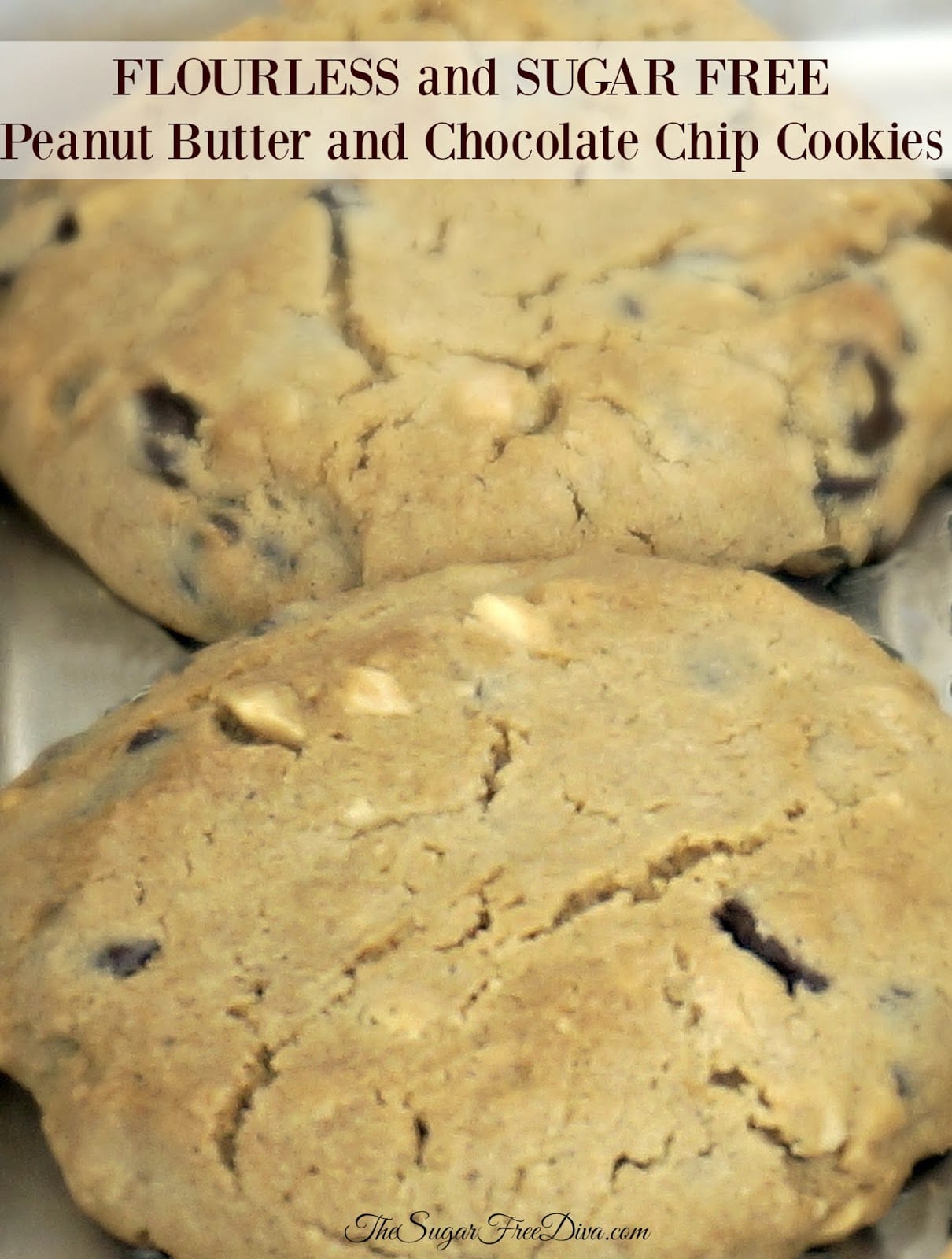 No Flour No Sugar Peanut Butter and Chocolate Chip Cookies
Some people are under the impression that cookies HAVE to have flour in them because flour is the basis of the cookie.

However, having flour is not necessarily the basis of the cookie after all. It is possible to make a cookie WITHOUT flour. And, it is quite easy to make a cookie without flour.
Three cheers for those of us who are sensitive to flour right?
I am quite surprised at how easy it is to make a flourless cookie.
It's kind of like when you remove the flour you also remove the drama that comes with it.
By drama, I mean of course, the measuring, the probably mess, and the calories that can be added by the flour.
Wheat flour does not have to be the basis of most baked desserts or breads.

Wheat flour is the most popular kind of flour that is used in baking. We generally use regular wheat flour or whole wheat flour. Within those kinds of flour there are specialty flours, such as all purpose or baking flour.
However, using flour in a cookie is not as necessary as one may think it to be.
Hence, this cookie is made without the normal wheat flour. This cookie is made with many of the common ingredients of a normal cookie.
So, what do you need to make this cookie?

The ingredient list is quite simple. Simple as in only six ingredients.
This recipe works well with peanut butter. Also included are chocolate chips and vanilla extract.
I am adding (find these items easily on Amazon):
sugar free chocolate chips and peanut butter with no sugar added
FLOURLESS and SUGAR FREE Peanut Butter and Chocolate Chip Cookies
Ingredients
Peanut Butter (no sugar added to keep this sugar free)- 1 cup
Sugar alternative- 3/4 cup
Egg- 1
Baking soda- 1/2 tsp
Salt- 1/4 tsp
Vanilla Extract- 1 tsp
Sugar Free Chocolate Chips- 1 cup
Instructions
Preheat your oven to 350 and prep your pan for nonstick
In a medium bowl, combine together your peanut butter, egg, baking soda, salt add vanilla extract.
Fold the chocolate chips into the batter.
Use a tablespoon to scoop out your cookies and place them onto your cookie sheet about 2? apart. Bake for 10-12 minutes or until they begin to brown Allow to cool on rack
https://thesugarfreediva.com/no-flour-no-sugar-peanut-butter-and-chocolate-chip-cookies/
Recipe courtesy of TheSugarFreeDiva.com
Serve this cookie recipe with what ever you would serve any other cookie with.
Milk is always a popular beverage option. So is water, coffee, or juice.