This is a wonderful time of the year to enjoy a Weight Watchers Friendly Strawberry Smoothie.
This smoothie recipe has no added sugar.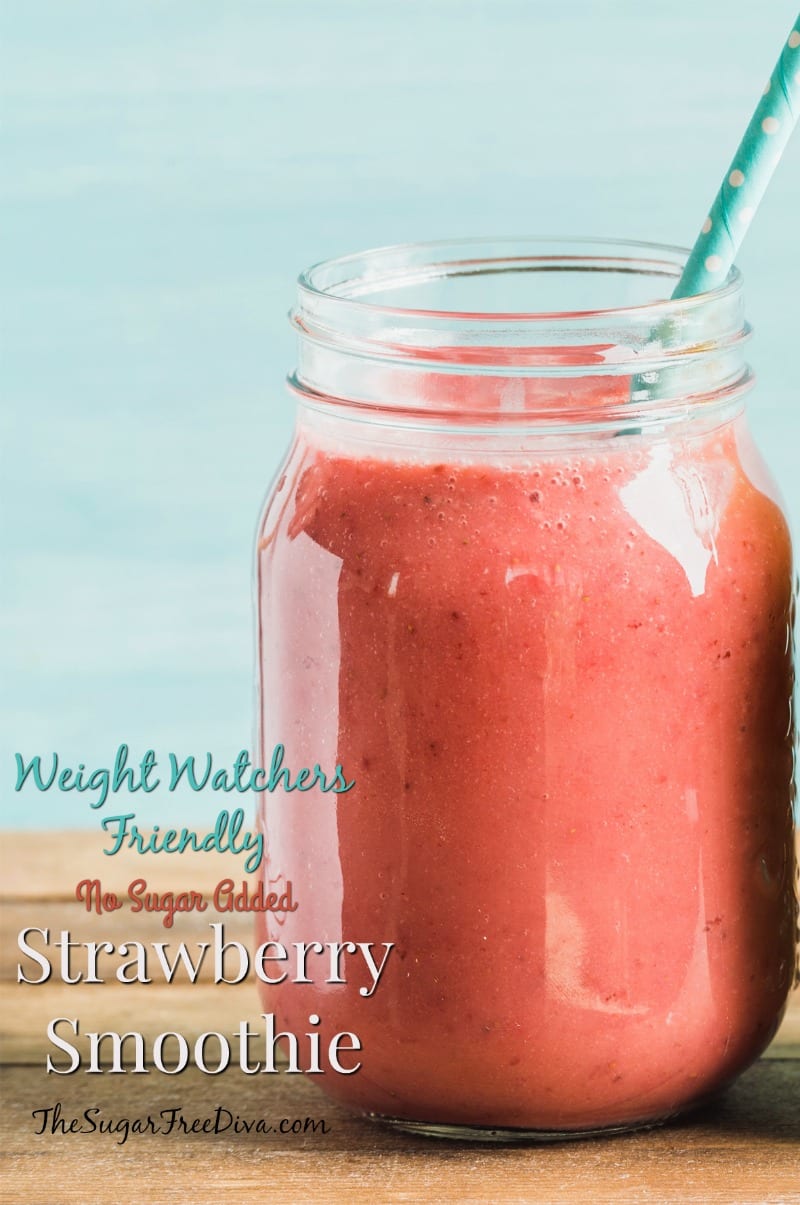 Weight Watchers Friendly Strawberry Smoothie
I must admit that this time of the year when I see all of the fresh fruit of the season hit the produce department of my local grocery stores, I cannot resist loading up on fruit.
However, before I know it, I have a refrigerator full of fruit that needs to get used. After the freezing and the baking of these fruits has been done, I look for something else that I can do with the fruits. And thus, a smoothie will almost always happen.
The average strawberry has about 4-6 calories in it.
Strawberries naturally give us some Vitamin C as well. It is the sweet taste of the natural strawberry that makes it so easy to eat or use in other recipes.
This smoothie is diabetic and Weight Watchers friendly
One half cup of this smoothie gives us 1/2 half fruit exchange. The fruit is all natural.
The recipe calls for a sugar substitute as well.
I use Splenda in my recipe instead of sugar. You are welcome to use the sugar alternative of your choice as long as he equivalents match up. Agave nectar or honey may be used in their equivalent.
Orange zest and orange juice is also used to make this.
Using a single orange for the zest and then for the juice is an easy way to use the orange. However, a simple alternative to using an orange could be to use a lemon or a lime.
A simple strawberry smoothie is a perfect warm weather treat.
This is because it is a healthy idea that tastes delicious. It can also be filling and the perfect drink to take on the go.

Weight Watchers Friendly Strawberry Smoothie
No sugar added to this Weight Watchers friendly strawberry smoothie recipe
Ingredients
Fresh Strawberries- 1 cup Hulled and sliced in half
Sugar Alternative- 3 tablespoons sugar equivalent Granular products such as Splenda work best.
Orange Juice- 2 tablespoons
Orange Zest-1 teaspoon
Greek Yogurt- 1 cup (can use skim milk, almond milk, or combination)
Ice cubes
Instructions
Combine all ingredients into the blender and blend until smooth or desired consistency.
Serve immediately.
https://thesugarfreediva.com/no-sugar-added-strawberry-smoothie/
Recipe courtesy of TheSugarFreeDiva.com