This recipe for Sugar Free Chocolate Chunk Cocoa Cake proves that there are so many great uses for cocoa.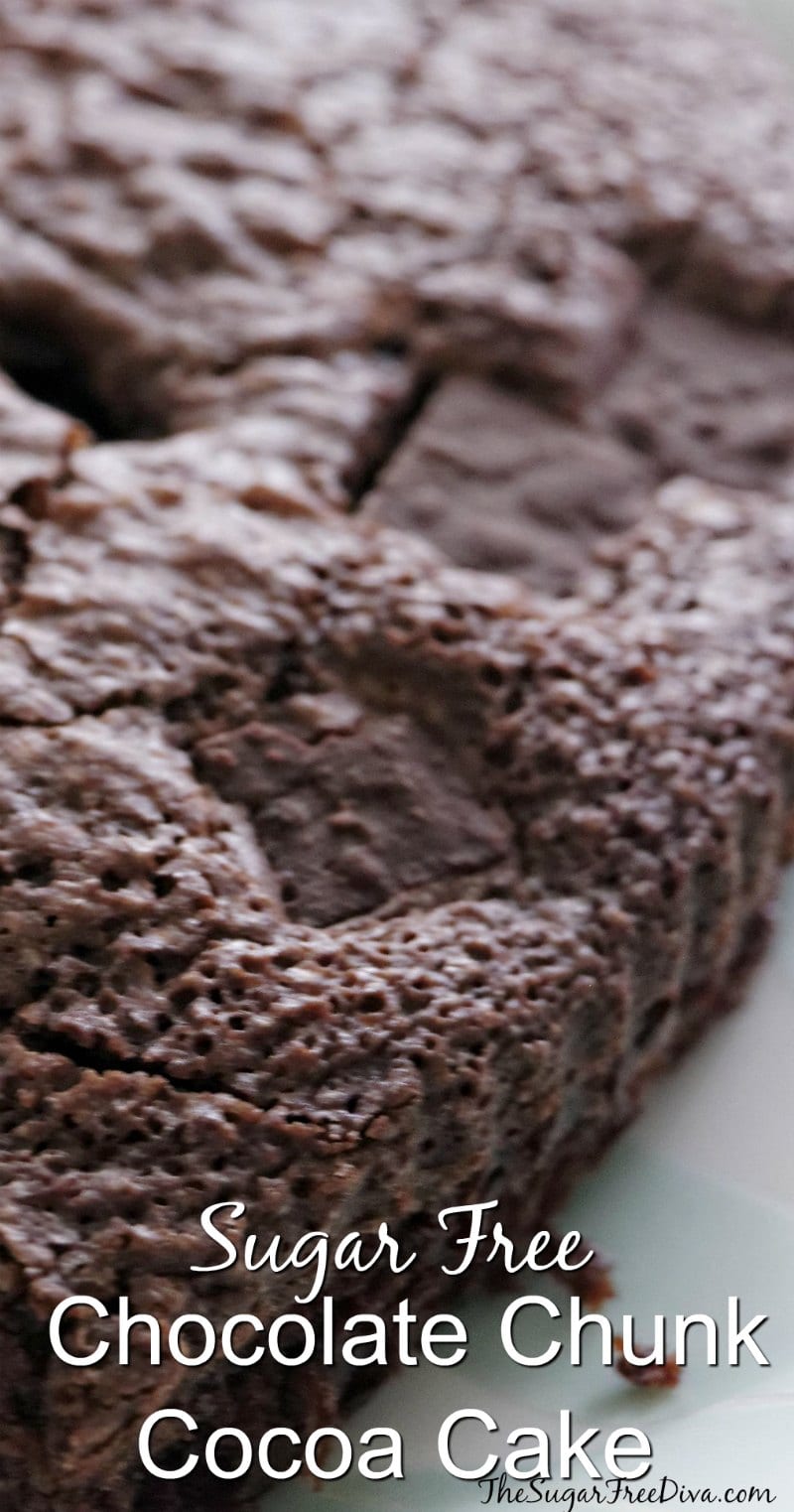 Sugar Free Chocolate Chunk Cocoa Cake
Cocoa is a great way to get that over-all chocolate taste.
Chocolate, on the other hand, is a great way to get a burst of that chocolate taste.
If you want the best of both worlds, an over-all chocolate taste with a burst of chocolate, add the chocolate chips or chunks to the chocolate cake.
Basic cocoa cake is a common choice for a cake to make.

People who like their chocolate also love their chocolate cake. Hence, baking a chocolate cake for someone who likes their chocolate is a good choice in most instances.
Add the chocolate taste to the cake by using unsweetened cocoa.
The fact that the label tells us that the cocoa is unsweetened would lead us to believe that there is no sugar in the cocoa. However, it is best to read the label to assure that there is no sugar added to the cocoa since this recipe is for a sugar free cocoa cake.
The chocolate chunks that are added to the cake can come from chocolate chips or a chocolate candy bar that has been broken up.
Chocolate chips with no sugar added can be found on Amazon.
The no sugar added candy bars made from chocolate can also be found on Amazon. Unsweetened cocoa can be found in most grocery stores or also on Amazon.
The Recipe
print recipe
Sugar Free Chocolate Chunk Cocoa Cake
The sugar free version of a cocoa cake favorite
Ingredients
1 cup Unsweetened Cocoa

2 1/4 cup All purpose flour

1 tsp Salt

1 1/2 tsp Baking Soda

2 cup equivalent Sugar alternative

1 1/2 cups room temp Water

2 large Eggs

2 tsp Vanilla Extract

About 2 full sized bars, lightly chopped. Can sub in chips. Sugar Free Chocolate Bars
Instructions
Preheat your oven to 350. Prep your cake pan for nonstick. I use oleo to grease mine.
In a medium bowl, mix together your cocoa, flour, salt, and baking soda . Set aside.
In a large mixing bowl, beat together your eggs and sugar alternative until well blended.Add half of your water, mix and then add about half of your dry ingredients and mix. Add your remaining water and dry ingredients and continue to mix well.
Fold your chopped chocolate into your batter by hand. Pour batter into your prepped pans.
Baking time will differ according to the size of your cake pan. A smaller round pan may need around 40 minutes while a larger pan could take up to an hour. It is best to check your cake every five minutes or so after an hour and a half. When testing with a toothpick, be sure to check where there is no chocolate chunks as these areas may not show a dry toothpick upon testing.
Allow to cool fully before removing from pan or frosting.
Sprinkle with sugar alternative if desired.
Details
Prep time: Cook time: Total time: Yield: 8-10 servings
What do you serve this with?
There are low sugar or low carb ice cream products that may taste good on the side of this cake. However, a bit of whipped cream may also taste good as well. Most of all, a great taste of chocolate can be enjoyed.