Carrot Cake is my favorite cake to eat.
I am thrilled that I can eat Sugar Free Maple Carrot Cake.
Sugar Free Maple Carrot Cake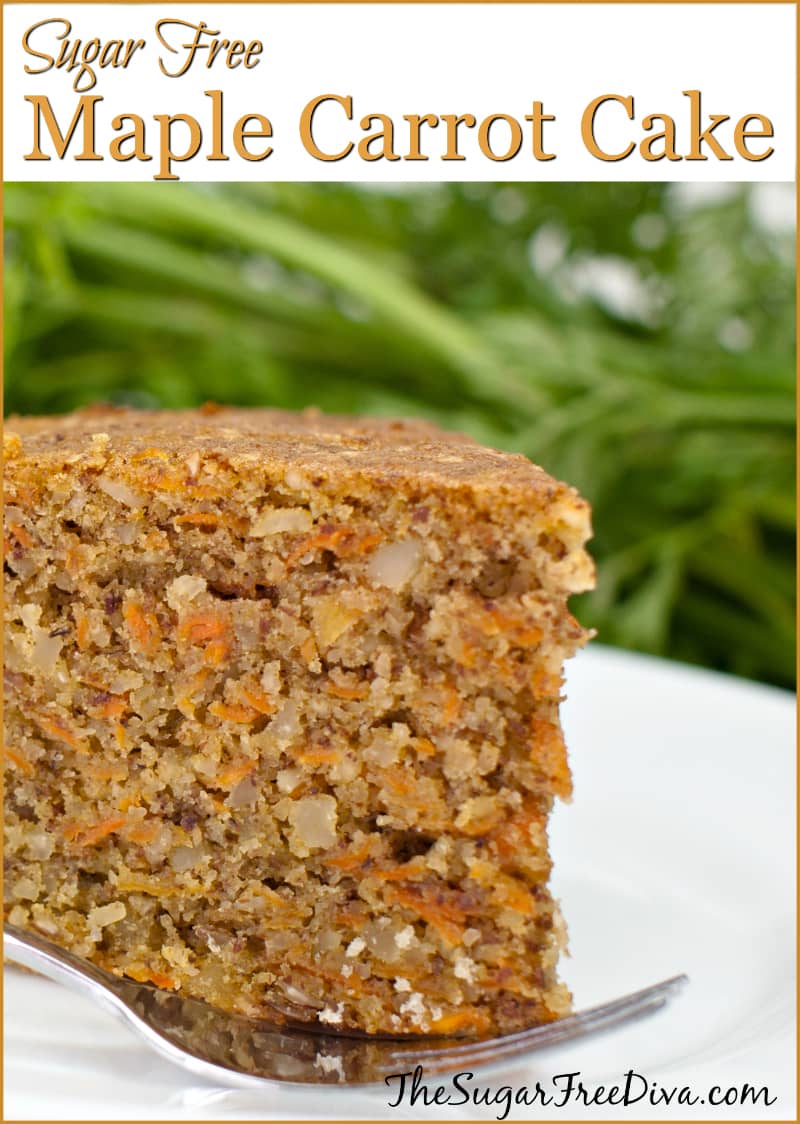 How do you enjoy your carrot cake?
While it seems to be the standard thing to do to eat your carrot cake with cream cheese dressing, there are other ways to get that extra yummy taste into your carrot cake. I have added an extra taste to my carrot cake by adding a bit of maple syrup to the mix.
You may be asking where  you could ever find a maple syrup without sugar in it.
Since maple syrup, or any natural syrup for that matter, seems to be all sugar, if you are like me and sensitive to sugar you need some kind of an alternative to the maple syrup that most folks can enjoy.
Here is how I get that maple taste in my maple carrot cake.
I use a sugar free maple syrup to make my maple carrot cake. To be honest, I add sugar free syrup to a lot of recipes and folks seem to like it. There are many versions of sugar free maple syrup with various choices of sweeteners between them.
You could also use a maple flavored extract.
A maple flavored extract would give you a close to the real thing taste. You would have to add your favorite sweetened to make the taste sweet, if desired.
Carrot cake really is a traditional favorite cake.
I am a huge fan of the usual chocolate or angel food cake. There is something different about carrot cake that I really like. This different kind of taste is unique to carrot cake that puts carrot cake in a league of it's own.

How to make Sugar Free Maple Carrot Cake
Sugar Free Maple Carrot Cake
A no added sugar recipe for carrot cake with a bit of maple added for good taste.
Ingredients
Sugar Alternative- 2 cups of sugar equivalent
Eggs- 3
Vegetable Oil- 1 1/2 cups
Sugar Free Maple Syrup- 1/4 cup
Flour AP- 2 Cups
Baking Soda- 2 tsps
Ground Cinnamon- 2 tsps
Salt- 1/1/2 tsp
Grated Carrots- 3 Cups
Instructions
Preheat your oven to 350. Double Prep your pans for nonstick if possible. For example, use flour dusted over oleo.
In a large mixing bowl, mix together the sugar alternative, eggs, syrup and oil. Mix for about 30 seconds until blended.
To the mixing bowl, add the flour, baking soda, cinnamon, and salt. Mix for another minute or until all is blended.
Stir in the grated carrots by hand.
If using round pans, bake for 35-40 minutes or until toothpick comes out clean. If using a large pan, such as 13X9, bake for 40-45 minutes.
Allow to cool before serving or frosting.
https://thesugarfreediva.com/sugar-free-maple-carrot-cake/
Recipe courtesy of TheSugarFreeDiva.com
What do your serve maple carrot cake with?
I like something close to any kind of milk. Dairy offers a nice balance to carrot cake in general which is why cream cheese frosting is always associated with carrot cake. By the way, you could always spread some soft cream cheese on your slice of maple carrot cake when you go to eat it if you are missing that cream cheese frosting taste.